In the rapidly expanding world of podcasting, having a podcast website is now more important than ever. Why? Because it'll help you stand out, and act as a centralised hub for your show.
Not only that, but a well-designed and user-friendly website will play a key role in attracting new listeners, engaging your audience, and even monetizing your content.
In this complete guide, we'll cover everything there is to know. Including what a podcast website actually is, the benefits to having one, and how to create one that's perfectly representative of your podcast's brand. We've even pulled together 5 great examples for you to take inspiration from.
Let's get into it…
Book Your Next Podcast Guest the Easy Way
With more than 60,000 members, MatchMaker.fm is the largest online community connecting podcasters & guests.
Join MatchMaker today
It's free to join!
What Is a Podcast Website?
A podcast website is a dedicated, online space where you can showcase your podcast. It's up to you what type of content you include on your site, but ultimately, a good podcast website will provide readers with show information, archive old episodes, have accessible show notes and transcripts, include links to additional resources, and more.
The main role of a podcast website is to essentially extend a show's brand. And to do this, it should present and promote said show to its desired target audience. Doing this will help build its online visibility through search engine optimization (SEO).
How Is a Podcast Website Different to a Podcast Hosting Site?
Well, in many ways. They're completely different things.
As mentioned above, a podcast website is essentially a marketing hub for your show. A hosting site, on the other hand, is a service that stores and distributes a show's audio files.
To give you an example, let's quickly look at our sister service, Podcast.co - a hosting platform providing podcasters with the necessary infrastructure to upload, store, and manage their episodes. It also includes additional features like access to show analytics, one-click distribution to listening platforms (such as Apple Podcasts and Spotify), episode scheduling, transcription tools, and more. Check it out below.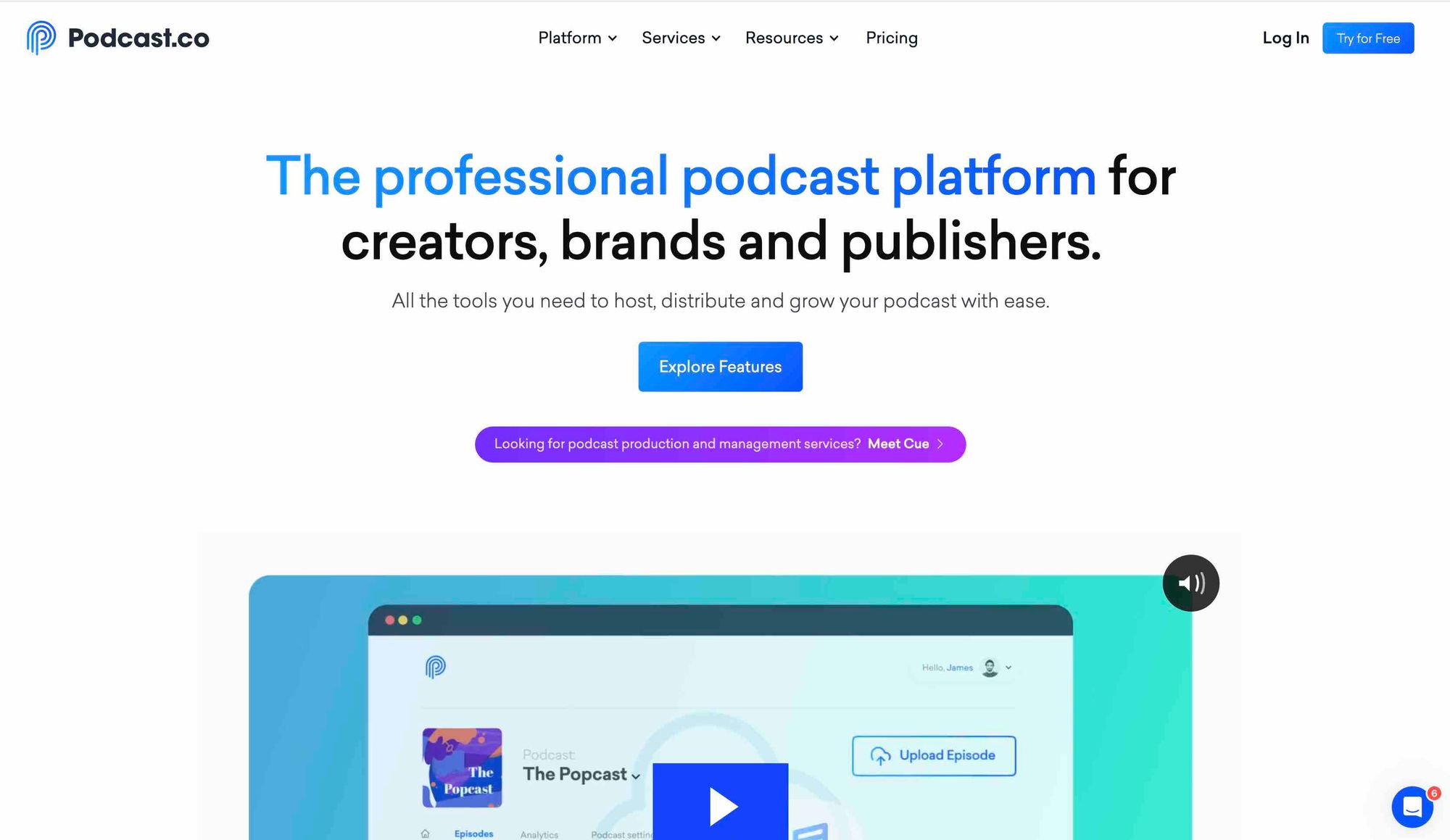 So, Do You Need a Podcast Website?
There is no rule book saying you must create a podcast website. Having said that, having one offers numerous advantages.
Think of it like this. A listener stumbles onto your most recent podcast episode and, after listening, wants to learn more about you and your show. Maybe they'd like to sign up for your newsletter, or email you. The first thing they'll probably look for is a link to your website in your episode description. If it's there, they'll click it and be directed to your website. This will boost your traffic, improve your podcast SEO, and increase your overall online visibility.
To not have a podcast website is to forfeit good SEO. And in the long run, this will have a negative effect on the growth of your show.
4 Benefits to Having a Podcast Website
A podcast website offers numerous benefits. All of which can help you expand your reach, engage with your audience, and grow your podcasting business. We've outlined 4 of them below:
1. Improve Your Podcast's SEO
Optimising your podcast website for search engines can increase your visibility and attract new listeners through organic search results. Implementing on-page SEO, optimising content for voice search, writing blog articles, publishing episode transcripts, and building backlinks can improve your website's ranking on SERPs, making it easier for potential listeners to discover your podcast while Googling for information.
2. A Hub for Show Notes, Transcripts, & Other Helpful Resources
A podcast website serves as a hub for all your episodes, making it easy for listeners to access and explore your entire catalog. Having said that, it's also a great place to post your show notes, transcripts, sponsorship information, links to helpful resources, and more.
Providing all of the above on your website means you'll enhance the value of your podcast for your audience. These resources offer additional context, insights, and information that your listeners may find helpful or interesting. Moreover, show notes and transcripts can also contribute to your website's SEO, making it more discoverable to new listeners.
3. Boost Audience Engagement
A podcast website enables you to interact with your audience and foster a sense of community. By offering newsletter subscriptions, contact forms, or comment sections, you create opportunities for listeners to engage with you, ask questions, or provide feedback.
If someone wants to contact you, for example, the first place they'll look for contact details is your website. By including links to your various social media profiles, you'll appear more accessible and trustworthy.
4. Monetization Opportunities
And last but not least, a dedicated podcast website opens up various avenues for monetization. You can explore sponsorship opportunities, offer premium content, courses, memberships, or sell podcast-related merchandise directly through your website.
For example, when reaching out to potential podcast sponsors, you can pitch the added benefit of having a do-follow link back to their product page from your website. This way, you mention the product on your podcast and include a physical link to the sponsor's website, which is a big plus.
Podcast Websites vs Landing Pages: What's the Difference?
Before we get into best practices, let's look at the difference between a podcast website and a podcast landing page.
As we've already established, a podcast website is a comprehensive online platform dedicated to showcasing your podcast. It typically includes multiple pages and sections, such as a home page, an episode archive, an about page, a contact page, and subscription options. This is the perfect option if you want something that will provide your audience with detailed information about your show.
The problem is that some people might not have the time, money, or ability to create a full-blown website. And for those that want to dip their toe into this world without committing too much, there is the option of a podcast landing page.
A landing page is a single, focused web page designed to achieve a specific goal or conversion. This might be capturing email addresses, driving subscription growth, or promoting a particular episode or event. A podcast landing page generally has a more straightforward layout and a clear call-to-action (CTA) guiding visitors toward a desired outcome. The idea here is to provide the basics and convert listeners into leads in a much simpler format.
How to Create a Podcast Website in 3 Easy Steps
So now we've convinced you that podcast websites are something you should look into, how do you actually go about building one? Luckily for you, we've done the work and broken the process down into 3 easy steps.
1. Choose a Domain
Selecting a domain name is essential, as it serves as your podcast's online address and plays a vital role in shaping your brand identity. Aim for a domain name that's concise, memorable, and relevant to your show's content or theme.
Try to secure a .com domain whenever possible, too. This is because it's the most widely recognised and trusted extension. Remember to tailor the domain name and extension to your listenership, though. If you're a Brazilian podcaster with a Brazilian listenership, for example, it makes sense to opt for a ".com.br" extension, and a domain name in Portuguese (rather than English).
💡
Avoid using special characters or numbers in your domain name, as they can be confusing and difficult to remember.
2. Sign Up to a Website Hosting Platform
Several podcast website hosting platforms are available, each with their own features and pricing plans. Popular options include WordPress and SquareSpace, or you can choose a podcast-specific option like Podcastpage.io. We've listed these in more detail below:
Option #1: Squarespace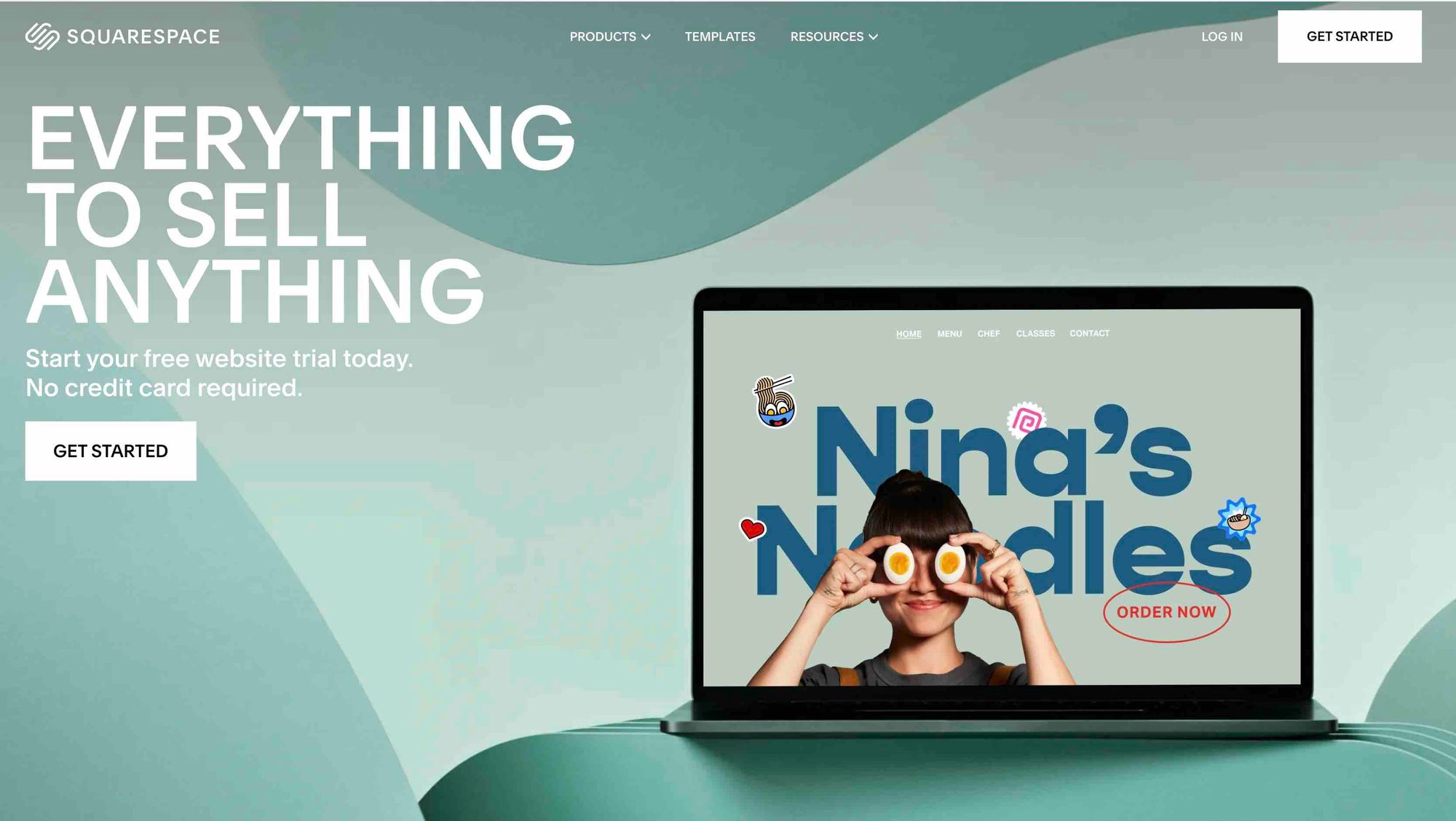 Squarespace is known for its visually stunning templates and user-friendly interface, making it an excellent choice for podcasters who prioritize aesthetics and ease of use. Some of the platform's features include a built-in RSS feed, and a large selection of podcast-specific templates for you to choose from.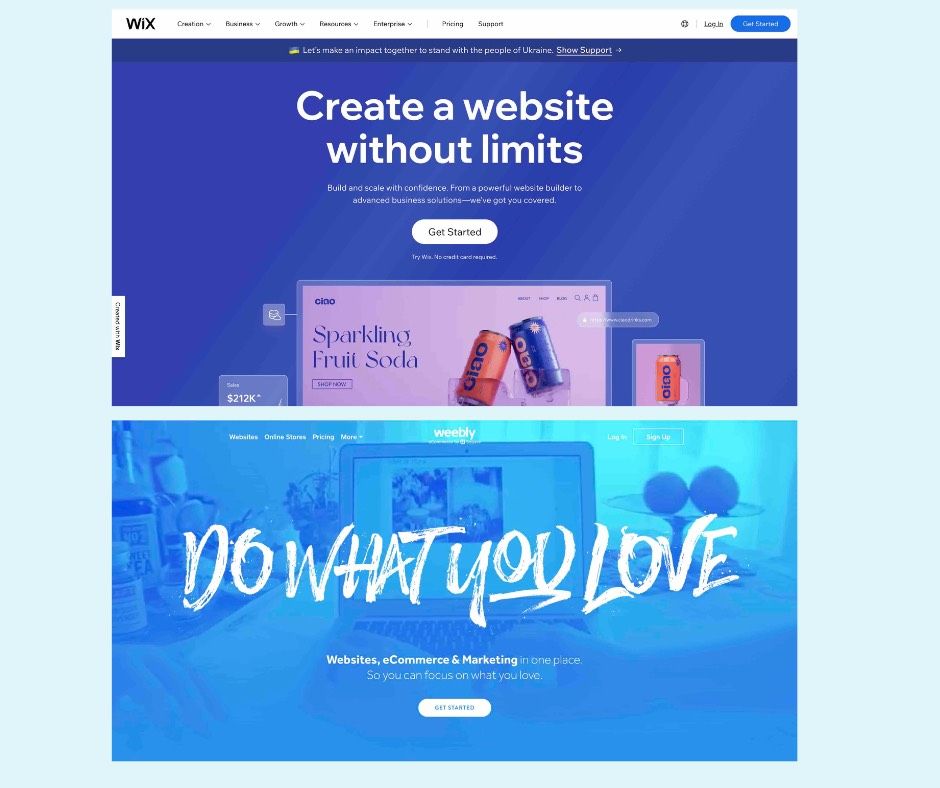 Wix and Weebly are beginner-friendly website builders offering drag-and-drop interfaces, making it easy for anyone to create a website without coding knowledge. While they may not be as sophisticated and feature-rich as the more intricate CMSs (like WordPress), they are more than sufficient for individuals wanting to construct a website without investing significant time or effort into a steep learning curve.
Option #3: WordPress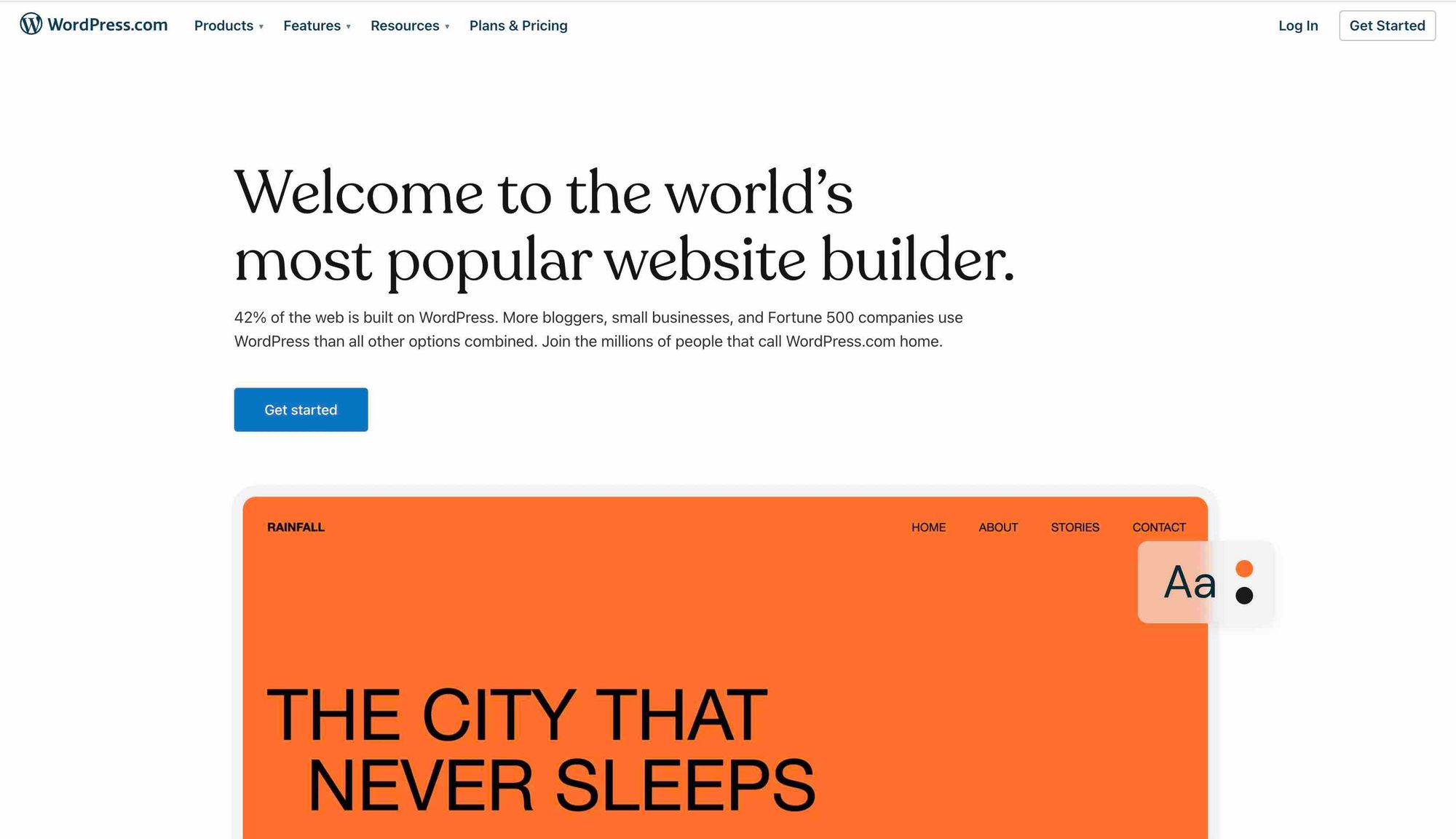 WordPress is a powerful, flexible platform that offers a vast array of plugins and themes, suitable for those who want more control and customization options. There are many free and paid podcast themes for WordPress available. Some of those include Astra Podcast Websites and ThemeForest.
Bear in mind that WordPress can be complicated to use, especially if you don't know what you're doing. If you are tech-challenged, WordPress might not be the best option for you.
💡
When choosing a hosting platform, consider your technical expertise, desired level of customization, and, of course, your budget.
3. Customise It
Once you've chosen the right platform and domain name, it's time for the fun stuff - customising your podcast website. And once you've picked a suitable theme, you can change your website's look and feel (including colors and fonts), and start building the content and navigation.
Remember that everything needs to be organised in a concise and intuitive manner. It should also be easy to use and clearly signpost the various elements. By this, we mean your archived episodes, show notes, about page, and anything else relevant. Make sure you prioritize user experience. This will encourage your audience to fully explore your website and engage with your content.
By customising your podcast website to reflect your unique brand and style, you can create a memorable online presence that resonates with your target audience and helps you stand out.
5 Great Podcast Websites Examples
To help you get a better idea of what a good podcast website looks like, we've picked out 5 examples to take inspiration from. Think about how you could apply some of these creative elements when creating your own.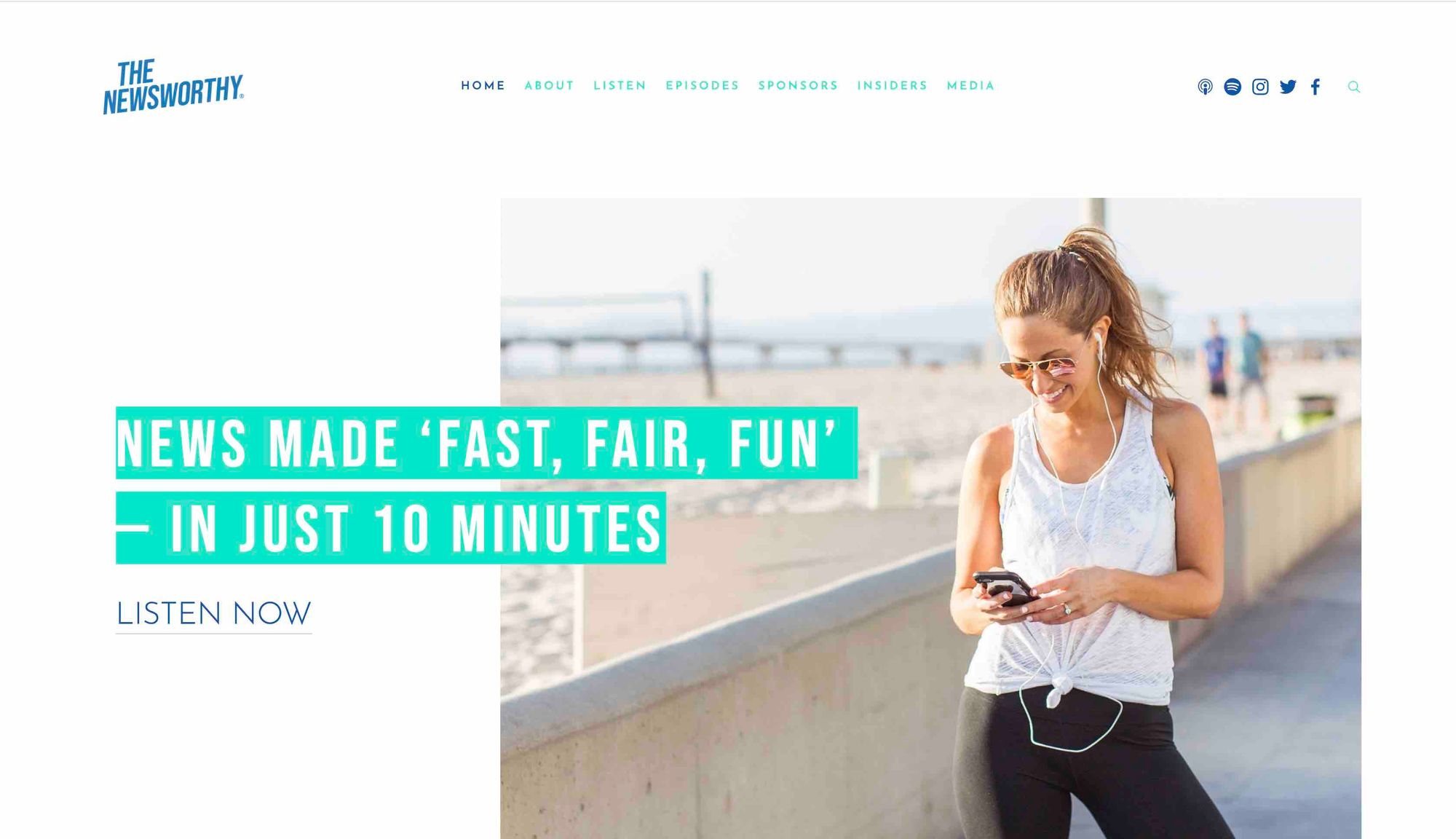 Podcast website builder: Squarespace
Hosted by journalist Erica Mandy, The Newsworthy Podcast is a daily news show designed to provide listeners with a quick and comprehensive overview of the most relevant and engaging headlines.
Why we like it:
The website as a whole is beautifully designed & minimalistic.
The homepage includes an about me section, listener reviews, links to social feeds, press recognition, an embedded episode player, & more.
The show's tagline is stated in the main image with a clear, 'Listen Now' CTA, making for easy navigation.
The sponsorship page highlights who the show is working with, plus links & discount codes.
A clear, incentivised (a free Friday bonus for anyone who signs up) CTA directing visitors to sign up to their newsletter is present.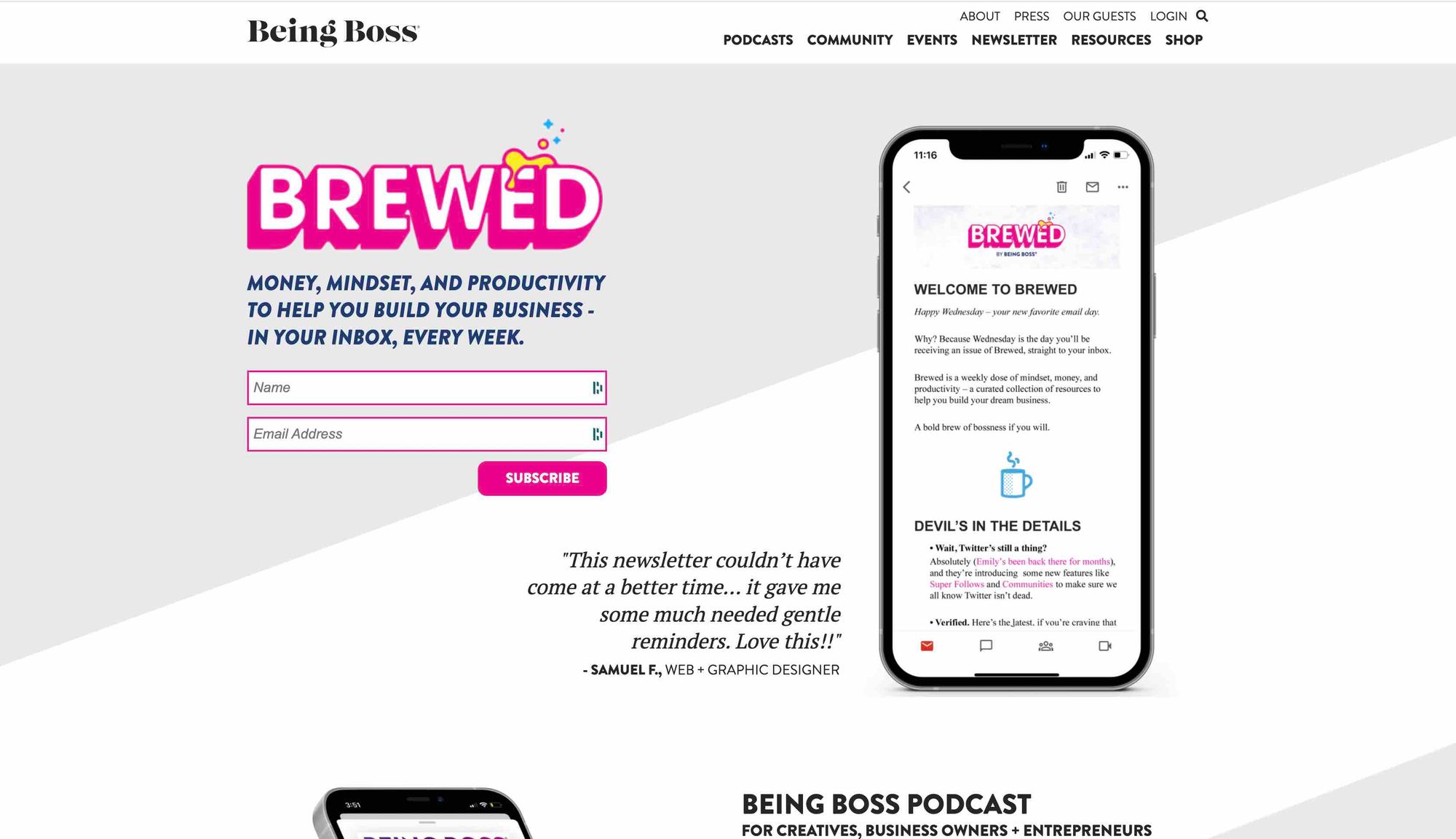 Podcast website builder: WordPress
The Being Boss podcast is aimed at creative entrepreneurs, freelancers, and aspiring business owners. Hosted by Emily Thompson, episodes share practical advice, tips, and inspiring interviews to help listeners turn their passion into a profitable and sustainable business.
Why we like it:
A strong newsletter CTA is presented as the header image, & includes positive testimonials to entice visitors to subscribe.
The homepage showcases press recognition & the last three published episodes.
The footer is well organised with 'info', 'content', and 'join us' columns.
The site itself is visually striking & simple to navigate.
Episodes are organised by category, making them easy to find.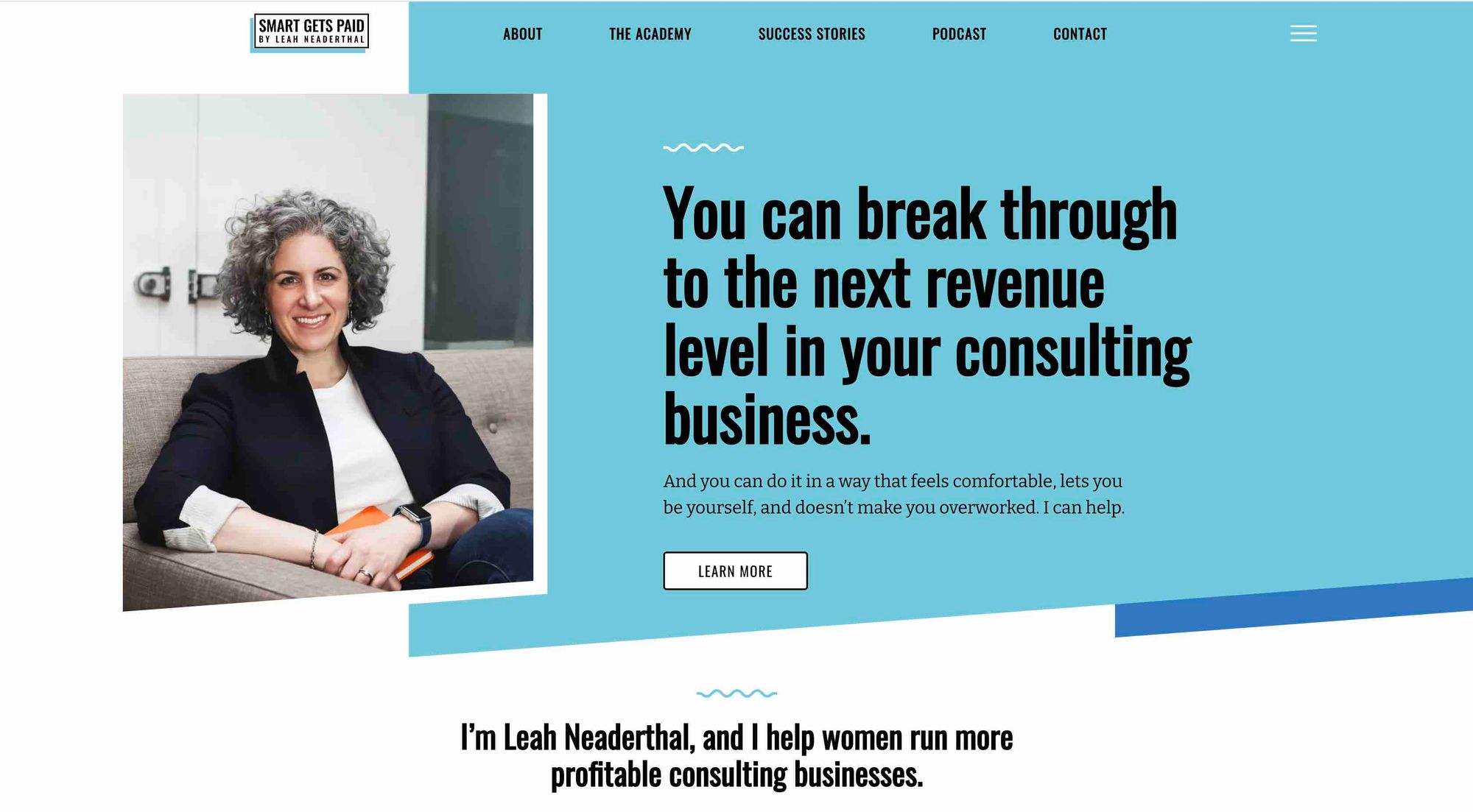 Podcast website builder: WordPress
Hosted by Leah Neaderthal, the Smart Gets Paid podcast is dedicated to helping female entrepreneurs and freelancers learn effective strategies for getting paid their worth. Episodes offer practical advice, insights, and interviews focussed on topics like pricing, negotiation, overcoming imposter syndrome, and closing deals.
Why we like it:
The main image communicates exactly what people can expect to gain from listening to the podcast.
A strong, clear CTA is present for anyone who wants to learn more.
The homepage includes 'about me' and 'as seen in' sections, as well as various positive & engaging testimonials.
The podcast player gives users easy access to the most popular episodes.
The blog is well-signposted & contains a mix of helpful articles (good for SEO).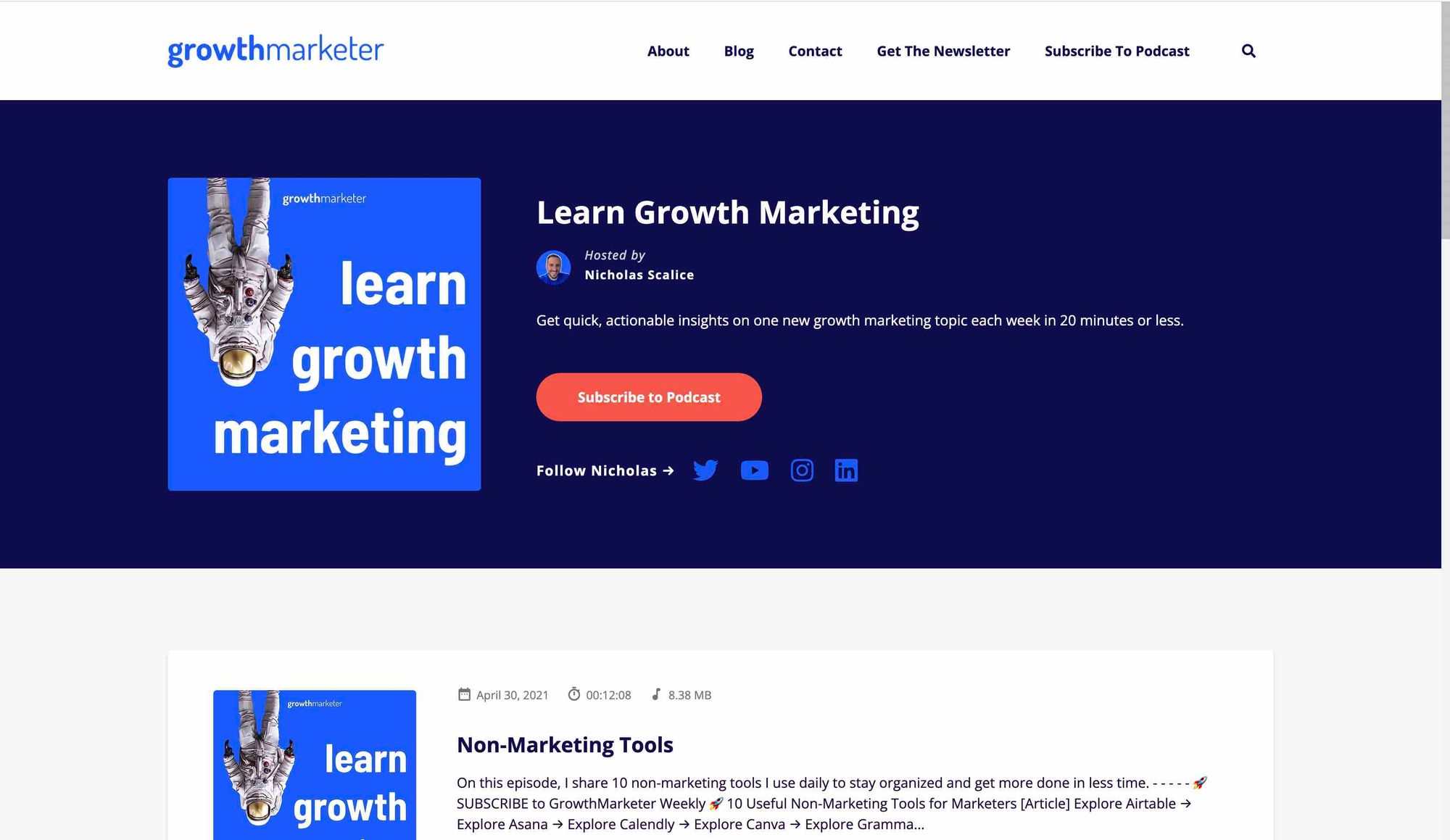 Podcast website builder: Podcastpagio.io
The Growth Marketer podcast provides actionable insights on growth-marketing topics. Episodes are consistently kept to 20 minutes or less.
Why we like it:
It's a great example of how straightforward & simple a podcast website needs to be.
All important information is clearly displayed at the top of the page - including the podcast name, host, and premise.
The subscribe button and links to relevant social media pages stand out.
The integrated blog not only includes helpful articles & resources, but also a course on growth marketing.
A pop-up acts as a newsletter sign-up prompt, and asks visitors for feedback.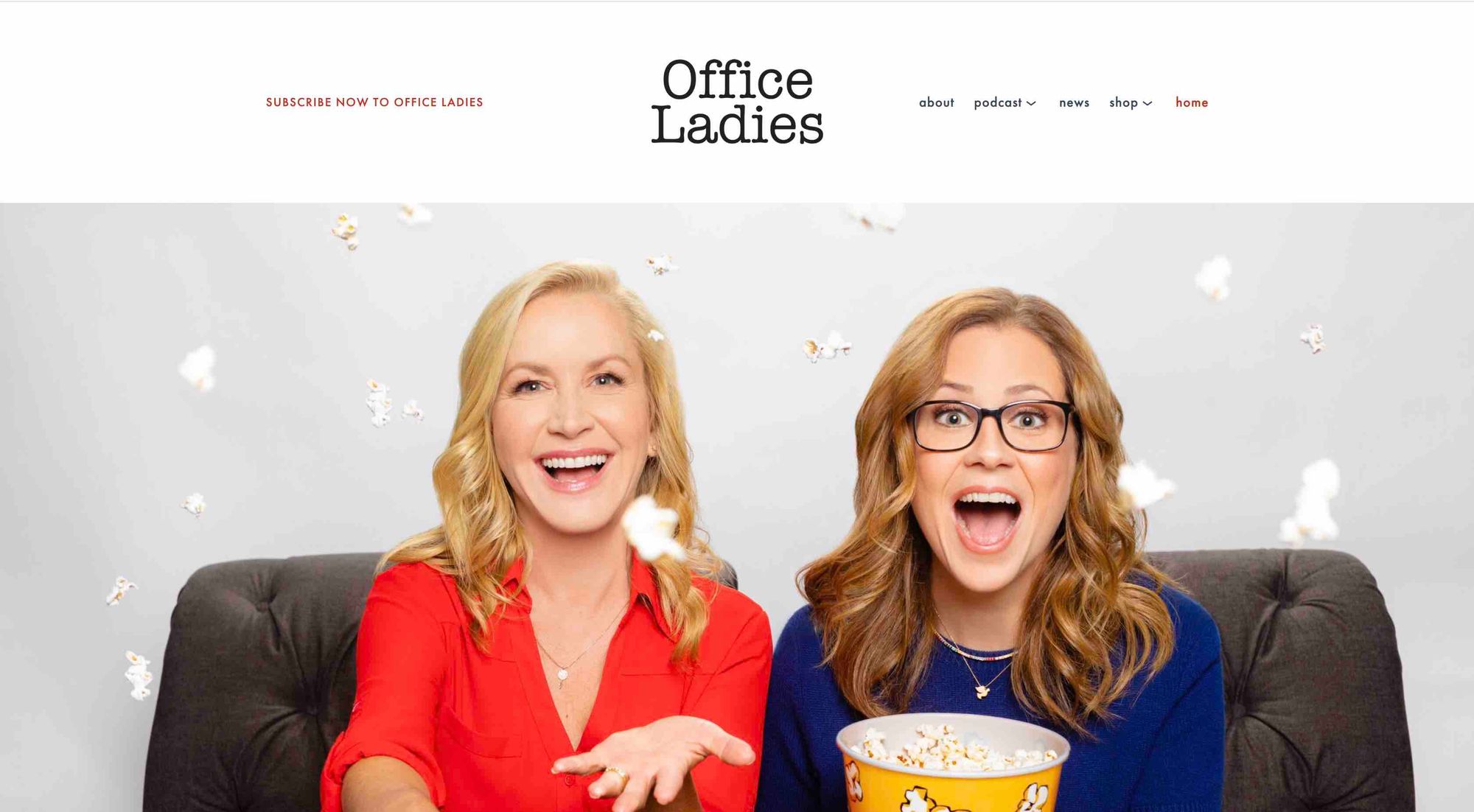 Podcast website builder: Squarespace
Co-stars (and best friends) from The Office, Jenna Fischer and Angela Kinsey, have teamed up to create the ultimate rewatch podcast. Every week, they delve into a different episode and provide exclusive behind-the-scenes stories and show insights.
Why we like it:
The 'subscribe now' button is embedded into the main header, making it one of the first things the visitor sees.
All important information is clearly stated on the homepage - including a short introduction.
A CTA inviting visitors to ask the hosts a question encourages community engagement.
The podcast's merchandise store is linked & easily accessible for fans wanting to show support.
The section featuring behind-the-scenes news & updates keeps fans interested & in-the-know.
Ready to Create Your Own Podcast Website?
Well-crafted podcast websites are essential tools for podcasters looking to expand their reach, engage with their audience, and establish a solid online presence. With this comprehensive guide and inspiring examples, you now have the foundational knowledge to create a successful podcast website.
By carefully selecting a domain, choosing the right hosting platform, and customising your site to reflect your unique brand and style, you can effectively showcase your podcast and attract a loyal following.
Remember, podcast websites serve as hubs for your content and resources. They can also be an excellent way to make money from your podcast. So, why not dive straight in and start creating your podcast website today?
The #1 Podcasting Community
With more than 60,000 members, MatchMaker.fm is the largest online community connecting podcasters & guests.
Join MatchMaker today
It's free to join!