If you're running a podcast but only producing an audio version of it, you're missing out on an opportunity to reach new listeners. You're also denying yourself an organic stream of direct traffic straight to your website.
Producing some form of written online content to accompany each episode is important for your show's growth. And one way you can achieve this is by creating podcast transcripts.
What is a Podcast Transcript?
Put simply, a podcast transcription is a word-by-word account of everything that happens during each episode. They typically make content more discoverable, accessible, and convenient. More discoverable because they drive traffic to your website, more accessible because they give your audience more options, and more convenient because they make your content easily repurposable.
If you're not sure how to create a podcast transcript, or you're not entirely clued up on why you should be doing so, we've highlighted all the important bits in this article.
Book Your Next Podcast Guest the Easy Way
With more than 70,000 members, MatchMaker.fm is the largest online community connecting podcasters & guests.
Join MatchMaker today
It's free to join!
4 Benefits of Transcribing Your Episodes
Taking the time to transcribe your podcast episodes can result in various pay-offs. Yes, it takes some extra time and effort on your end to create them. But you get out what you put in, as they say. Typically, there are 4 main benefits of doing so.
1. Drives Traffic to Your Website
One of the main benefits of transcribing your podcast is that it drives traffic to your website. And that's really the end goal. Audio content alone isn't overly discoverable from an SEO perspective, because Google prioritises the written word. Having a written transcript sitting on your website is also a great way of getting your listeners to visit it. When recording your podcast, make sure you mention your transcript during the intro of each episode. This tells listeners that extra content is ready and waiting for them if they're interested in learning more.
Raz Kaplan, the Marketing Manager of Audioburst, recently spoke to Podnews about the positive impacts that transcripts can have on driving traffic. He said:
We've recently added visible automated transcripts into our audio search platform in order to test that exact issue [driving web traffic]. After 2 months we can say with full confidence that we've received 80% more visitors from Google during our test period.
2. Makes Your Show More Accessible
Transcribing your podcast makes it more accessible. For example, some people may be hard of hearing, and others might not have enough time to sit and listen to your entire episode. Offering an alternative to audio not only gives your audience more options, but it's also just a good way of being more inclusive. This can add a lot of value when it comes to building your brand and growing your community.
3. Transcripts Are Easy to Repurpose
The great thing about written content is it's much easier to repurpose than audio is. So by having a podcast transcription to hand, you'll find it easier to produce more content from each episode you publish.
Turning your transcripts into blog posts, for example, is an effective way of boosting your overall SEO performance. Raw, unedited transcripts often aren't good enough to rank on Google, for several reasons - they're rarely optimised for a single keyword, they don't include subheadings, they usually contain errors, and the verbatim spoken word doesn't always convert into an easy reading experience. Basically, the search algorithm does not score them highly. But by pulling out quotes from your episode's transcript, and using them to form the basis of a keyword-optimised blog post, you'll have a much higher chance of search engines ranking you (we'll cover more ways of repurposing your transcript shortly).
4. Supports More Backlinking Opportunities
Creating transcripts can help you secure backlinks. And backlinks are another great way of improving your SEO. If you don't provide a podcast transcription, other written content creators will be hesitant to send their audiences towards your content. Blog writers generally don't like to point readers towards audio material, as it means they'd have to sit through the entire episode. Transcripts on the other hand allow readers to quickly skip to the parts most relevant to them, making the content much easier and quicker to digest. So if your episodes are packed full of unique tips, strategies, and statistics, providing transcripts creates an incentive for blog writers to link to your show.
How to Create a Podcast Transcription
There are a couple of different options when it comes to actually transcribing your podcast.
You might choose to do it yourself, in which case you'll need to write down everything that you and your guest says throughout. Although this is the more accurate option (as opposed to automated transcripts), it can be extremely time consuming if your episode is more than 30 minutes long. Very few podcasters use this method for that reason.
The second option is to use a time-saving automated transcription service, like the one over at Podcast.co. It takes your episode and converts it into written text in minutes. It's around 95% accurate. So you'll still need to proofread the text and correct any obvious mistakes. But this is still far quicker than writing everything out yourself.
Here's a step-by-step guide on how to use it.
Firstly, you need to get set up on Podcast.co by either uploading your episodes or migrating them from your previous host. Check out the guide below on how to migrate to Podcast.co:
Once your episodes are on Podcast.co just follow the steps below.
Find the episode you want to transcribe and click the 3 dots next to it. Then click transcription.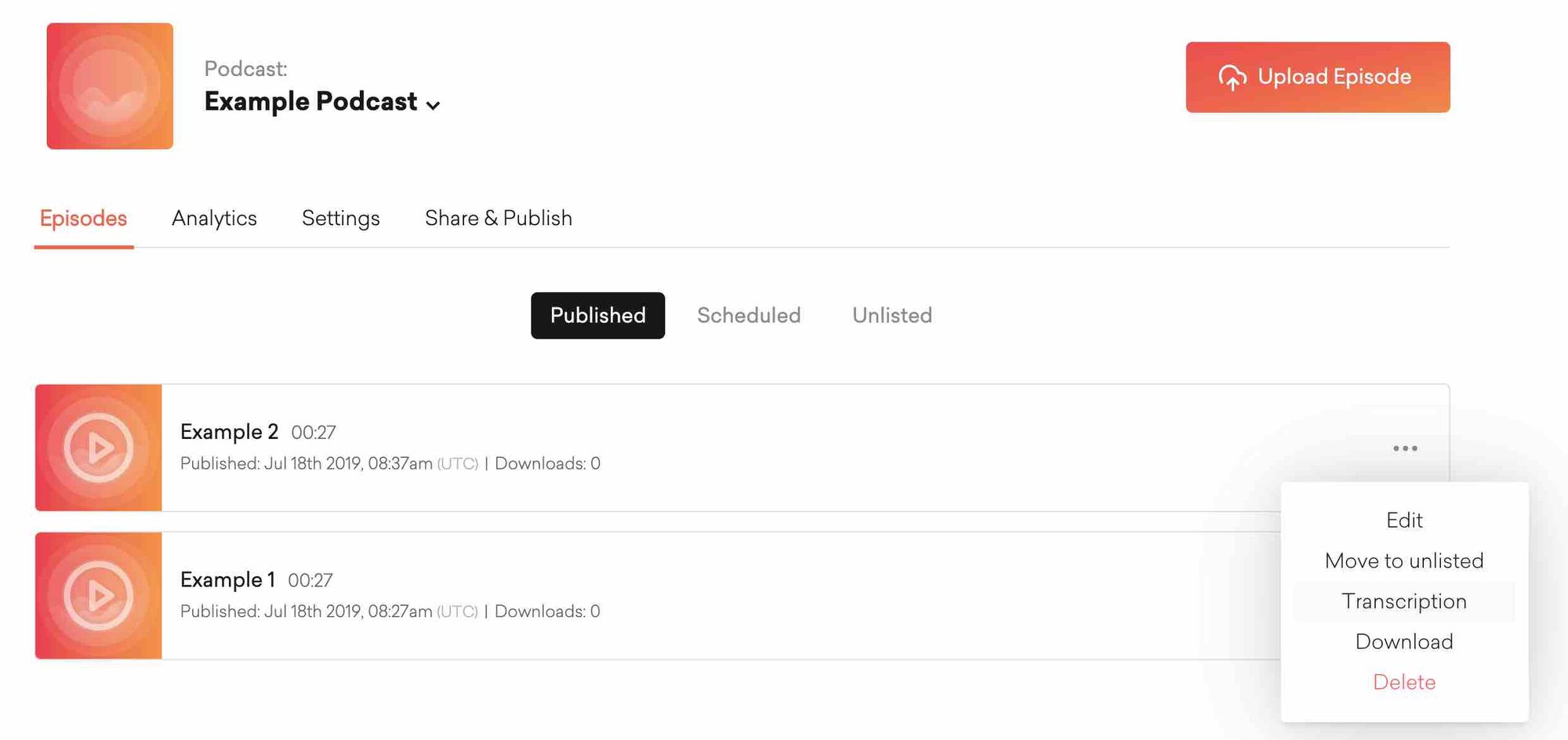 On the pop up window, select one of the following languages from the drop down list. There are a couple of things to note here:
If your podcast contains several languages, select the main speaker's language.
If the language you record your podcast in is not in the list (for example, Irish or Welsh), you'll be unable to use the automatic transcription feature.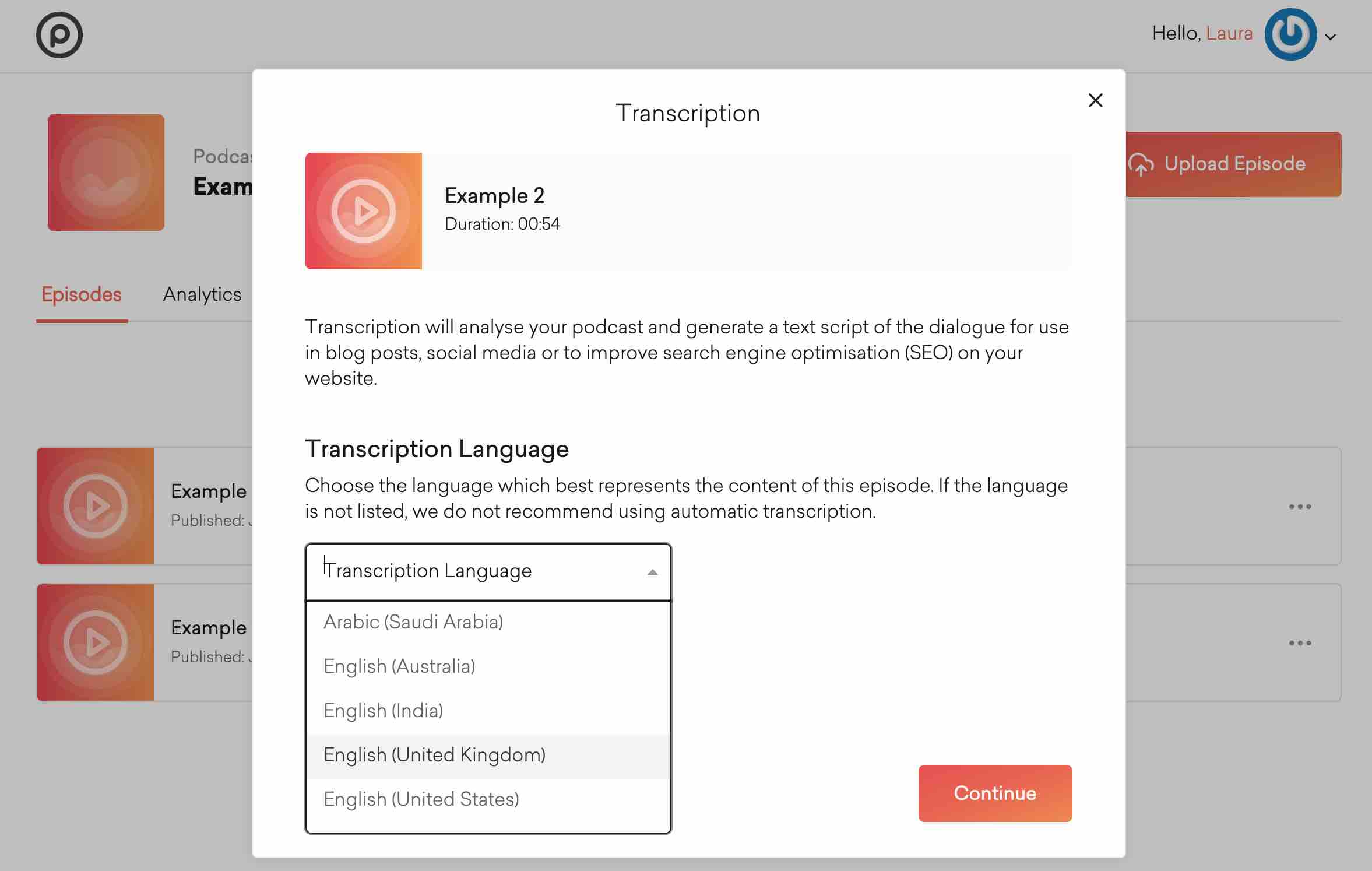 A black bar will appear letting you know the process has started and to check back later. This can take a while depending on how long your episode is (usually no longer than 60 minutes).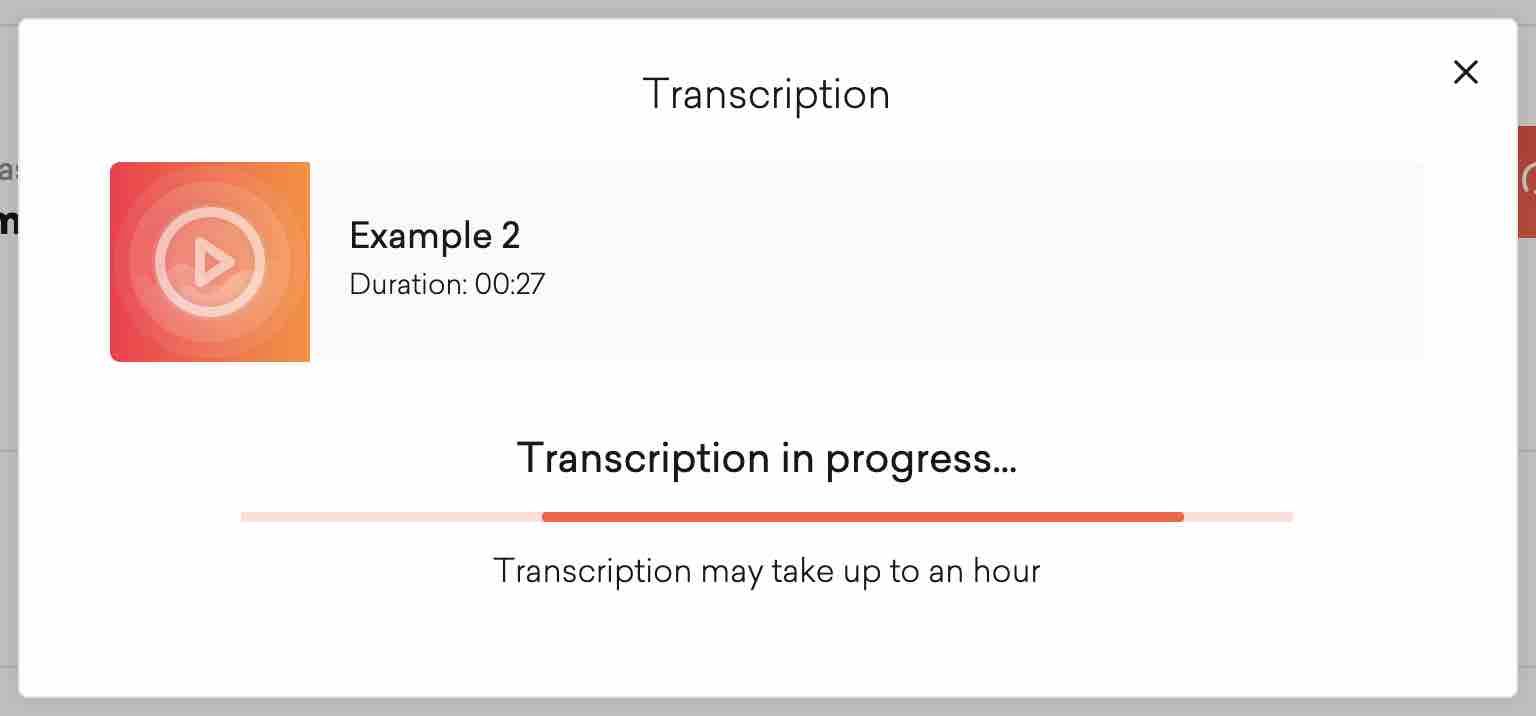 Click the 3 dots next to the episode again, and then transcription. If the process isn't finished it will show a progress bar like the one above.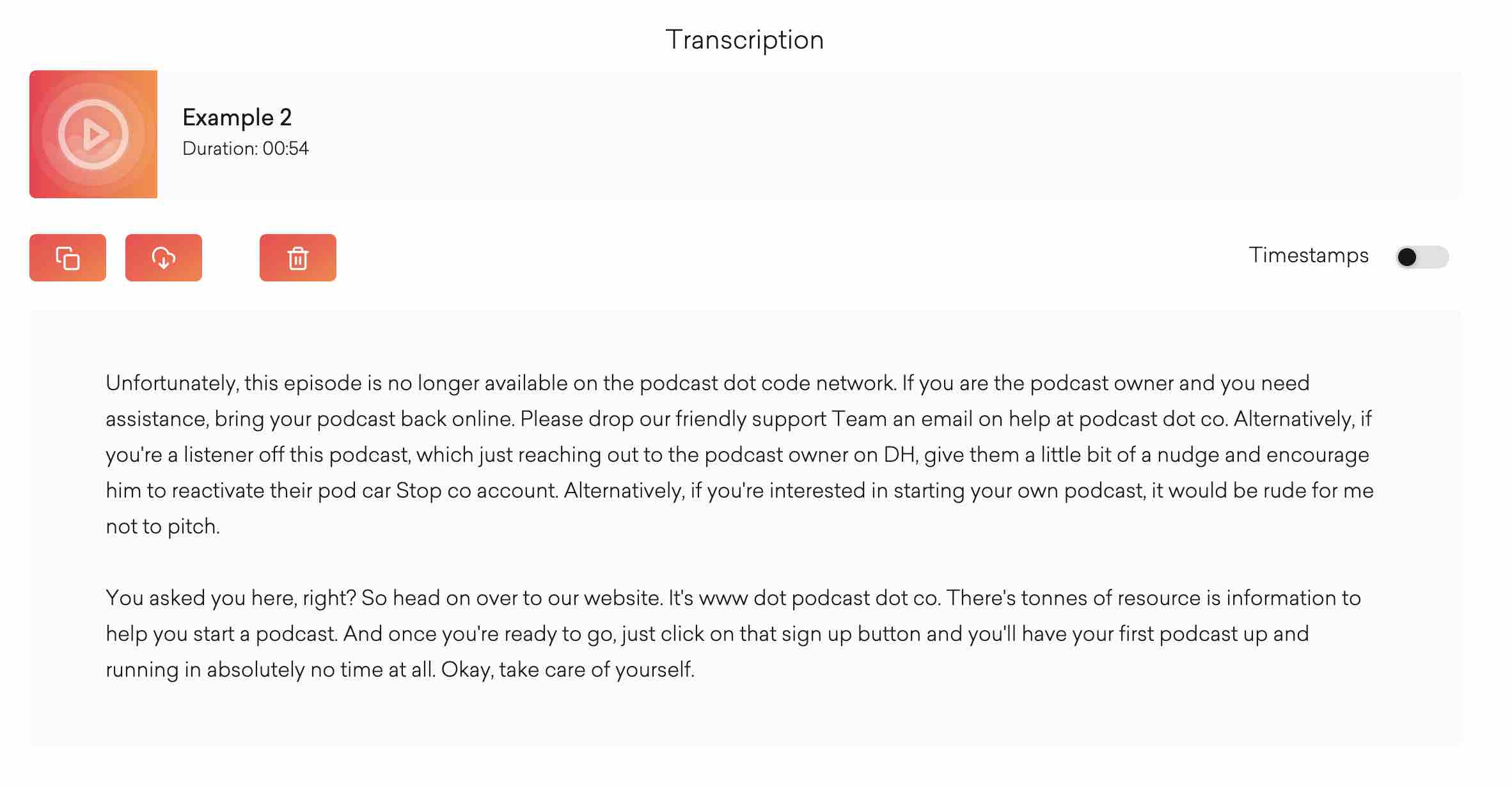 If the process is finished, it will display your transcription! You can then use the buttons to Copy or Download this text file to pop on your website. You can also adjust it to show the timestamps of the lines. We recommend using the timestamps as they are very helpful for readers, and for skipping to the right parts of the episode quickly.
5 Ways to Use Your Finished Podcast Transcript
When you're happy with how your podcast transcription looks, it's time to put it to use. The main thing to consider is how it will benefit the reader, so take some time to think about what they'll find most useful. The suggestions below are all good starting points.
1. Put It in Your Show Notes
A great place to put your transcript is in your episode's show notes. Your show notes will typically include everything you think the audience will find useful (timestamps, resource links, call-to-actions, etc), so it's only fitting that your transcript goes here too.
2. Turn It Into a Blog Post
As mentioned previously, whilst transcripts can help search engines recognise your content, they're not always well-written. This is where a blog post comes in, because they're great for SEO. If you can take your transcript and turn it into an easily digestible, concise, and well-written piece of content, you'll have a much higher chance of ranking.
💡
For a good example of how to convert a transcript into a long-form blog post, check out
this article
we produced over at Podcast.co after recording an interview with podcasting veteran Evo Terra.
3. Share It on Social Media
Regardless of how big your social media profile is, you should always share your transcript with your followers. This gives you the chance to let people know about it. Doing so can lead to people checking it out, which increases traffic to your website. It's also just a nice way of keeping your online community engaged and up-to-date with what content you're producing.
4. Create a Webpage for All Your Transcripts
Because you should be making a transcript for each episode, setting up a dedicated hub for them all is a good idea. It doesn't have to be anything extensive - just having them all in one place is enough.
Whitney Johnson, host of Disrupt Yourself, has created a user-friendly archive for her show's podcast transcriptions. You can see this below: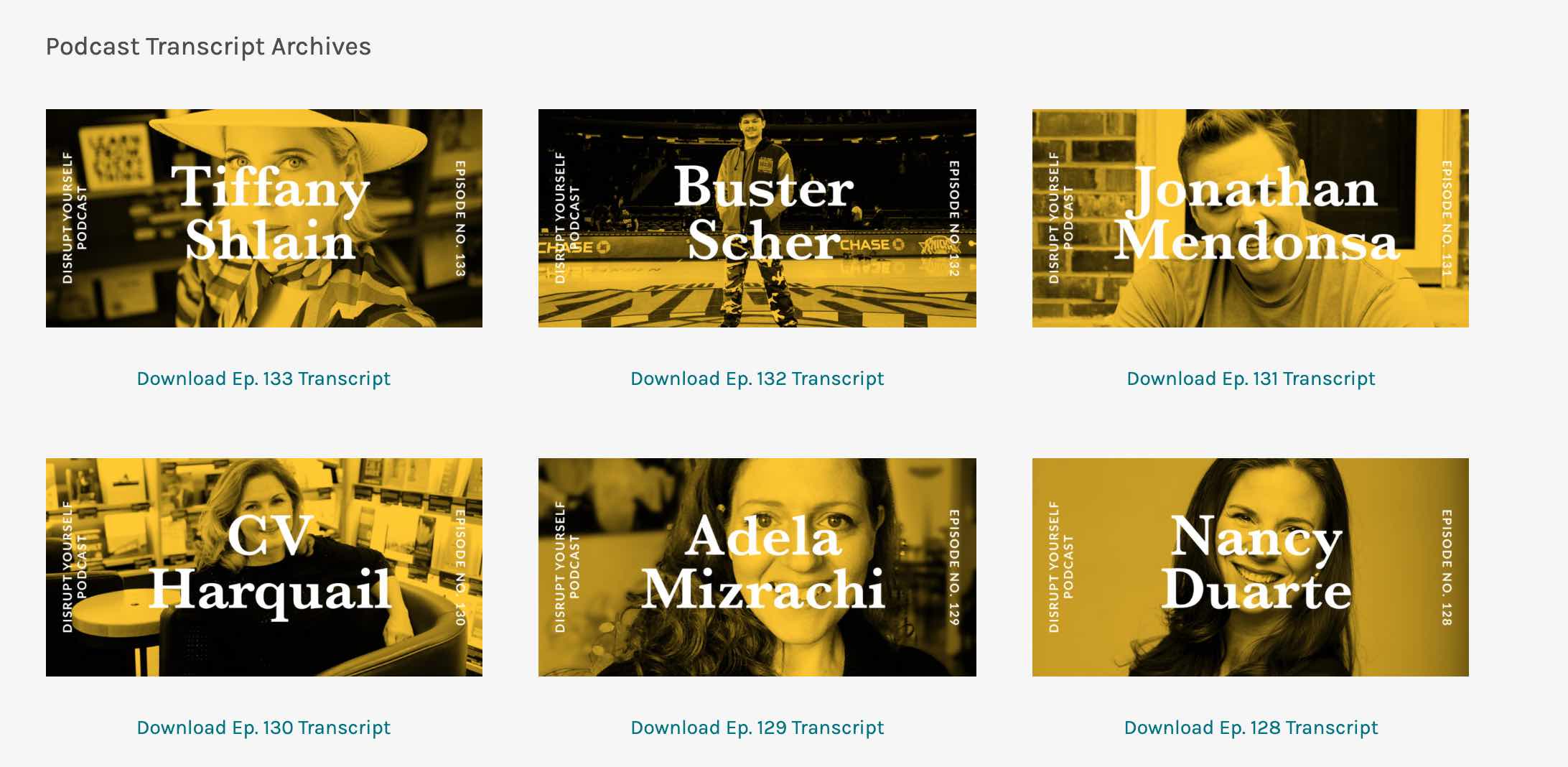 5. Make It Downloadable
Another thing you can do is to make your transcript downloadable. This is a great option for those who want to build their mailing list off the back of their podcast. Simply direct readers towards your site, and encourage them to enter their contact details in order to get access to downloadable transcripts of all your episodes - as shown in the example below: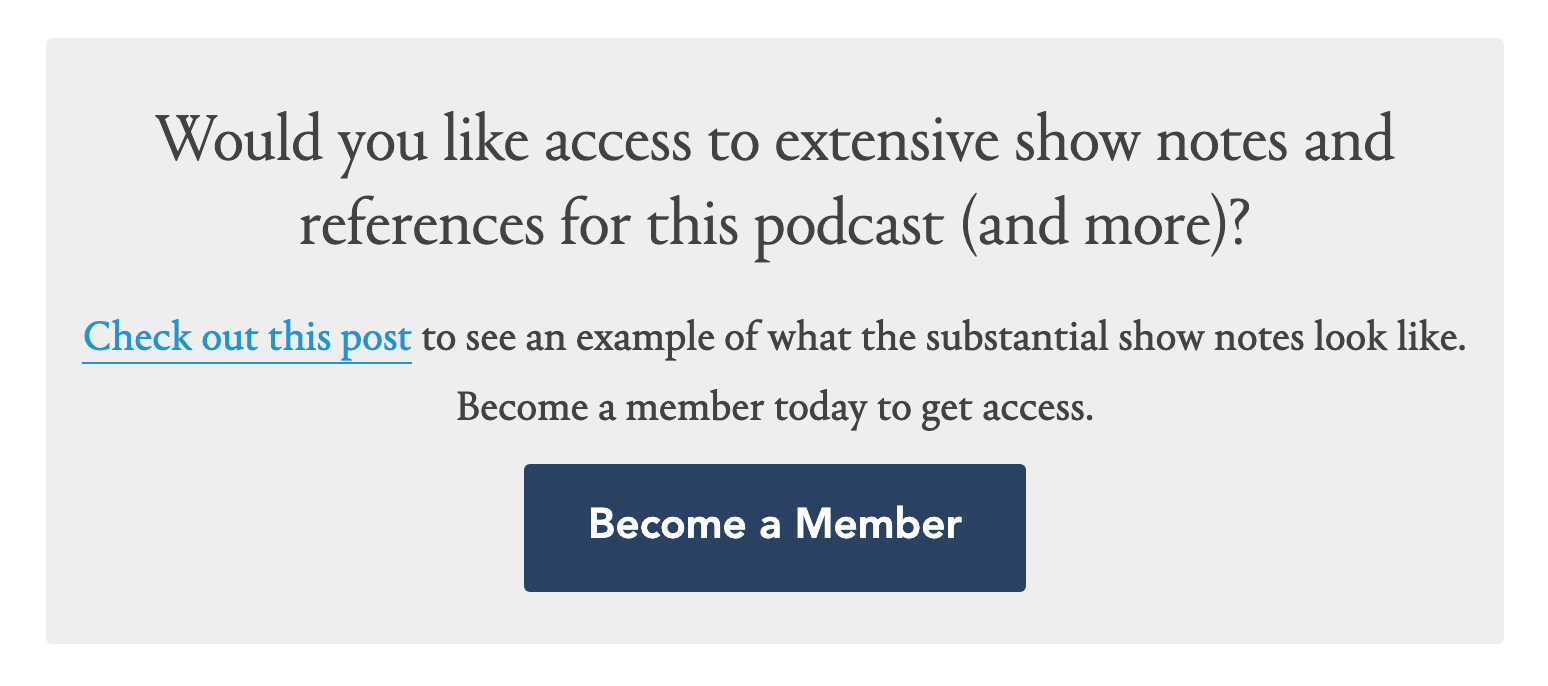 💡
It's important to appreciate that downloadable files won't give you the same SEO boost that actual online content will. This is because Google won't be able to index the transcript if it isn't publicly displayed on-page. Bear this in mind when choosing the right method for you.
3 Examples of Good Podcast Transcripts
To give you a bit more insight into what a good transcript looks like, we've picked out a few examples below.
Example #1: This American Life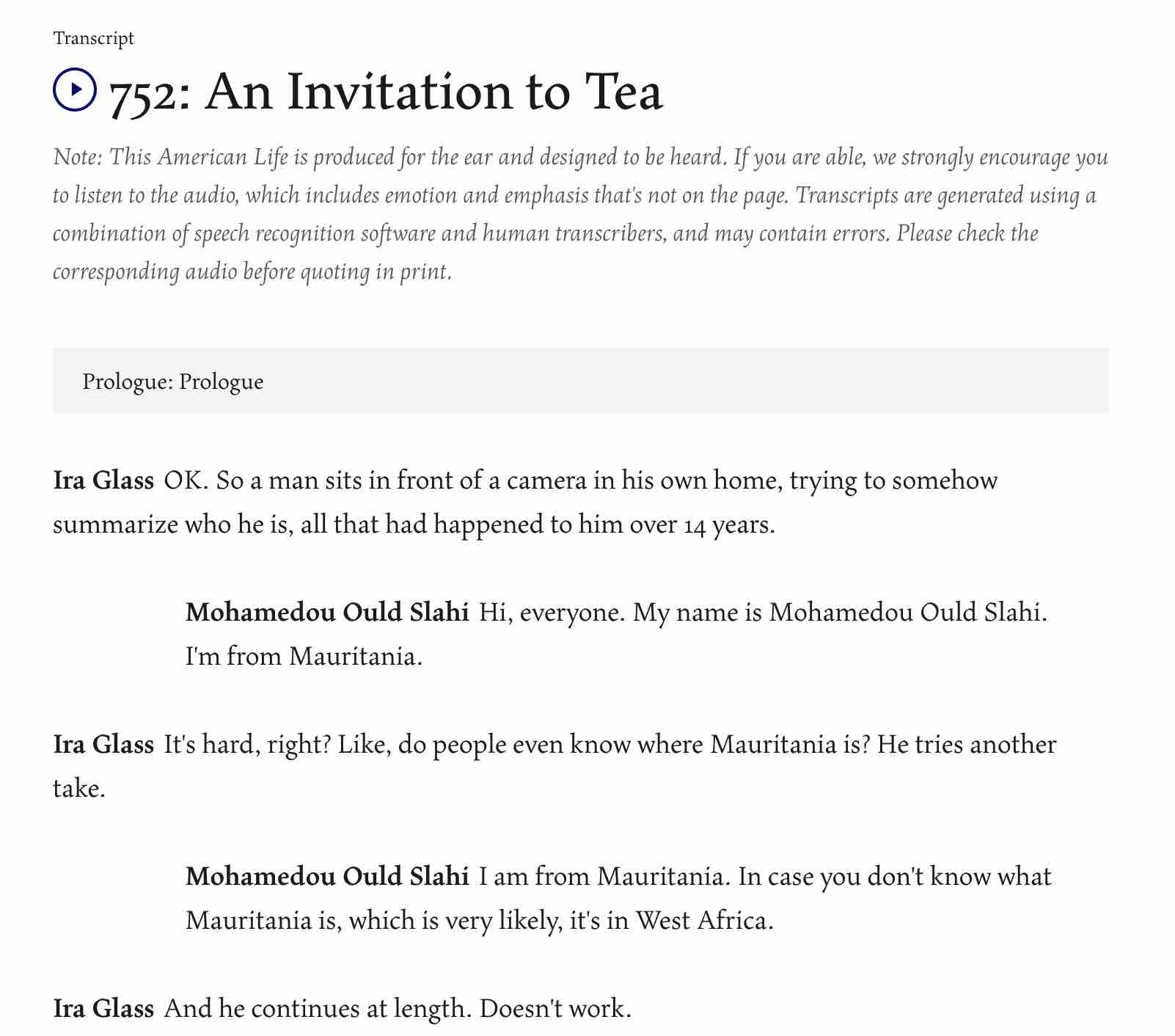 This American Life is a radio show and podcast that produces weekly episodes, with a strong focus on journalism, stories, and ideas. Despite its busy recording schedule, the show provides a transcript for each episode it produces.
As you can see from the above screenshot, their transcripts are nicely presented and simple for the reader to digest. The link to the transcript itself sits on the episode's show notes page, making it easy to find and navigate.
Example #2: Vox Creative - More Than This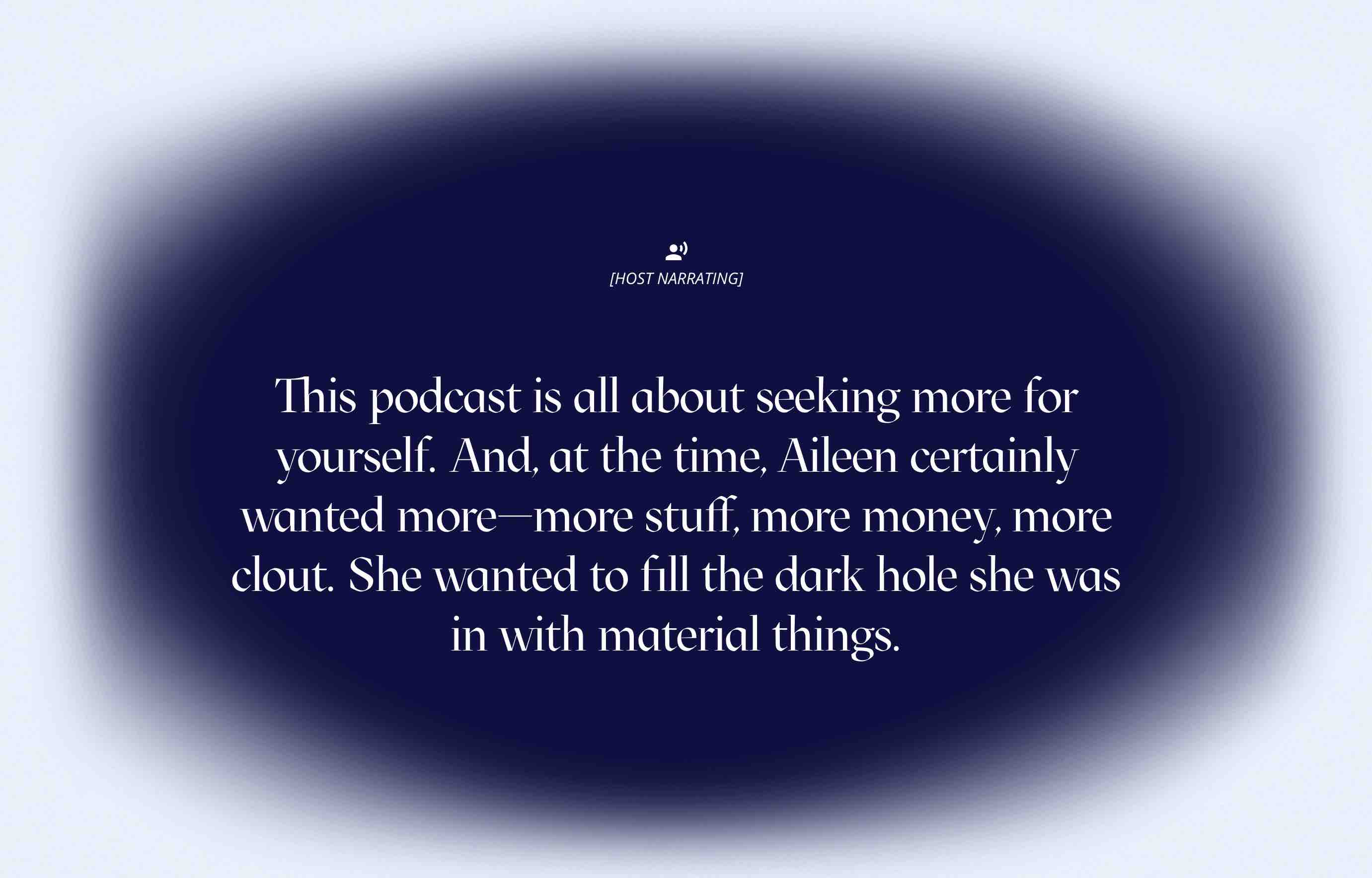 Vox have created stunning "immersive" visual podcast transcriptions for all episodes of their show More Than This - which shares the stories of individuals who have transformed their creative hobbies into flourishing careers.
The above transcript has clear subheadings, and is carefully edited so that the reader can fully appreciate the tone and flow of the episode's audio version. Although the transcript's design is impressive, it's good to note that this is just an example of how creative you can be. Don't worry if you haven't got the time or resource to produce something of this level.
Example #3: Crime Junkie
This one's a bit different.
Instead of providing written transcripts, Crime Junkie (hosted by Ashley Flowers and Brit Prawat), which focuses on true crime, provides audiences with an American Sign Language version of each episode.
If you've got the marketing budget to do this for your own show, it's a really great way of making podcasts extra-accessible. Doing so is guaranteed to make your show stand out, and more importantly, it's a really valuable way of showing inclusivity to hard-of-hearing communities.
The #1 Podcasting Community
With more than 70,000 members, MatchMaker.fm is the largest online community connecting podcasters & guests.
Join MatchMaker today
It's free to join!