Podcasting has gained immense popularity as a powerful tool for sharing ideas, stories, and information. And for a lot of podcasters, it's also become a profitable source of income.
But earning money from your passion can be tricky, especially if you don't know where to start. The good news is there are many ways to monetize your podcast - from sponsorships and advertisements to premium content, merchandise, and live events. The key is finding the right method that works best for you, your podcast, and your audience.
Understanding & Building Your Audience
First things first. Before you start monetizing your podcast, you need to think about building a community. Building a loyal and engaged audience is crucial to the success of monetizing your podcast. Because without one, monetizing your show will be pretty much impossible.
One of the biggest myths is that you must have a substantial following or large audience to earn money, which isn't true. Podcasting is a powerful medium because it cultivates feelings of intimacy between a podcast host and their audience. People are drawn to podcasts because they create a sense of accessibility and trust with the hosts. By nurturing and creating an authentic connection with your listeners from the start, you can start earning money regardless of audience size. Authenticity is key here.
Another thing to note is that along with building an audience, you should also understand who is listening to your podcast. Knowing your target audience's demographics, interests, and pain points will make it easier to find and implement monetization strategies that work for your show. You must nail these key foundational elements before implementing the following podcast monetization methods.
Book Your Next Podcast Guest the Easy Way
With more than 60,000 members, MatchMaker.fm is the largest online community connecting podcasters & guests.
Join MatchMaker today
It's free to join!
So, whether you're a seasoned podcaster or just starting, here are our 10 top ways to make money podcasting in 2023.
10 Ways to Make Money With Your Podcast
Calling all content creators, business owners, new podcasters, and even seasoned podcasters, here are ten ways to make money with your podcast starting today.
1. Sponsorships
Podcast sponsorships are a type of advertising where a company partners with a podcast host to promote its products or services to the podcast's audience. There are several types of sponsorship ad models, but the three main ones are the CPM (cost per mile), value-based, and affiliate (CPA) models.
The CPM model is best for established podcasters with a consistent monthly download rate, which should be at least 5,000 downloads per month, if not more. With this model, podcasters place an ad as a pre, mid, or post-roll and get paid a specific number per 1,000 downloads. So for a CPM of $20, if your episode is downloaded 5,000 times, you'll be paid $100.
CPM = ad cost per 1000 downloads
The other two models might be more profitable for smaller or indie podcasters, especially if you have a small yet engaged audience. With the value-based model, you can negotiate a set amount of money. So, regardless of whether 1,000 people hear the episode or 10,000, your podcast revenue will be the same.
The CPA, or cost-per-action, model is simple. You receive money every time someone purchases a product or service you're promoting. Again, this can be tricky if you don't have a larger audience, but it can work on a niched and engaged audience that trusts your recommendations.
CPA = ad cost per generated sale
💡
Regardless of the model you choose, avoid baked-in live reads. These are recorded with the episode, and remain indefinitely. This can create issues in the future, especially if the ad content becomes irrelevant, or not in-line with your brand anymore. Opt for
dynamic-inserted podcast ads
instead.
There are three main ways to secure a partnership with potential sponsors. First, you can pitch directly to brands. You'll need to research your niche, look for companies that align with your brand, understand what they offer, find their email, and pitch. You can also join a podcast advertising network, or a podcast ad marketplace like Gumball or Podcorn.
Ultimately, the most important thing to remember about sponsorship deals is that you must provide value to create long-lasting relationships with brands. Partner with sponsors that align with your podcast's brand, and whose products or services appeal to your listeners.
2. Programmatic Advertising
This refers to the use of automated ad buying and placement systems to deliver ads within podcast episodes. The ads come from a programmatic marketplace, and are automated based on a bidding system. They appear in episodes based on listener behaviour and location.
Although it may seem complicated, it's one of the easiest ways to start earning money from your podcast (even if it's a few cents here and there). After opting in, podcasters can add pre, mid, or post-roll ad markers where they'd like ads to run in their episodes. And that's it, everything else is automated.
Programmatic advertising happens in an auction environment, with real-time bidding. As a result, CPMs can range from $3 to $40 (although the higher figure is quite rare).
Other things that should be considered include the following:
Ad fill rate or fill rate: Just because you have four ad spots in your episode doesn't necessarily mean they can all be filled with ads. If no ads are available, those spots will remain empty, and your potential ad revenue will be impacted.
Listener location: Where your listeners are located makes a difference in earning potential. For example, if you have a large audience from the United States, you have a better chance of earning with programmatic.
Download numbers: As programmatic runs on a CPM model, the more downloads you have, the more you can earn.
💡
Programmatic advertising is a popular method of monetizing your back catalogue. If you have hundreds of past episodes with a decent number of downloads, turning on programmatic advertising could potentially mean some extra money at the end of each month.
3. Affiliate Marketing
Affiliate marketing is performance-based marketing, in which an individual promotes a company's products or services through a special link, and earns a commission on any resulting sales. It's that simple.
Affiliate marketing allows you to earn money by promoting relevant products or services to your podcast audience. You can include affiliate links in your show notes, social media platforms, emails, and even your podcast website. Or, you can mention the products or services during your podcast episodes.
When your listeners use your affiliate link, you earn a percentage of that sale. This can be a great way to monetize your podcast and earn smart passive income, especially if you have engaged audience members.

How do you find a well-fitting affiliate programme?
There are several ways of doing this. The easiest being to look for companies related to the topics you cover in your show, and see if they have an affiliate scheme. You can also take stock of the tools, products, and services you already use. Do they have one? Afterall, there's nothing better than promoting something you already use and love.
Another option is looking at, or talking to, other podcasters in your niche. Maybe they can recommend an affiliate programme that would be a perfect fit. Remember that listeners can listen to multiple shows, so don't see other podcasters as competition. Instead, make sure to see them as part of your podcast community.
Regardless of what affiliate programme you decide to be part of, be transparent about your affiliations and disclose that you may earn a small commission from any sales made through your affiliate links. Trust that your listeners want to support you, and be open and transparent with them whenever possible.
4. Premium Content & Subscriptions
In essence, premium content and subscriptions offer additional bonus content outside your regular free content, for an additional fee. With a membership model, podcasters can secure a regular income stream while fostering a sense of community among listeners.
There's a lot of flexibility regarding what goes into premium content. And there's no right way of doing it. Podcasters might want to host "Ask Me Anything" sessions, create a rotating mixture of episodes (such as exclusive interviews), tease guest appearances, provide subscribers with early access, host live events, or create bonus episodes - the sky's the limit.
One of the most popular platforms for a monthly subscription option is Patreon, although it's not the only one. Along with various perks, Patreon offers tiered memberships, allowing podcasters to cater to different price points and reach a wider audience. Some of the most popular podcasts have a Patreon, so if you need inspiration, make sure to research ones in your niche.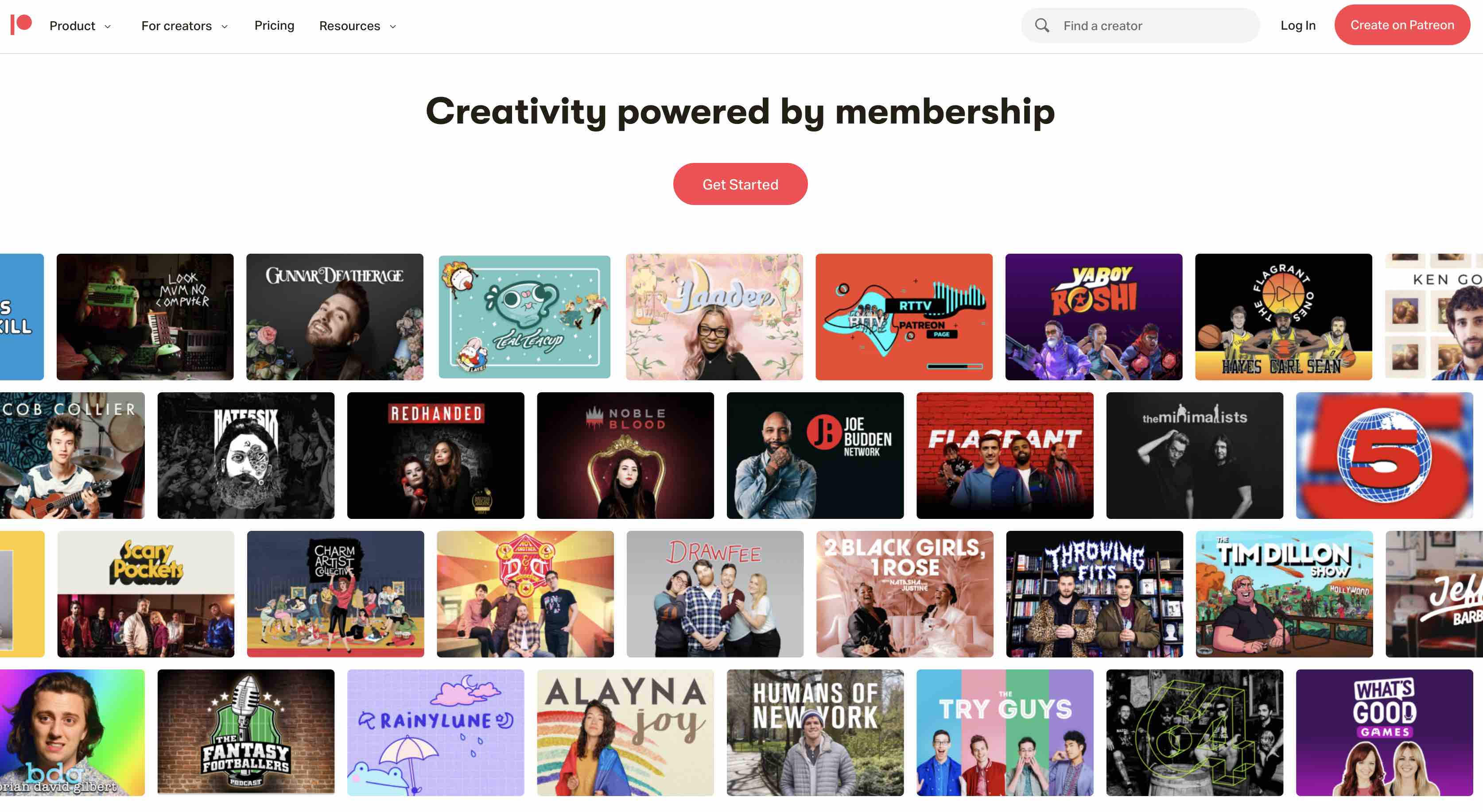 💡
Remember that no matter what podcast content you put out, it must be perceived as valuable and worth the fee by your loyal audience.
5. Ask for Donations
Another simple yet effective way of monetizing a community is asking for donations. Be upfront. Talk about the time and effort you put into your passion, and ask if anyone can support you with a donation.
A lot of podcasters do this as it's easy and simple to set up. You can add a PayPal button, open a Stripe or Venmo account, or even set up a GoFundMe campaign. Or, you can even create an account on Buy Me a Coffee.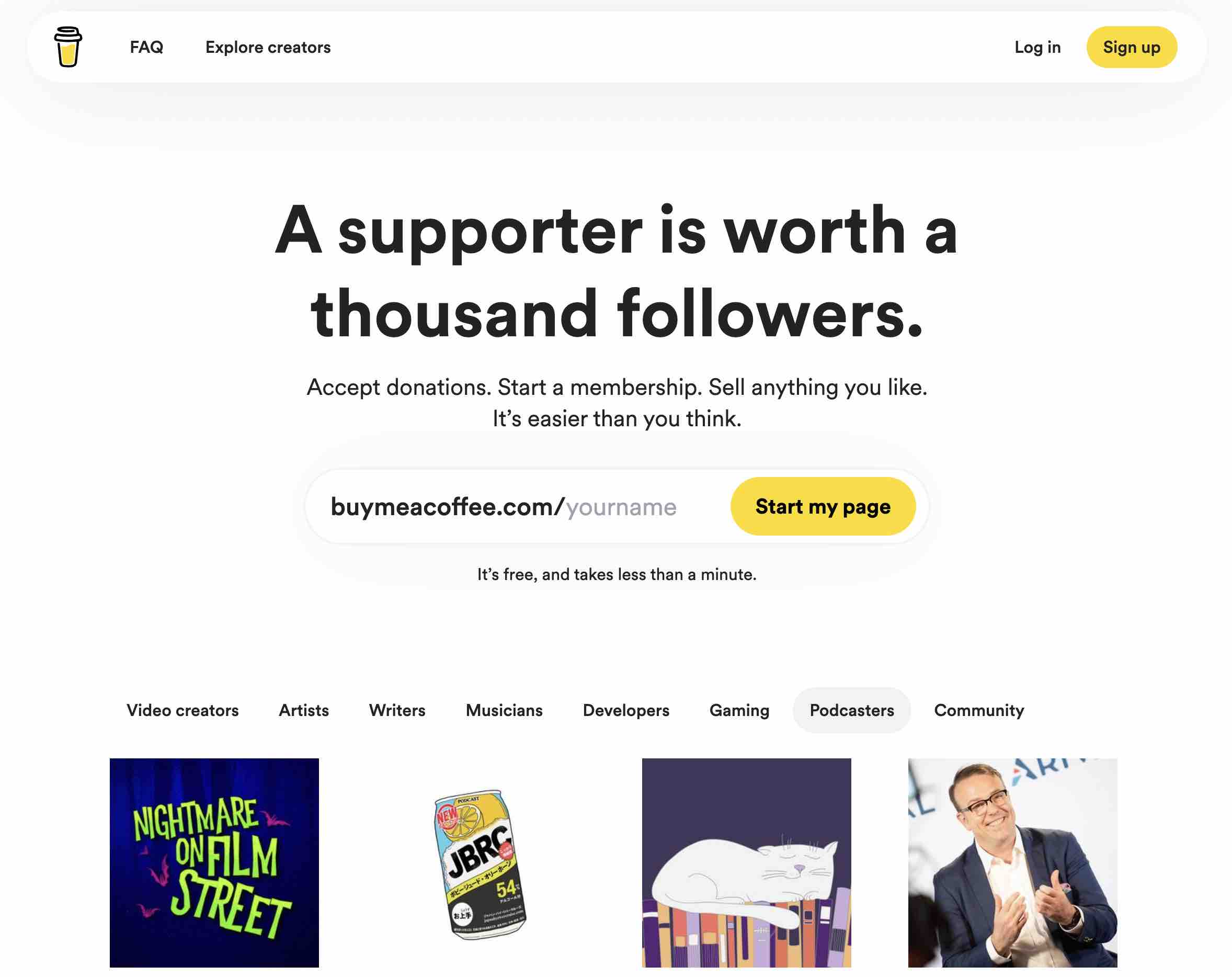 6. Syndicate Your Podcast on YouTube
Publishing your podcast on YouTube is an easy way of monetizing your existing content while reaching new audiences. You can earn money on YouTube by applying for and being accepted onto the YouTube Partner Programme. You must have at least 1,000 subscribers and 4,000 hours of watch time in the last 12 months to be accepted. So you won't be able to monetize your first episode right away.
Although YouTube is a great place for old and new podcasts to make money, it isn't easy. YouTube acts like a search engine, and is SEO-focused. As a result, it's a good idea to learn about YouTube's best practices - including creating an eye-catching thumbnail, writing a keyword-rich description, including relevant tags, and separating your video into chapters.
Once accepted into the partner program, you can monetize your podcast through YouTube Ads, which appear before or during your video (you can control their placement). Remember that how much you make with YouTube videos can depend on several factors, including watch time, views, ad skips, and ad clicks.
When recording your podcast, why not turn the camera on and record some video? Various paid and free tools record video and audio simultaneously. Big names like StreamYard, Riverside.fm, SquadCast, and Zencastr have all been created with the podcaster in mind. As a result, they offer features like multiple track recording, uncompressed audio, and 4K video quality. Once you've recorded the episode, many tools also offer video editing features, making the process simple and hassle-free.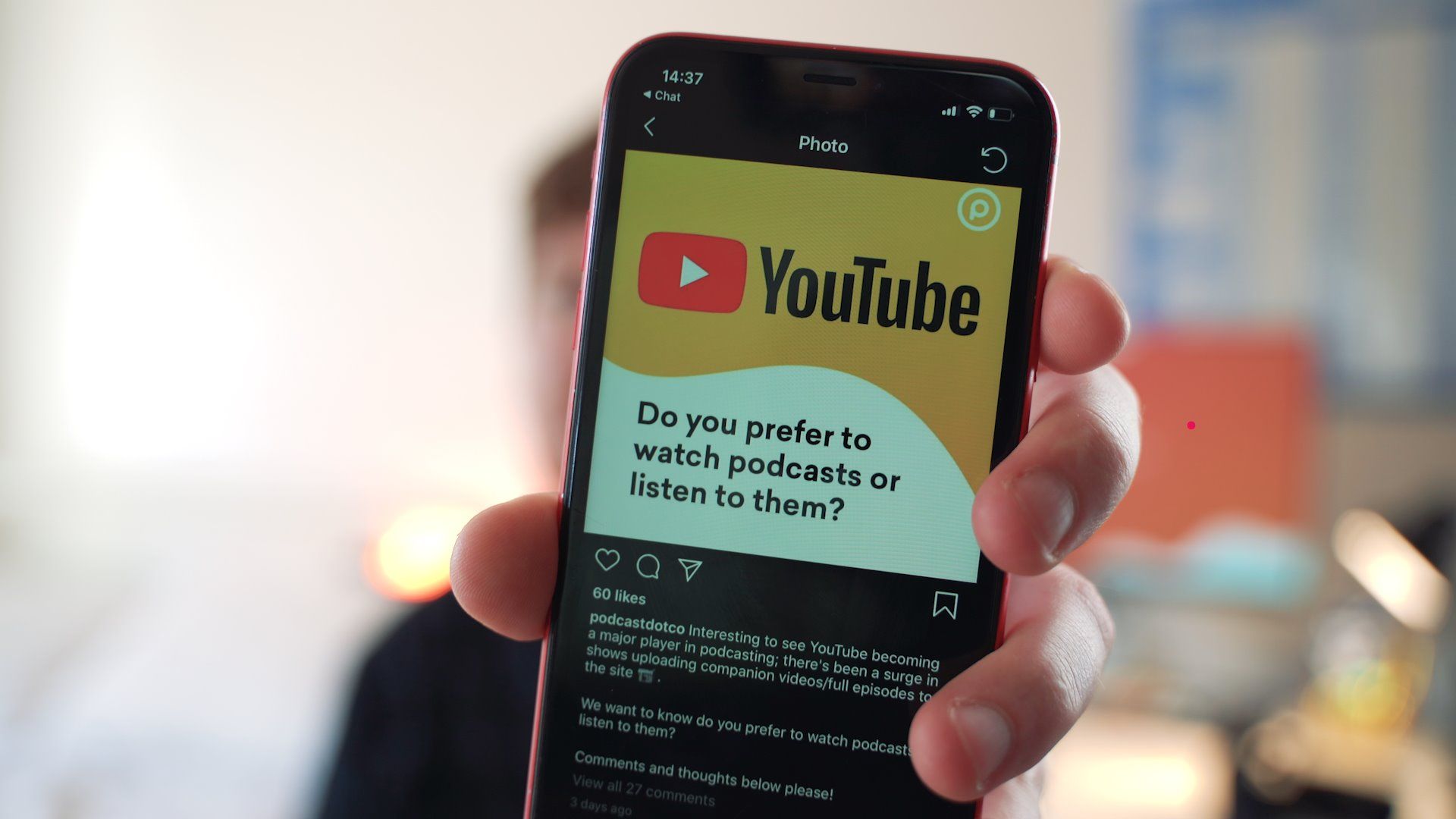 7. Coaching & Consulting Services
If you're podcasting about a topic, you're already somewhat of an authority in that niche. So, why not monetize that?
Information is power. And by leveraging your knowledge and expertise, you can easily offer coaching and consulting services to individuals or businesses interested in learning more about your niche. For example, a productivity and wellness podcaster might provide personal life coaching, while a marketing podcaster could sell personalised marketing strategies.
Starting a coaching or consulting business is a great idea, and relatively straightforward. All that's needed is a landing page on your website with a form or widget for people to sign up for a coaching session. The coaching session can be tailored to the client's needs and can be conducted over the phone, via Skype, or in person.
By offering personalised coaching and consulting services, you can easily leverage your expertise to provide value to your audience and generate revenue from your show.
8. Selling an Online Course
For podcasters who provide educational content or aim to teach listeners new skills, creating one or several online courses is a great way to make money with your podcast.
Podcasters can create a course on their own website, or host it on a third-party platform like SkillShare, Udemy, or Coursera. Depending on the platform, you can earn money in different ways. For example, on SkillShare, you earn monthly royalties tied to the number of course minutes watched, plus a student referral bonus.
If you're on the fence, you can always test the waters of your course through a third-party platform. If the course becomes successful and a lot of people buy it, bring it in-house. This will give you more control and a larger share of the profits, but it will also consume more of your time.
Courses allow you to leverage your expertise and provide value to your audience, while earning money from your show. It is something that can take a lot of time in the beginning but can be a profitable passive income source if marketed well.
Check out our own online course (The Podcast Guest Academy) hosted by our founder, James Mulvany, here.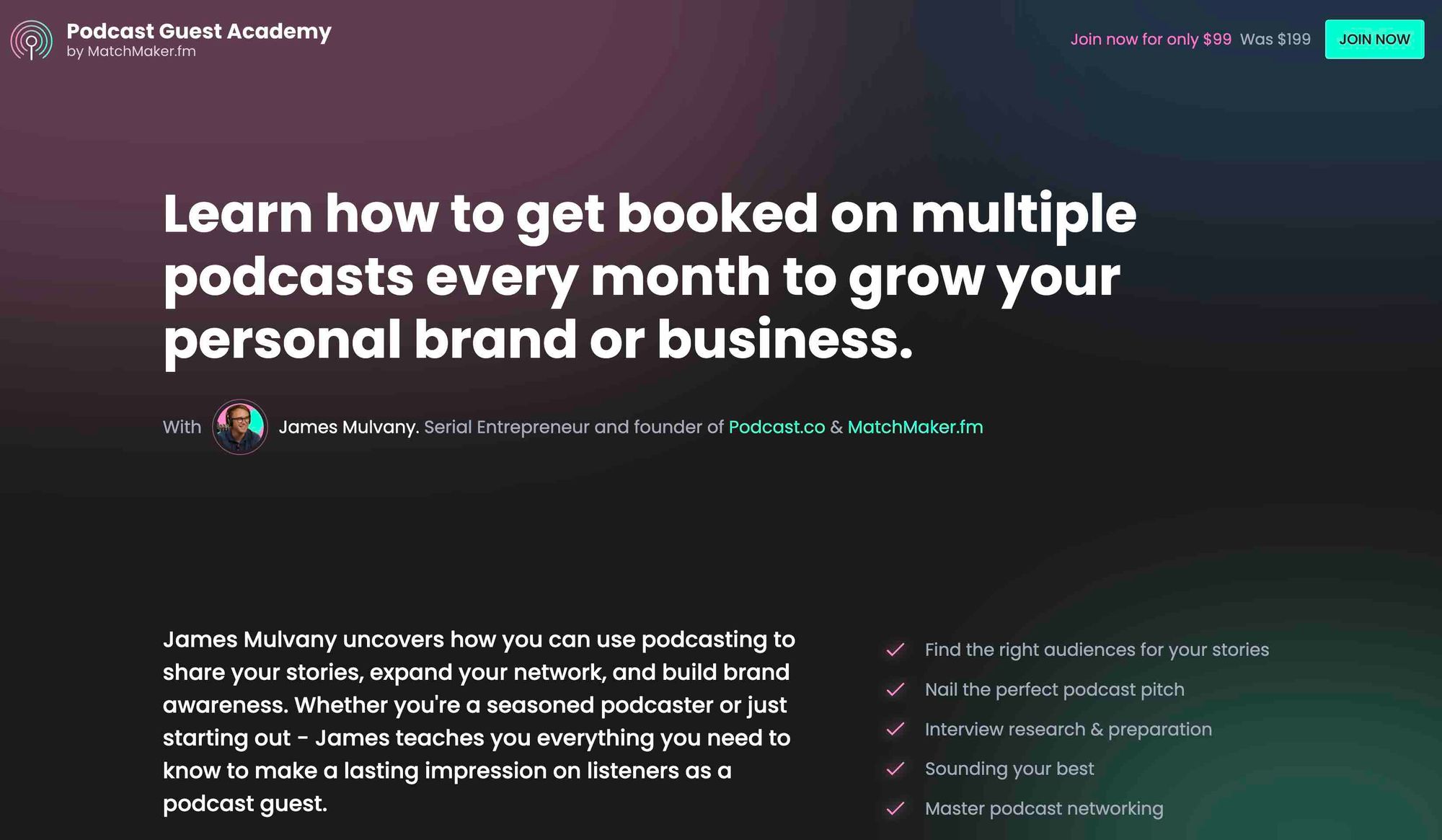 9. Physical Products & Merchandising
This particular strategy works best when you have a passionate and engaged audience who not only wants to support your podcast, but also connect with your content tangibly through merchandise and physical products.
When creating your merch, remember to always focus on your community and what they would love to buy. Add your logo, highlight your podcast's catchphrase, or even include an inside joke.
The best part is that many print-on-demand services (POD) can handle all the logistics, from printing, shipping, and even returns. If you didn't already know, POD is a manufacturing process where products such as t-shirts, mugs, posters, and other items are only printed when an order is fulfilled, rather than printing in bulk beforehand.
Another option is always buying in bulk, opening an online store, and handling all the shipping yourself. This can be an option if you'd like to provide your listeners with something that can't be done with print-on-demand.
Example: Mimosa Sisterhood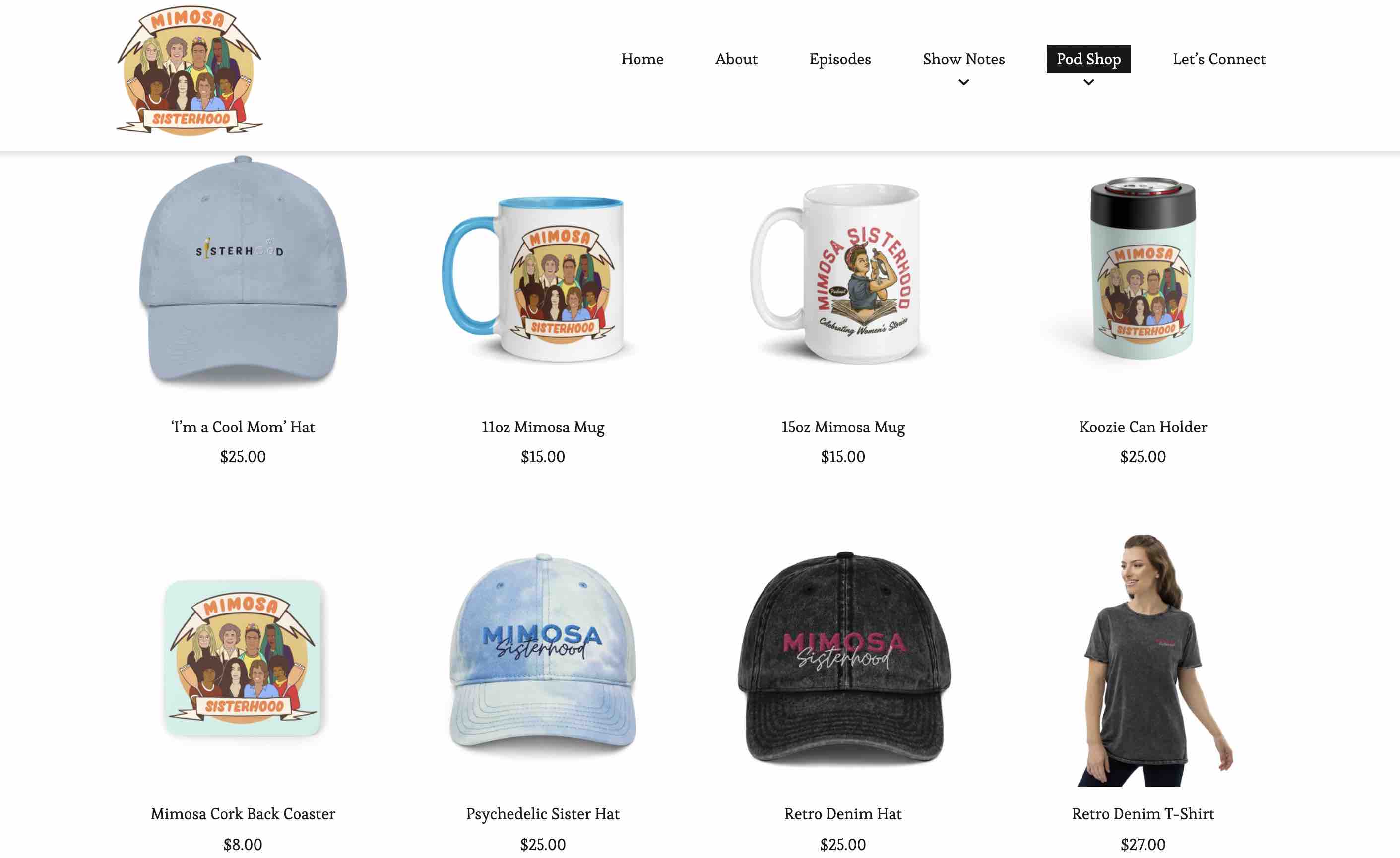 The Mimosa Sisterhood does merch well. With everything from stickers to hats, to mugs to pillows, there's a wide variety of products to choose from. Check out the Mimosa Sisterhood shop below for inspiration.
10. Live Events
As a podcaster, sometimes it's best to step back from the microphone and go to where the people are. And the best way to do this is by hosting a live event or a meet-up with your community.
Most successful podcasts started from the bottom. Do you know how the annual Podcast Movement started? It all started when podcaster Jared Easley, reached out to Dan Franks (another podcaster), to try arrange a listener meet-up. That meet-up had a total of around 20 people attend. Today, Podcast Movement is the largest podcasting conference in the world. Remember, most successful podcasters start small.
With events, crawl before you walk, and remember to be humble. Don't charge much money immediately, especially if people don't know who you are. Build the community first and lay a foundation. From there, connecting with like-minded individuals and earning money from live events will be easier.
5 Tips on Monetizing Your Podcast
Now you know how to make money podcasting, let's look at some tips you need to consider before starting.
Tip #1: Create a Strategy
Ensure you clearly know what you want to achieve and how you plan to get there. This will help you stay focused and motivated, and ensure you maximise your efforts. It will also allow you to take stock of what's not working, allowing you to pivot if you need to.
Tip #2: Build a Loyal Community
Building a solid and engaged community is the key to any podcast's success. Encourage interaction with your listeners, and make sure you're providing them with valuable and relevant content. Be authentic and build trust. Once that's done, then you can try to monetize it.
Tip #3: Be Patient
Monetizing your podcast is a marathon, not a race. Don't get discouraged if you don't see immediate results. Think long term. Stay focused on your goals, continue to create great content, and be patient as you build your audience and see the rewards of your hard work.
Tip #4: Utilise Multiple Monetization Streams
What is the best podcast monetization strategy? Not relying on just one monetization method. Make sure you explore different options such as sponsorships, affiliate marketing, selling merchandise, offering services, etc., and find what works best for you and your audience.
Tip #5: Continuously Evaluate & Improve
Regularly review your monetization efforts, analyse what's working and what's not, and make changes accordingly. Keep experimenting and finding new ways to monetize your podcast, and always strive to provide value to your audience.
Final Thoughts: How to Make Money Podcasting
It's a great thing to make money with your podcast, and there are many potential ways to do so - from sponsorships and affiliate sales, to selling your own products and offering coaching or consulting services.
The key is to understand who your target audience is, and create a strategy that works for both you and your listeners. Additionally, building a loyal community and being patient is essential to the success of monetizing your podcast. The size of your audience is not as important as creating a community of loyal fans and followers.
Remember, creating a sustainable income from your podcast takes time and effort. But with the right approach, it can be a lucrative venture and bring in big money.
The #1 Podcasting Community
With more than 60,000 members, MatchMaker.fm is the largest online community connecting podcasters & guests.
Join MatchMaker today
It's free to join!