Podcast media kits are very helpful when it comes booking guests and securing sponsorships. If you haven't made one for your show, and you're struggling to get bigger-name guests to say "yes" to your pitches, it's a strategy worth trying.
Not only does a podcast media kit give the reader context, but it also communicates everything they need to know about your show. We're talking download numbers, social outreach figures, advertising details, and more.
Yes, putting a media kit together takes some time. But when it's done, it's done. You can reuse it again and again. So it's well worth it. If you're not sure why you need to make one, or what you should include, we've outlined everything you need to know (plus an example) in this article.
What's the Purpose of a Podcast Media Kit?
Think of your media kit as a "shop window" for your podcast. It's meant to entice readers in and show them what your unique platform has to offer. And typically, media kits are intended to perform three main functions:
1. Media Outreach
If you want to let journalists or local media outlets know about your podcast, a media kit is essential. They've become the standard currency in this part of the podcast industry. Not only will it look more professional than just listing links in an email, but it's also much easier and quicker for the journalist to digest. Which means you're more likely to be featured or get a reply. We'll go into more detail about what you should include in your kit later on.
2. Helps Book Guests
Podcast media kits are also helpful for booking guests. Particularly high profile ones. Essentially, your kit acts as a showcase for your work, it'll tell them everything they need to know, like download numbers, traffic, and outreach figures. It's a good idea to list all your accolades too. The bottom line is if you can impress potential guests, they'll be more likely to want to take part.
3. Securing Sponsorships
Like with journalists and guests, media kits can play a key role in building relationships with potential sponsors. Again, if you can hit them with some impressive download numbers, they'll be more likely to take you seriously. It's then about negotiating terms to form a partnership. Remember that sponsorships are a mutual thing, so it's important to tell them how working with you will benefit them, and vice versa.
10-Step Podcast Media Kit Checklist
This is a bit of a balancing act. Readers have short attention spans these days. If you present them with reams and reams of text, your kit may end up in the virtual bin. So you need to be strategic and communicate the essentials below as concisely as possible.
Book Your Next Podcast Guest the Easy Way
With more than 70,000 members, MatchMaker.fm is the largest online community connecting podcasters & guests.
Join MatchMaker today
It's free to join!
1. About You (The Host)
Whilst your podcast itself should be the star of your media kit, it's also important to include a little bit about you. It's your show after all, and you're the one they'll be working with. It doesn't need to be a detailed biography, a paragraph will do the job. It's also useful to include your contact information, just in case they want to get in touch with you. If you're not the one actually hosting the podcast, you still need to add in some information about who they'll be talking to on the show.
2. What Your Podcast Is About & Who It's For
Telling the reader what your show's about, who it's for, and the genre /category it falls in to makes it easier for them to decide if they'll be a good fit. It's your job to pick relevant guests and sponsors to approach though, don't send your kit out to anybody and hope for the best. You need to be selective, and you don't want to waste anybody's time. Think about the key concerns and objections your readers may have, and aim to answer them with your kit.
3. A Brief Timeline Of Your Show's Growth
If something inspired you to start your podcast, be it an event or an interesting discussion with friends, it's a nice idea to include it in your media kit. Being honest about the growth, idea, and realistic timeline of your show's development is a great way of building trust with readers. Even if your podcast's brand new or been a bit of a slow burner, you should be transparent, explain why, and draw attention to the key successes and milestones you have achieved so far.
4. Download Numbers & Listening Stats
Including download numbers, website hits, and listening statistics in your media kit tells the reader about the size of your audience. Don't worry if you don't have thousands of people listening just yet though, the key is to demonstrate growth. Make sure you update this regularly too (every 30 days, for example), to reflect on how your numbers are changing. If your reader can see your pool of listeners getting bigger, they'll be more willing to get involved with your podcast.
5. Social Engagement Figures
Like the above, telling the reader the size of your social followings is important. For example, if you have a bigger LinkedIn following than you do Instagram, stating this can help them get an idea of who your audience are, and where you're engaging with them the most. It also just tells them how big of an influence you have relating to your podcast's topic. Depending on which platforms you're on, you should aim to include your most impressive social engagement figures in your media kit.
6. Advertising Information
If you're trying to get a specific brand, or show, to work with you, let them know what you're offering in terms of advertisement. Whether it's an on-air ad, social post, or cross-promotion, listing it in your media kit is the easiest way of opening the first line of communication. If they're interested in one of the options you're offering, they'll get in touch. Being vague about this can be hindering. If you've ran past ads with other partners, you might want to include a few examples, so they can see exactly what they'll be getting in exchange for their money.
7. Testimonials, Reviews, and Media Buzz
Have some of your loyal listeners left you reviews on Apple Podcasts? If so, pick out the best ones and put them in your media kit. Likewise if you've received some awards or press recognition, share that too. The more impressive your podcast looks, the better. If you're referring to a press release, make sure you provide the link too.
💡
Try to share your most recent reviews with the reader - this tells them that you're actively receiving good press.
8. Your Trailer or Snippets From Your Episodes
Seeing as though you're asking the reader to get involved with your podcast, including a link to an audio or video snippet makes sense. If you've created a trailer for your podcast, that's the ideal thing to include here. It'll give them an idea of the overall tone of your show, and can help them decide whether they'll be a good fit (or not). If you haven't got a trailer, consider editing a short (90-120 second) highlight reel featuring some of the standout moments from your most popular episodes.
9. Previous Guests
If you're sending your media kit out to potential guests, including details of previous ones can be helpful. It gives them an idea of who's been involved in the past, as well as how your show's conversations tend to go. Likewise, if you're trying to secure a sponsorship, letting them know who you've previously associated with can help their decision making. If you've had some impressive names on, it could persuade them to get involved.
💡
If you produce a solo show without guests, give an idea of previous topics discussed instead.
10. Links to Your Podcast, Website & Social Media
Whether they're a potential guest or sponsor, you want to make it as quick as possible to navigate to your show. Giving them a direct link within the PDF means they're just a click away. It's also useful to include links to your website, social feeds, and review pages.
Formatting, Design, & Presentation
Once you've got your content together in a word document, it's then time to think about how to present it visually. This matters more than you might think. Poor design quality reflects very badly on your podcast, and significantly reduces the chances of getting positive responses to your pitches. Here are a few pointers to keep in mind to help you make a lasting impression.
1. How to Design Your Kit
Because this is the first line of communication between you and the reader, you want to make a good first impression. You also want to grab their attention. Putting some time into making a nice design for your media kit is time well spent. If you're not a professional designer, don't worry - just use Canva. They have lots of pre-built templates you can use. All you need to is add in text boxes and drag and drop the right images. And remember, less is often more when it comes to design. Aim for a clean and simple look to avoid visual overwhelm.
2. Format in PDF & Compress
If you're putting your media kit into a PDF version, don't forget to compress it. We'd recommend keeping it below 5MB on the whole. If it's a much bigger file, it'll take longer to load and send. Gmail's maximum attachment size limit is 25MB, but the smaller the file the better.
💡
If using Canva, you can simply export your finished template as a PDF, and they'll compress it for you in the process.
3. Keep It Up to Date
Whenever your podcast hits a new milestone, make sure to update your media kit. This is good information to share with whoever you're sending it to. You might want to do so when you hit a certain number of downloads or social followers, or if you've worked with someone notable. If you can set time aside every quarter to update it, it'll show that you're present and actively engaging with your show's growth.
What to Do With Your Media Kit
Ready to start sending it out? As mentioned previously, you can use your finished media kit in a variety of ways:
Share it with local journalists and online media publications
Send it to big name guests you're trying to book
Send it to sponsors you want to partner with
Link to it on your podcast website
Media Kit Outreach Email Template
Use the template below when sending out your media kit. Don't forget to customise appropriately. You need to change your wording and approach depending on the kind of person you're reaching out to. Don't copy and paste the same email to both a journalist and potential guest.
Hi X,
Introduce yourself - [give the recipient a bit of context about who you are, and your area of expertise]
I've been following your [brand / content / podcast etc] for a while, and think we could work really well together. [Let them know how you think you'd work well together, and how they'd benefit from it]
My podcast covers X and Y. There's more information in the attached media kit, as well as all the relevant listening stats, download numbers, audience insights, and more. Please feel free to fire back some questions if there's anything you're not sure about: [provide link to media kit]
You can also find me on the following social media channels.
[Insert link to Instagram page]
[Insert link to Twitter page]
[Insert link to LinkedIn page]
[Insert links to any other relevant social media feeds]
Let me know your thoughts!
[Your name]
Example of a Good Podcast Media Kit
To put all of the above into action, we've included an example of a well-written podcast media kit.
The First Ever Podcast is hosted by Jeremy Bolm, lead singer of Touché Amoré. Signed to ROC NATION, we worked with Jeremy over at Podcast.co to create a media kit for his show. Below, we'll go through it and pull out the key takeaways from each page.
Page 1: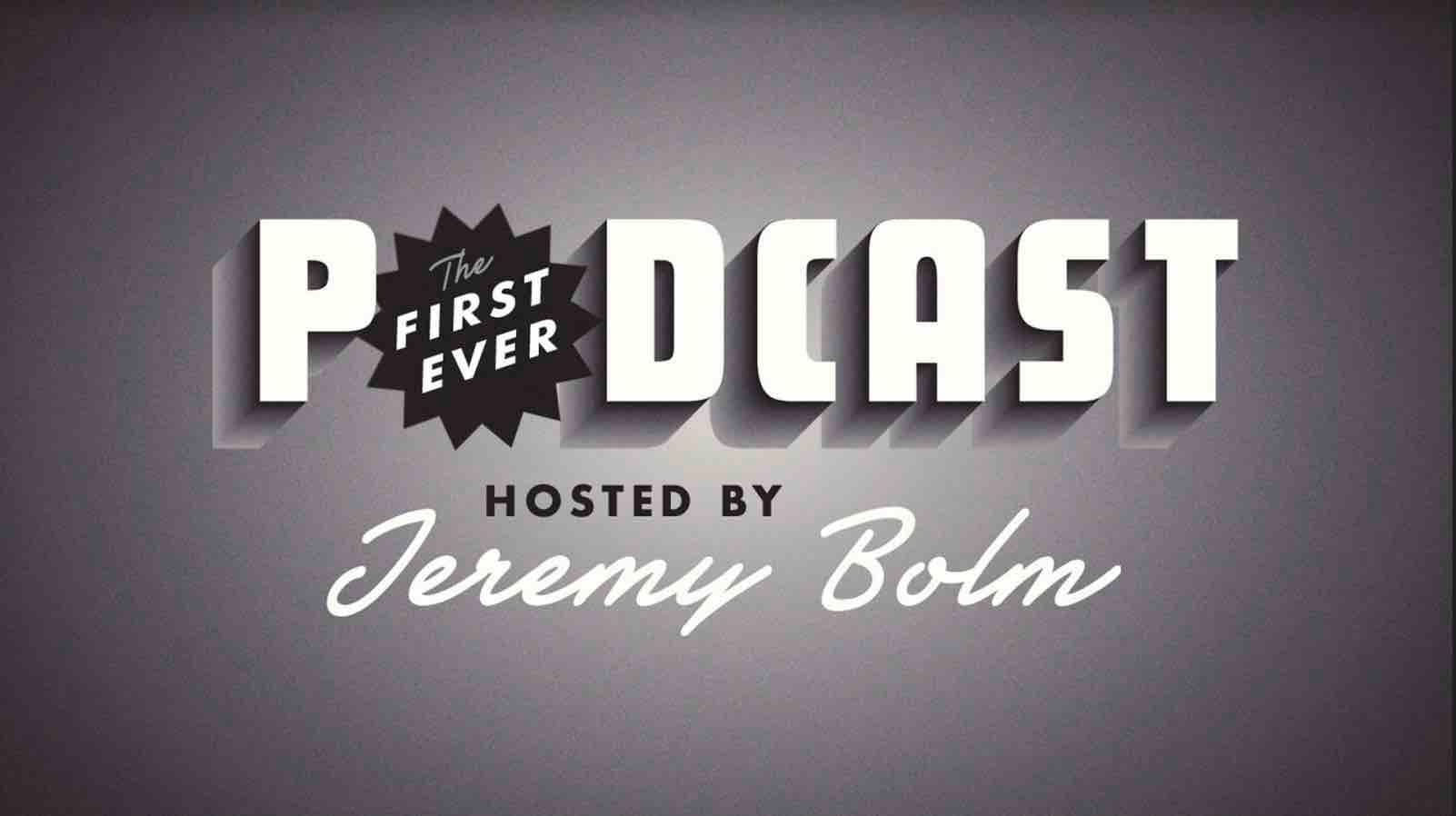 Key Takeaways:
Name and host of the podcast is introduced
Striking design sets up the tone of the media kit
Page 2: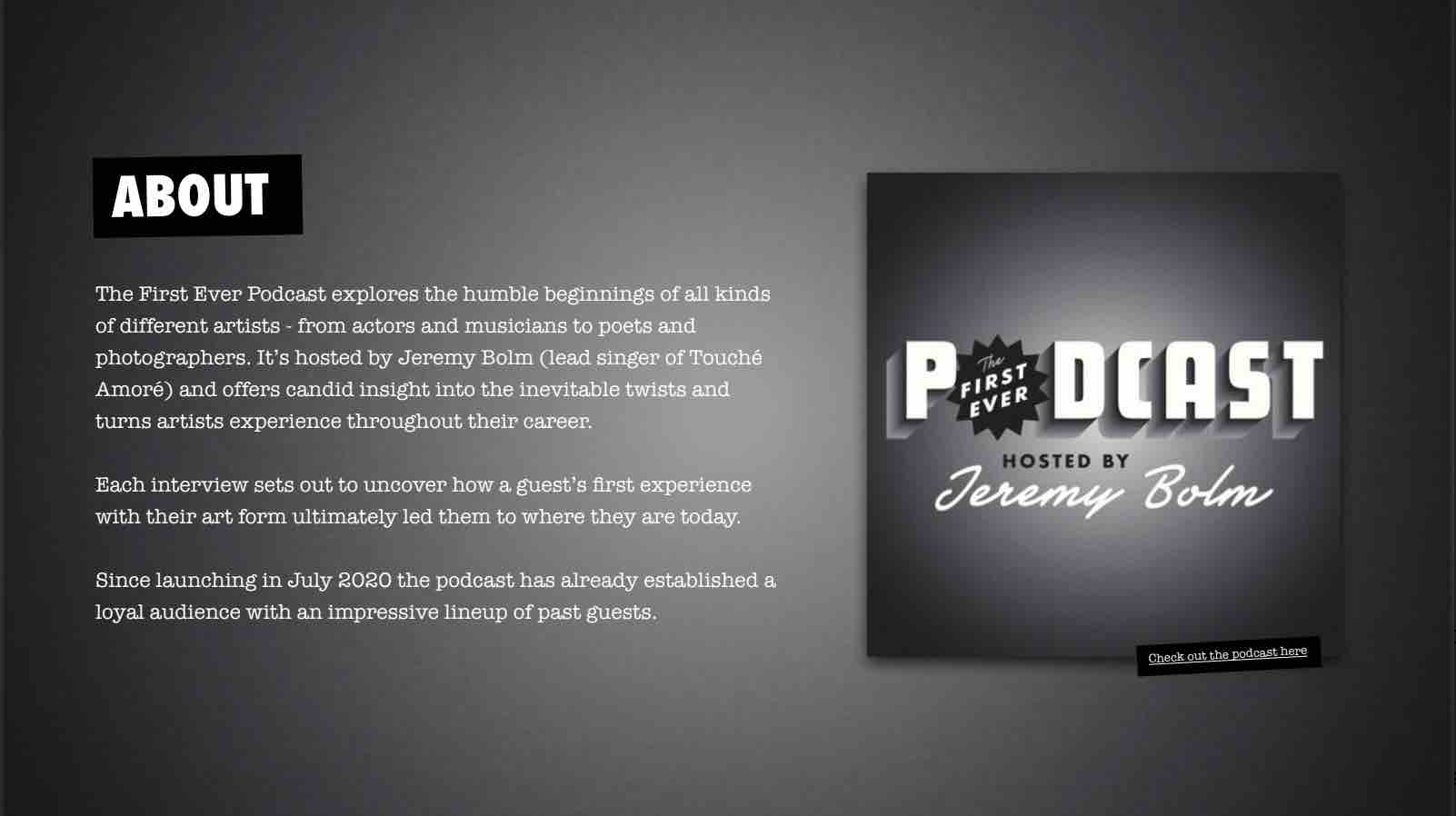 Key Takeaways:
A brief overview of the podcast is given
Gives context of the host and show itself
Clearly states the podcast's main topics and style (interview)
Page 3: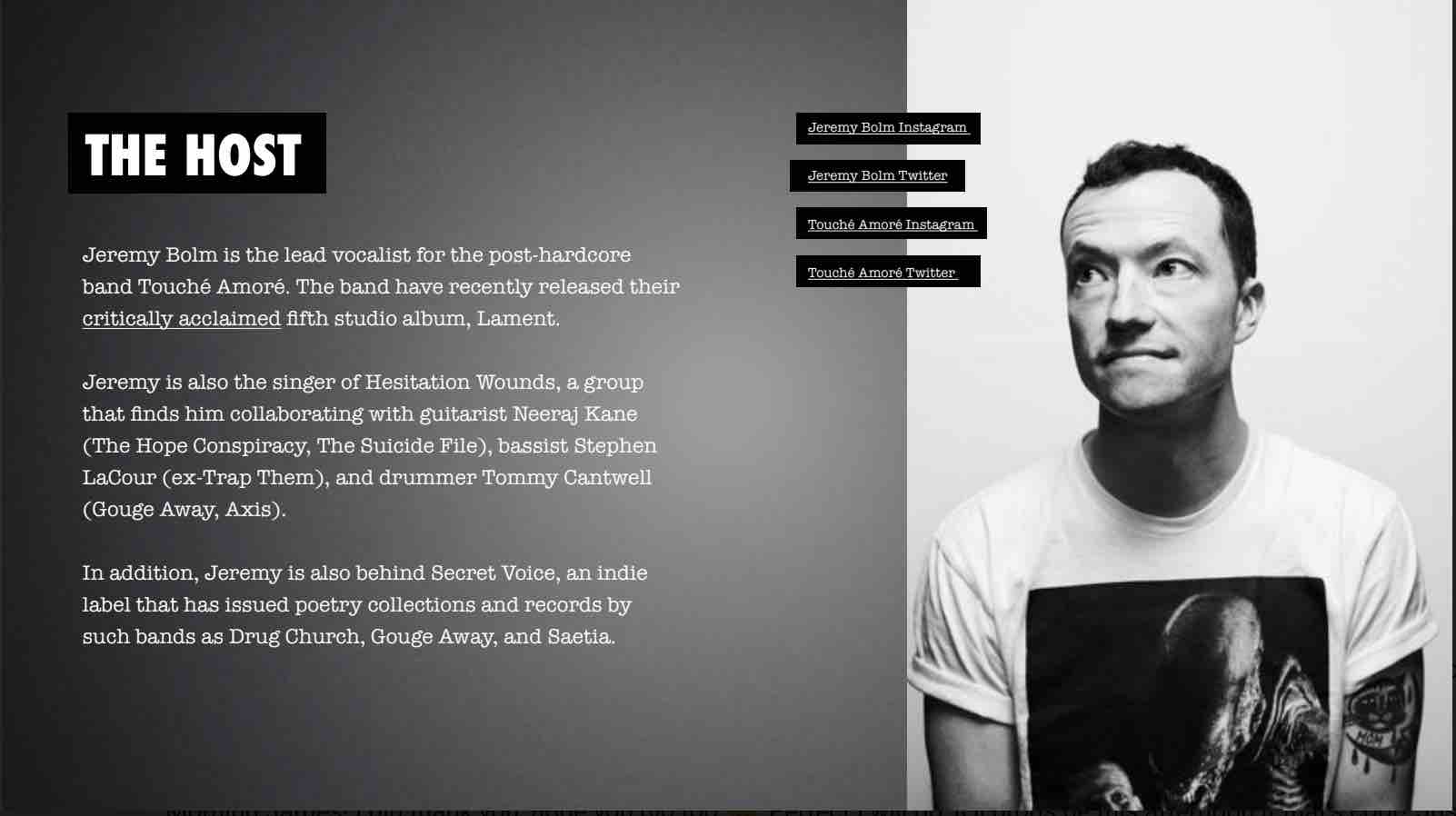 Key Takeaways:
Goes into sufficient detail about Jeremy's career
Informative, yet easy-to-digest
Includes links to social media feeds
Headshot helps the reader put a face to the name
Page 4: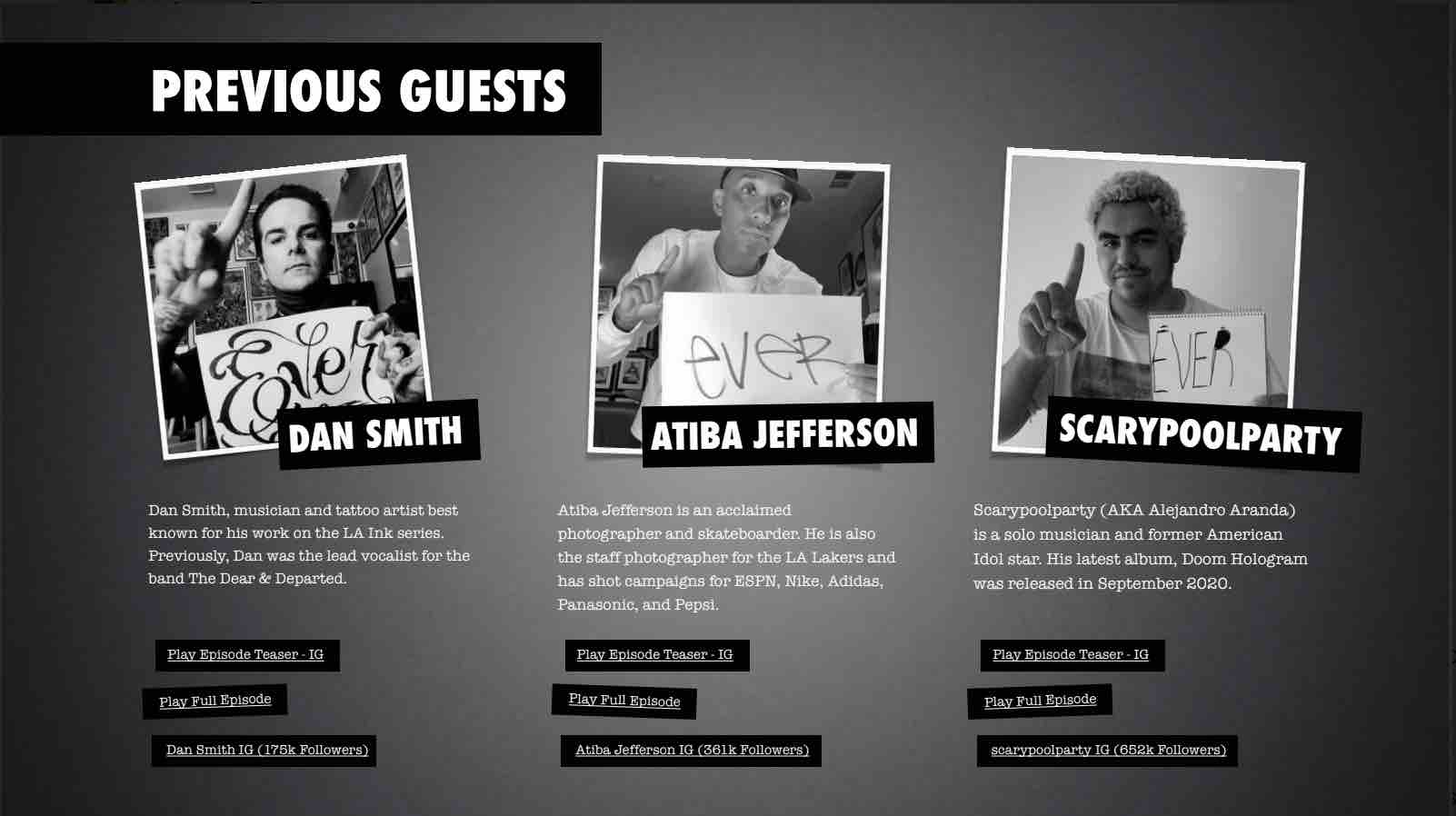 Key Takeaways:
Details of previous guests tell the reader who Jeremy has worked with before
Links to the guest's personal profiles are provided
Direct CTAs make the episodes easy to find
Page 5: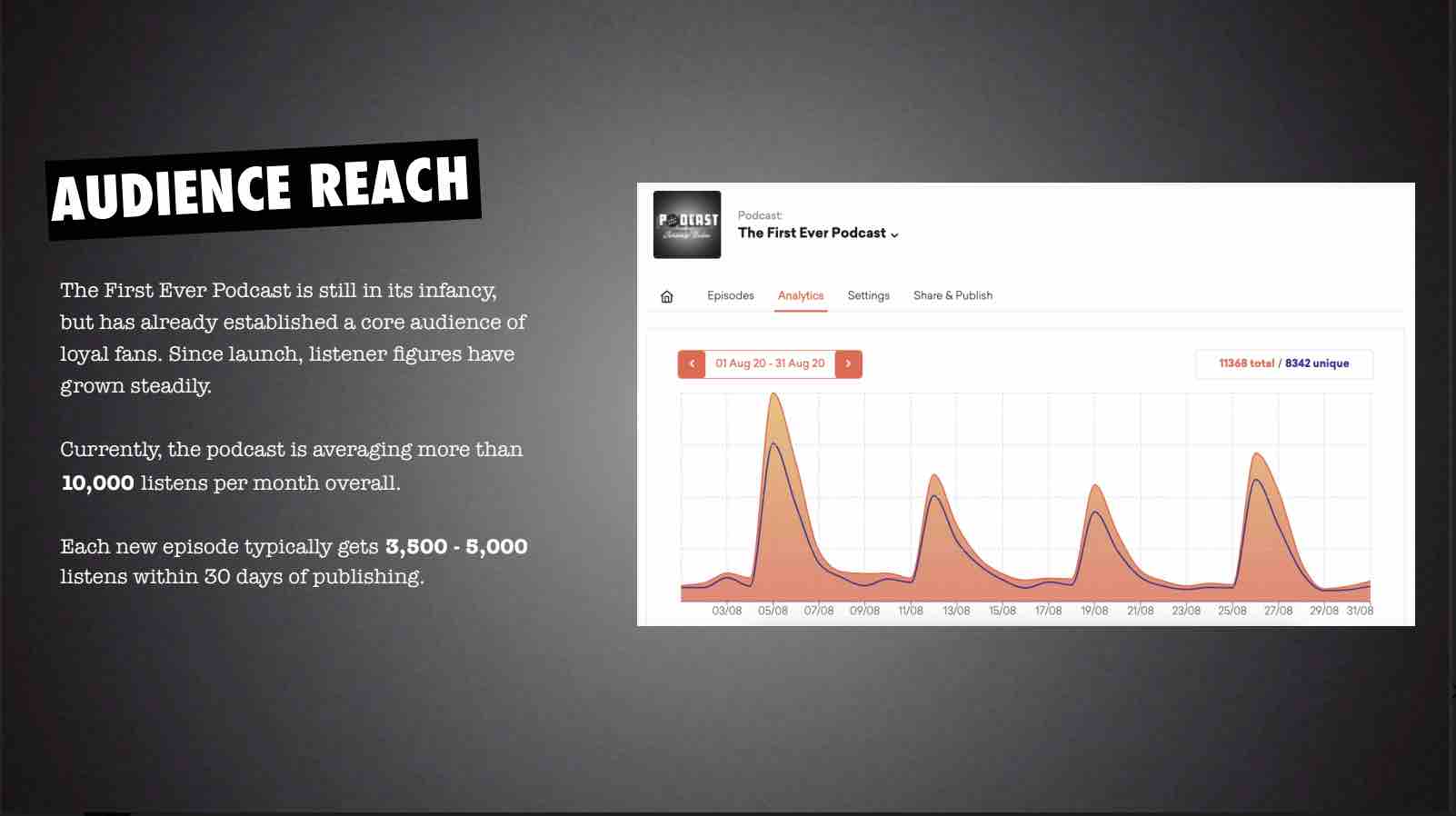 Key Takeaways:
Easy-to-read graph tells the reader the show's listening statistics
The 30-day average shows that the media kit is up-to-date
A short paragraph is provided to give helpful context
Page 6: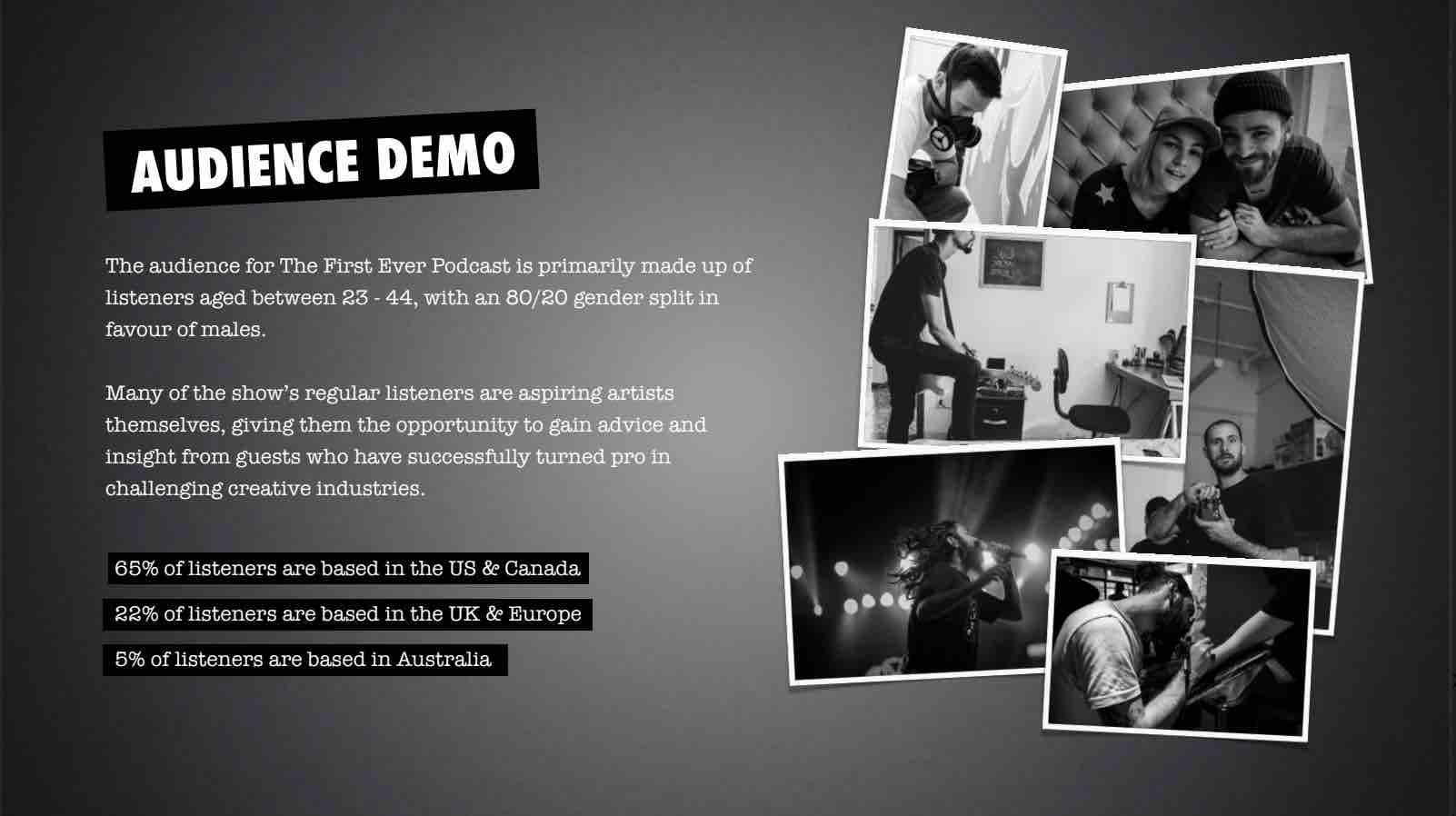 Key Takeaways:
A clear breakdown of the podcast's audience is given
Listener details such as age, gender, and location provides the reader with demographical insight
Page 7: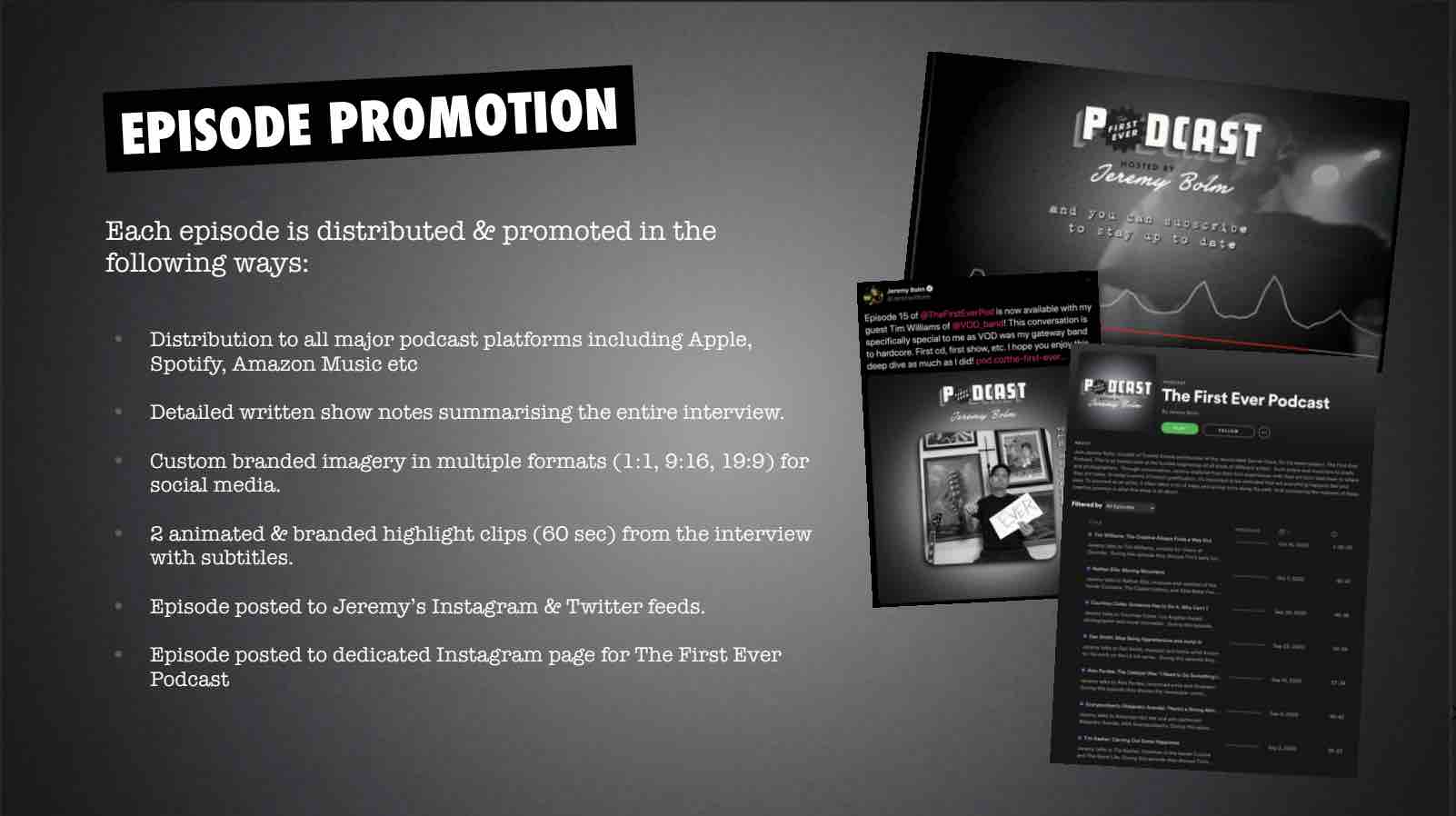 Key Takeaways:
Sets out how each episode will be promoted - social media & highlight clips
Helps the reader get an idea of the exposure they'll get in return
States the listening platforms that the podcast will be uploaded to
Mentions that each episode will be given show notes
Page 8: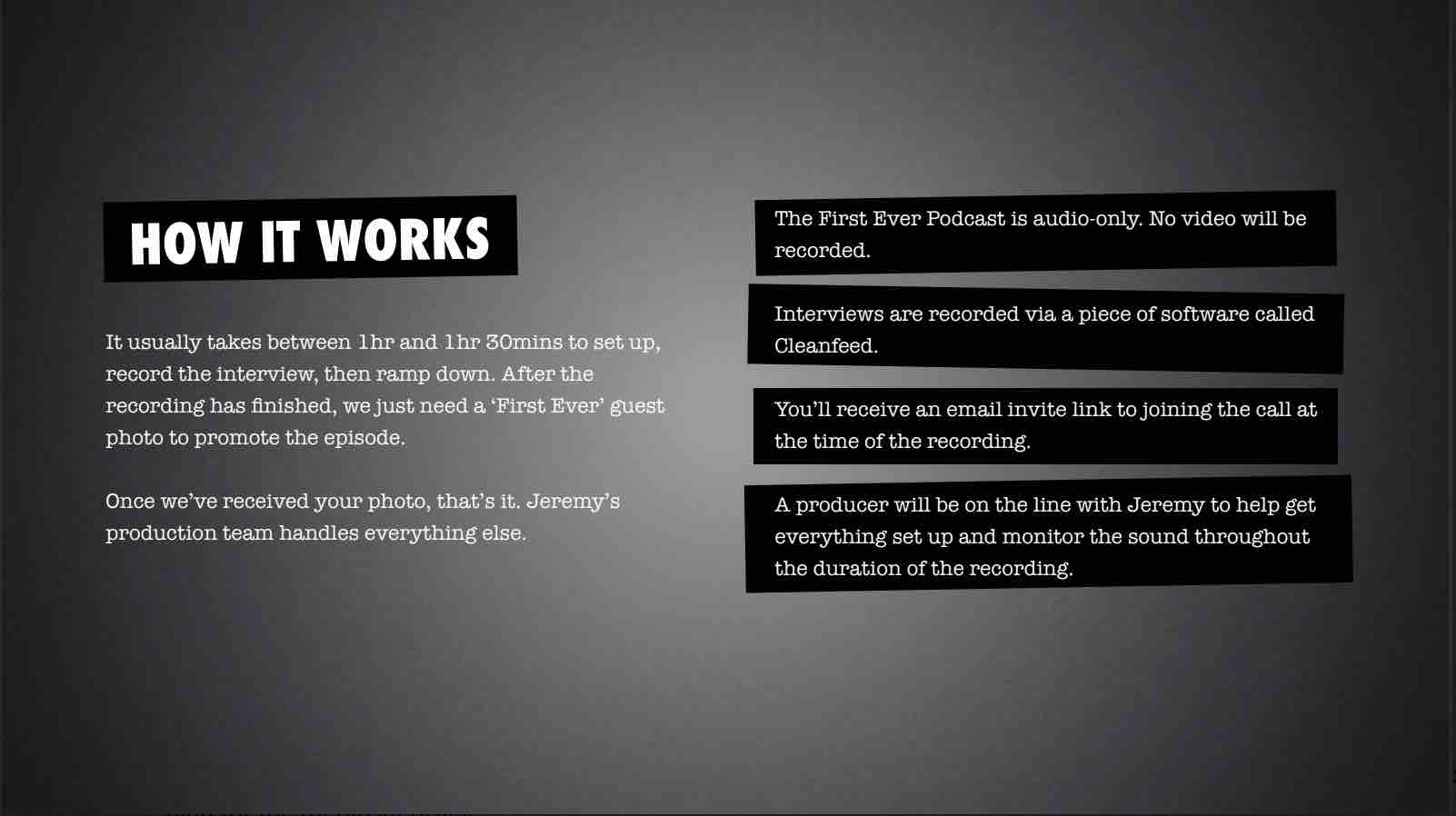 Key Takeaways:
Provides logistical information (audio only, episode length, required time, etc)
Clearly sets out what will be expected from the guest after the recording
Reassurance of a producer helps the podcast sound professional
Page 9: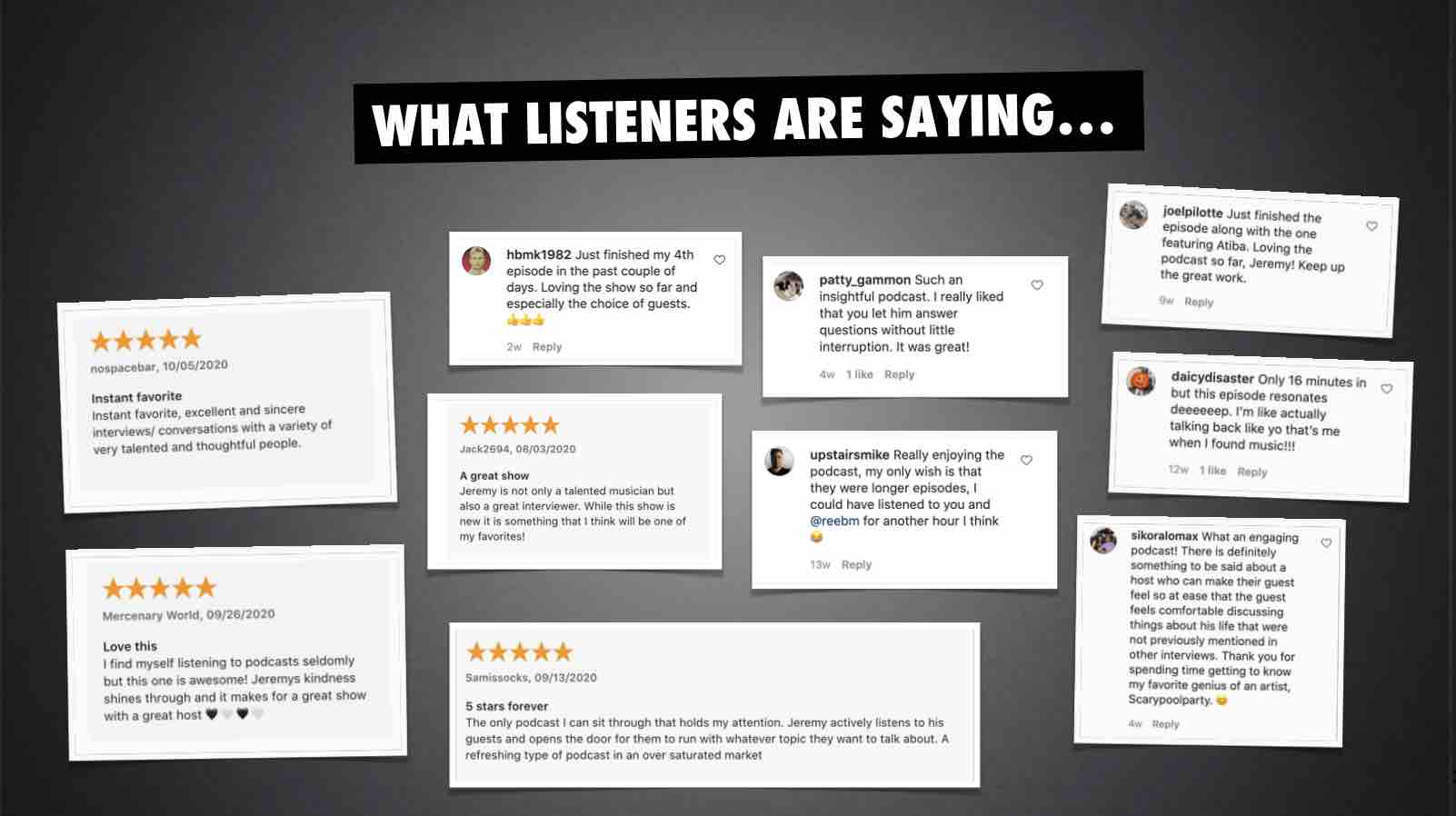 Key Takeaways:
Positive reviews give a good impression of the podcast
Each review is fairly recent, showing active engagement
Page 10: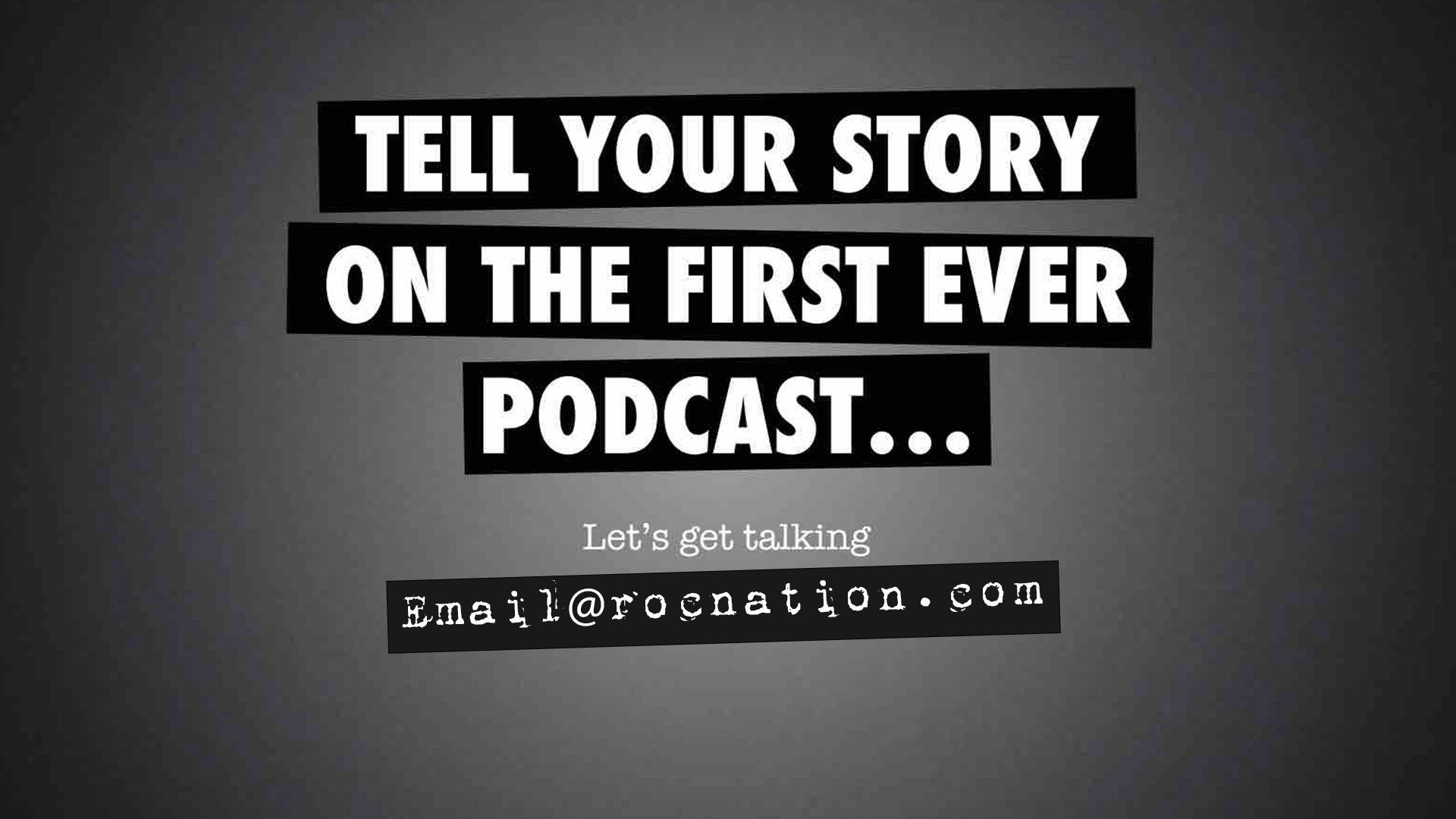 Key Takeaways:
Final page rounds up the media kit
Clear instructions on how to get in touch give an easy user experience
The #1 Podcasting Community
With more than 70,000 members, MatchMaker.fm is the largest online community connecting podcasters & guests.
Join MatchMaker today
It's free to join!