One of the fastest and most cost-effective ways to grow your podcast audience is to develop a cross-promotion strategy. But what does that actually involve, and how do you get it right?
As every show is different, there's no one-size-fits all approach here. Your decisions on who to partner with and what that partnership will look like need to be carefully considered. In this post we'll cover everything you need to know about podcast cross-promotion and how you can use MatchMaker.fm to quickly find other hosts to collaborate with.  
What is Podcast Cross-Promotion?
Podcast cross-promotion involves forming partnerships with other podcasters to advertise each other's shows. You let their audience know about your podcast, and they let your audience know their podcast. Done right, it creates a win-win situation for both of you. Broadly speaking, there are two main approaches typically used for cross-promotion: ad-swaps and content collaborations.
Find cross-promotion partners the easy way
With more than 40,000 members, MatchMaker.fm is the largest online community connecting podcasters & guests.
Join MatchMaker today
It's free to join!
Ad-Swaps
An ad-swap is when you place a short advertisement for your podcast on another podcast. It's a mutual exchange. That means the podcaster you're swapping with will also have the opportunity to run a short ad on your show.
Depending on the agreement you come to with the other host, they'll run a short (30 - 90 secs) teaser or trailer for your show in place of a pre, post, or mid-roll ad. This could be something you put together and send over to them, or potentially they could talk for a bit about how much they like your show in the style of a host-read ad.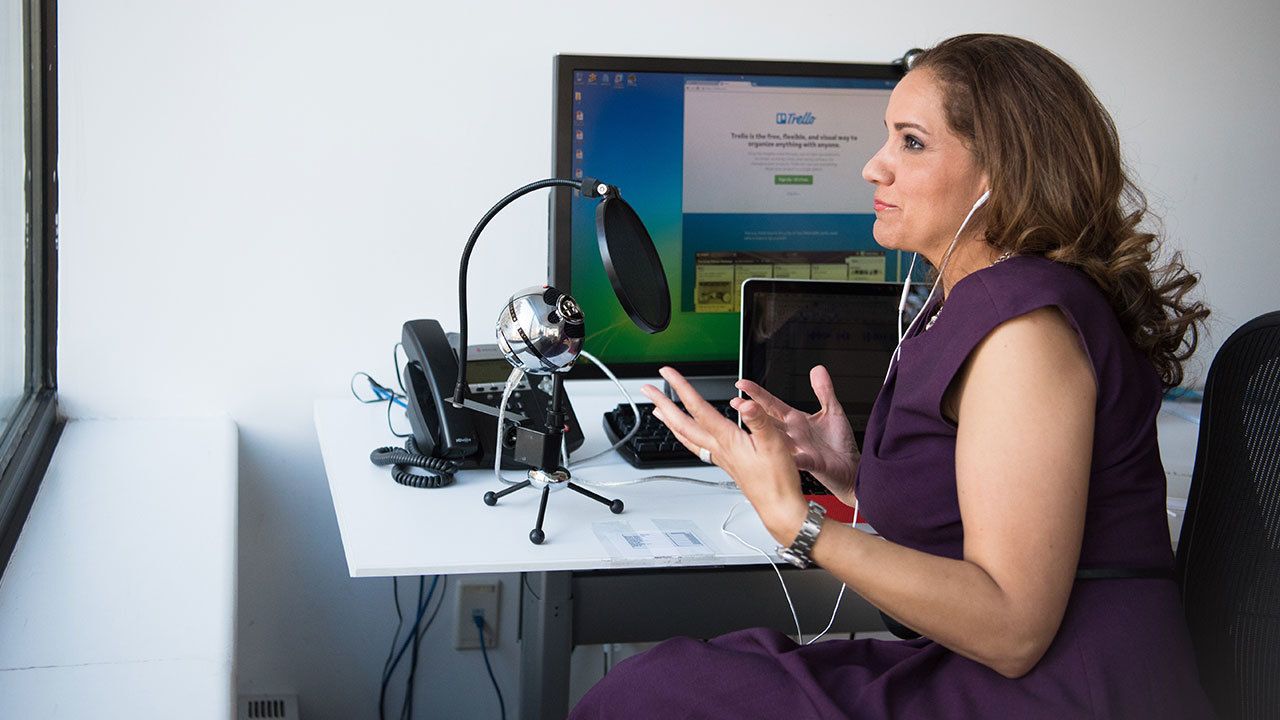 Running ad-swap campaigns eliminates one of the biggest hurdles to acquiring new podcast listeners. It guarantees the people you're reaching already listen to podcasts. And if your ad grabs their attention, it takes little effort for them to immediately search for and subscribe to your show within their preferred listening app. They don't have to go from seeing a Facebook ad on their desktop to pulling out their phone and opening their podcast app.
Removing this small bit of friction in getting listeners to do what you want can have a significant impact on the results you achieve. Keep in mind that your ad-swaps always need to retain some degree of relevance in order to bring in new listeners. Some ad swaps will be more effective than others depending on the degree of audience overlap between your two shows.
Content Collaborations
A content collaboration is where you interview another podcaster on an episode of your show, and they interview you on theirs in return. It's a bit more involved than an ad-swap, but it allows the listening audience much more time to get to know you as a host. If they like what they hear, you'll win over some new loyal subscribers.
With content collaborations, you need to be a bit more selective about who you choose to partner with. There are two key things to keep in mind when looking for collaborators. Firstly, you want to make sure the other host is a good fit for your audience. When they appear on your show it needs to make sense.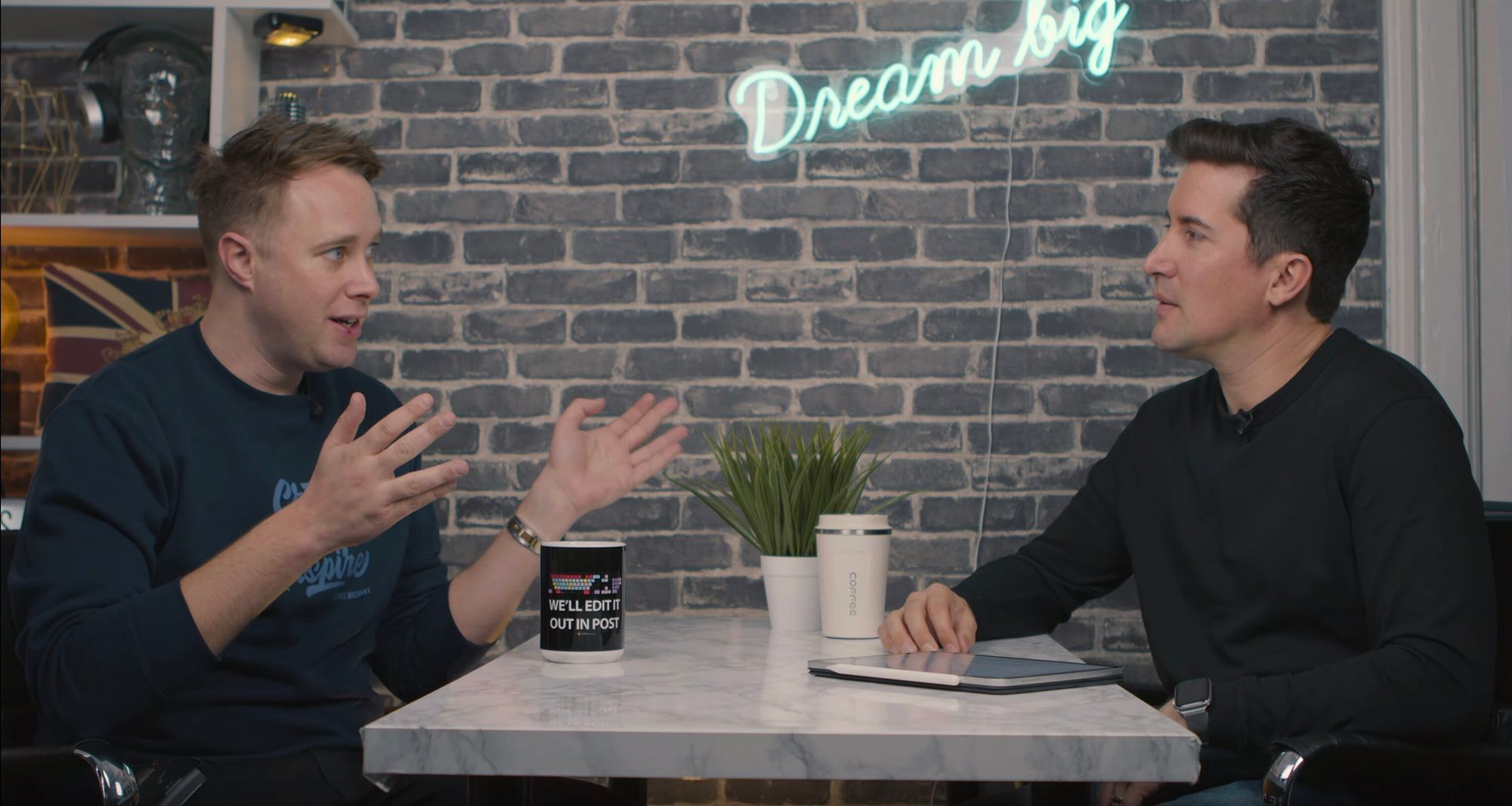 Interviewing a mechanical engineer on a podcast about food would be bizarre, and listeners would likely lose interest. Likewise, don't try to collaborate with someone simply because they have a big following on social media. If you can't find a way to make them fit in with the theme of your show, don't force it.
Secondly, consider whether there is any audience overlap between you and your potential collaborator. The easiest way to ensure this is to reach out to other hosts who talk about the exact same topics you do. But it helps to think a bit more creatively here.
For example, if you host a show about food, you could reach out to shows that focus on emotional wellbeing to explore the relationship between food and mental health. Think about whether the kinds of listeners who likely tune into a particular show might also be interested in learning more about what you talk about on your podcast.
Don't limit yourself to collaborating only with podcasts that are just like yours. Thinking outside the box will help you uncover ideal collaboration opportunities.
How to Find Podcast Cross-Promotion Partners
The traditional approach to organising podcast cross promotion partnerships involves researching shows, tracking down contact details for hosts and producers, writing pitch emails, and keeping track of all your outreach in a spreadsheet.
That process still works. But it eats up a lot of time. Especially during the research phase. Not only is it hard to track down the shows that are a good fit, but it's also difficult to work out whether the host is even open to doing cross promotions in the first place. As a result, you can end up wasting lots of time on dead-end outreach.
MatchMaker.fm solves that problem and makes it so much easier to find cross promotion partners. It's a free online booking platform that connects podcasters with guests and other hosts.
After creating a profile for your show by filling in some basic details, you can then specify the kinds of cross promotion you are interested in. If you're open to everything, simply select all three available options under the section titled "What opportunities are you open to?"

This means other podcasters will be able to easily find you and reach out about potential collabs. And once you're ready to go, you can start browsing a database of 25,000+ podcasts. To instantly find cross promotion opportunities, click 'Additional Filters' and select the right connection type.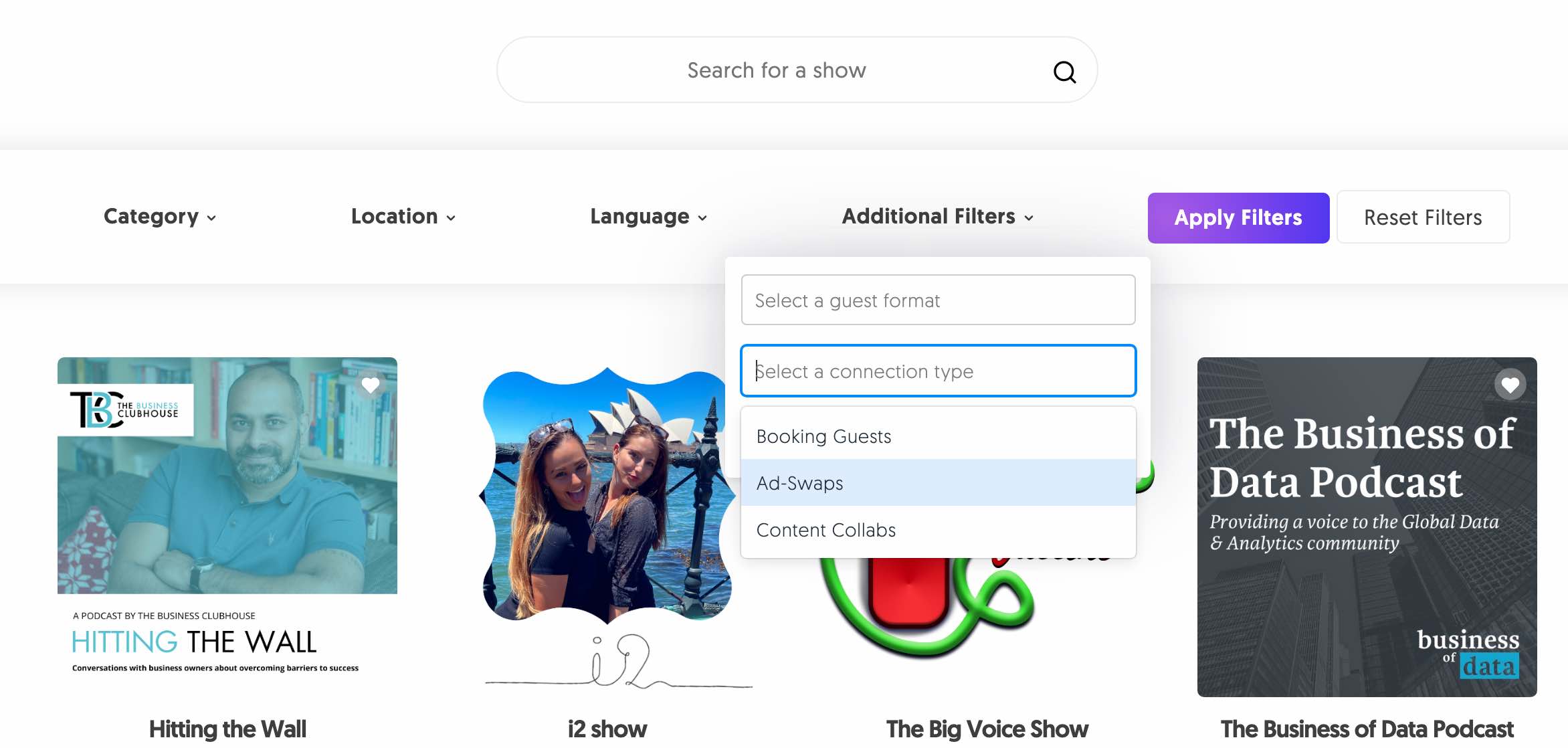 Any shows that look like a good fit can be saved to your favourites list to review later. Or you can simply reach out to the host via MatchMaker's instant messaging service. When you're ready, just click 'Contact Show' when viewing their profile: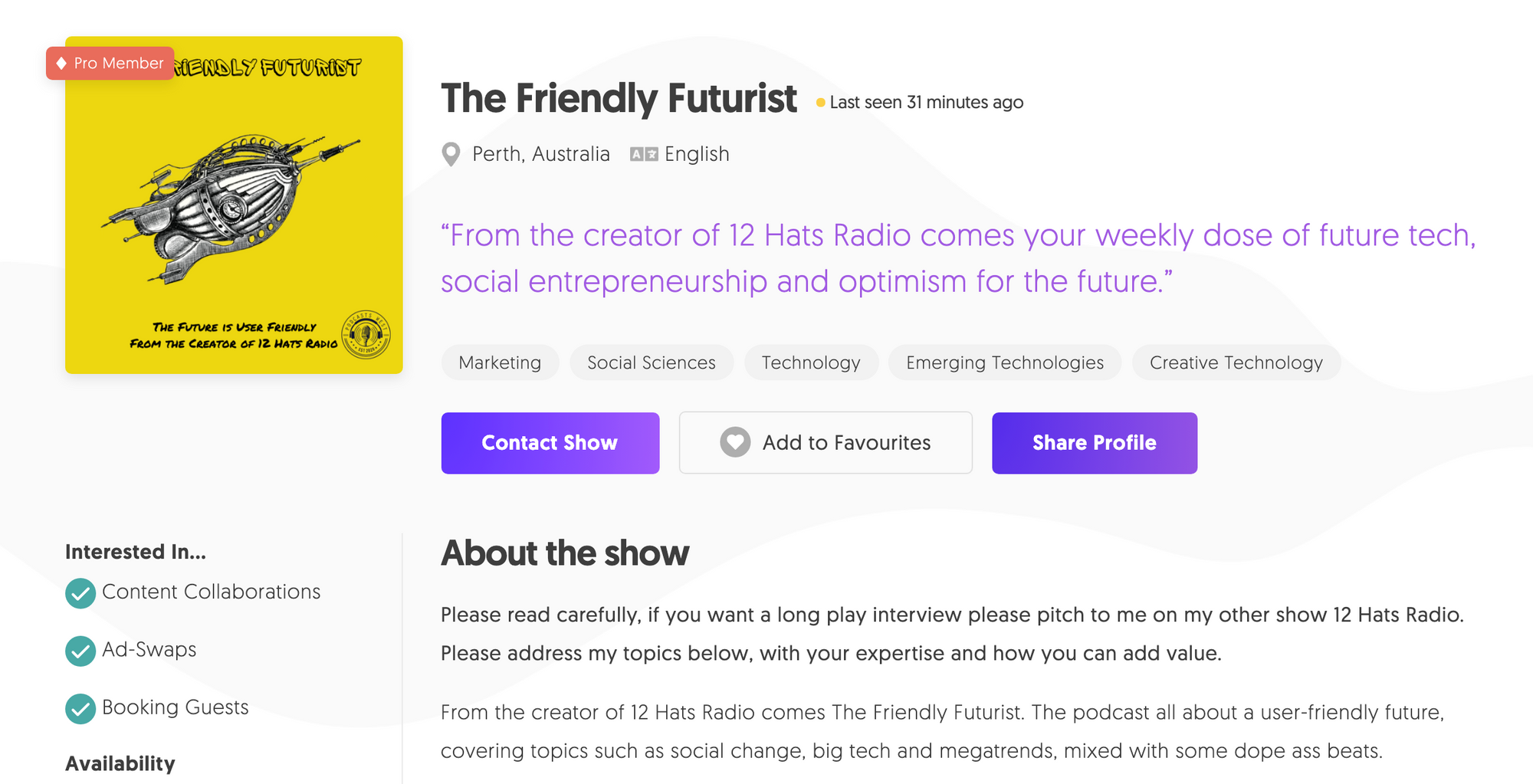 If you have created a guest profile alongside your show profile, you'll need to select which profile you want to send the message from. For all enquiries about cross-promotion, send your messages from your show profile so the host can quickly check out all the info about your podcast: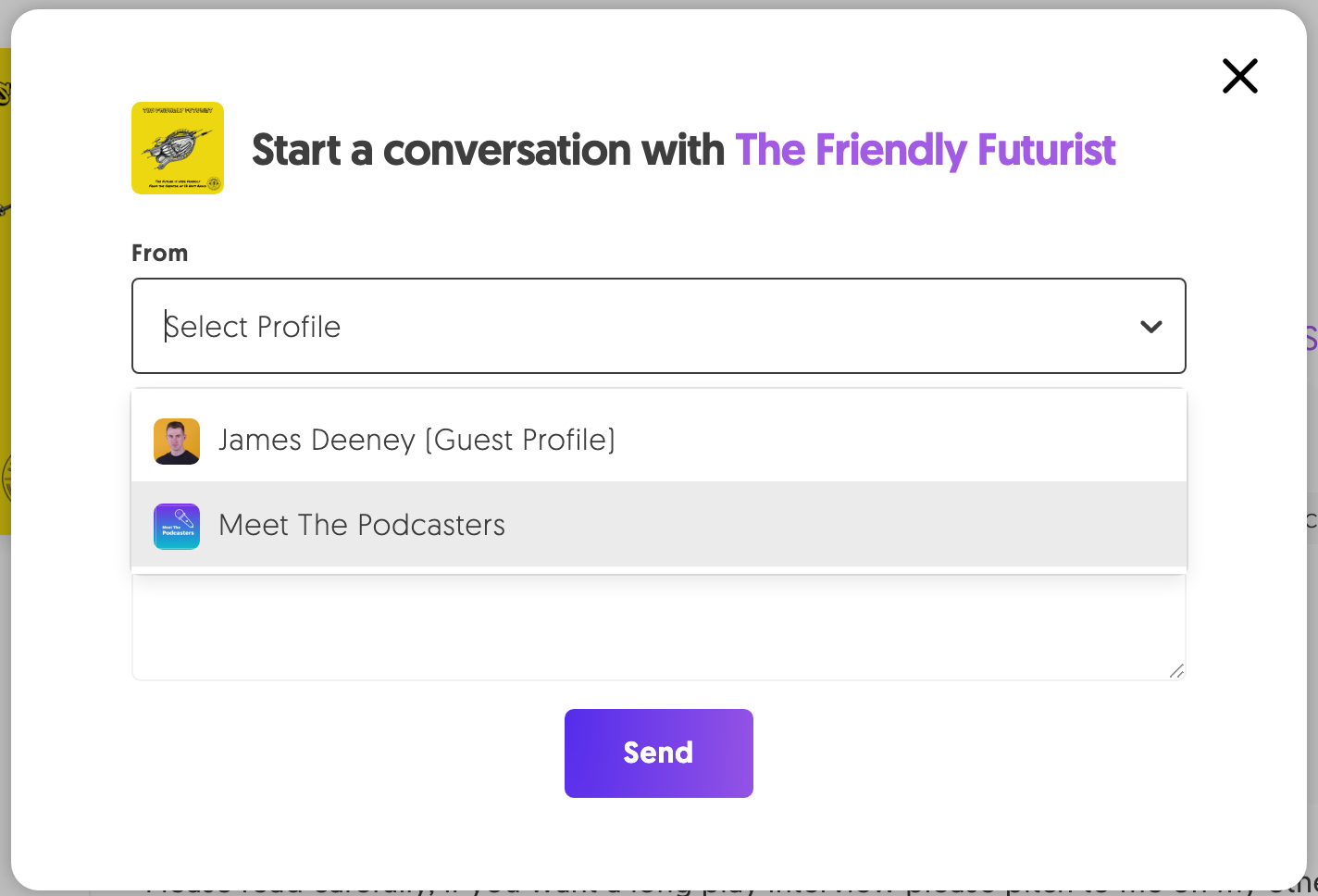 How to Write a Cross-Promotion Pitch
Before sending your pitch, make sure you do some research first. You need to actually listen to the show first before pitching a collaboration! Failing to do any research is the fastest way to make sure your pitch ends up on the reject pile.
You should also check out any reviews of the podcast on Apple Podcasts to see what listeners are saying. As reviews are a proxy for listener engagement, it's probably not worth doing a cross-promotion if a show has less than 10.
Lastly, a quick Google should uncover any relevant press coverage of the podcast. Taken together, all this information will help you write a much more compelling pitch. If you're not quite sure what it should look like, feel free to use the template below for inspiration.
Hi X!
My name is X and I'm the host of Y. Some of the key topics I focus on in the show are:

[TOPIC 1]
[TOPIC 2]
[TOPIC 3]

I recently found your podcast and really enjoyed the episode where you talk about A, B, and C. I also noticed you're open to Ad-Swaps and Content Collaborations, so I'd love to chat to you about cross-promoting our shows. If you're interested, let me know and we can set up a call!

Thanks,
X
Measuring Success
Once you start running cross-promotions it makes sense to keep tabs on how your campaigns are performing. If they aren't, it's a signal you need to change part of your approach! As long as you aren't engaging in lots of other marketing efforts alongside cross-promotion, it should be relatively easy to establish whether it's working. Here are some of the key metrics and points to keep in mind:
Can you see an increase in downloads in the days following the promotion?
Are you picking up more reviews than usual on Apple Podcasts?
Is there any increase in your number of followers on Spotify?
If you've partnered with a host from a different country, is there an increase in downloads coming from that particular region or country?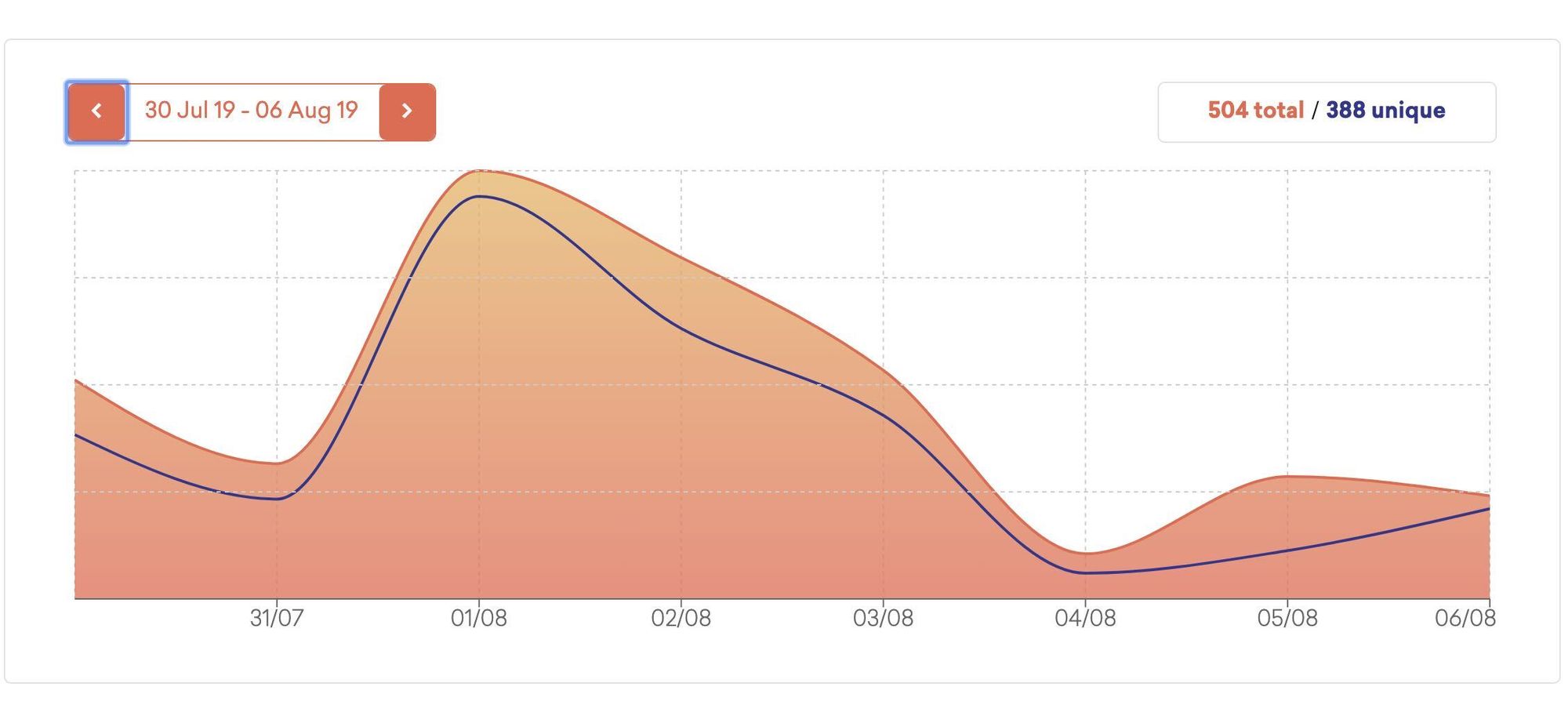 In addition to these quantitative measures, it's also a good idea to collect qualitative feedback from your audience on social media. You can use polls and surveys to get an idea of how your new listeners are discovering your show. And you can also ask for direct feedback from listeners on any recent content collaborations.
Once you've got this information, you'll be able to make an informed decision on whether your cross-promotion was worth the effort you put into it. Remember, every show is different, so it's up to you to work out whether it makes sense to make cross-promotion a regular part of your podcast workflow.
Find cross-promotion partners the easy way
With more than 40,000 members, MatchMaker.fm is the largest online community connecting podcasters & guests.
Join MatchMaker today
It's free to join!