It's no secret that getting booked on podcasts is good for business.
Being a guest on podcasts has long been the go-to marketing strategy for authors, entrepreneurs, consultants, and experts all over the world. Why? Because it works.
In a world full of mundane email blasts and stale PDFs, good podcasts cut through the noise to create authentic connections with listeners. They establish trust and credibility like nothing else.
But researching, pitching, and scheduling interviews takes time. And it can be pretty hit and miss with no guarantee of success. It also requires relentless consistency. So even when successful, people still have to repeat the whole process over and over again to line up new interviews.
As a result, increasing numbers of podcast guest booking agencies have been born. But what is one? Why do podcasters work with them? And how can you take advantage of this business opportunity?
Find out in this article...
Book Your Next Podcast Guest the Easy Way
With more than 50,000 members, MatchMaker.fm is the largest online community connecting podcasters & guests.
Join MatchMaker today
It's free to join!
Why Do People Want to Get Booked on Podcasts?
Before we get into it, let's take a moment to quickly outline the various benefits of podcast guesting. It can help people:
Grow their reputation by reaching a wider audience
Build brand awareness (or a personal brand)
Promote a product, or service
Establish personal connections with listeners that can close sales faster
Improve their SEO rankings by building organic backlinks
Network & build connections with others in their field
With the above benefits in mind, naturally, there are lots of people out there wanting to get booked on shows. Especially those in high-profile jobs (like CEOs, business leaders, authors, life coaches, etc) wanting to establish themselves as thought leaders.
In fact, it's these kinds of people who make the perfect podcast guest. They're confident, experts in their relevant fields, and good speakers. And podcasters in their niche are keen to book them.
Is Getting Booked on a Podcast an Easy Process?
Well, yes and no.
There's nothing to stop people booking themselves onto shows. In fact, there are loads of self-serve booking tools out there that are actually pretty easy to use. And even better, free.
Take MatchMaker.fm, for example. It's a quick, simple, and free platform designed to connect podcasters with guests. Once signed up, users can instantly find lists of relevant podcasts looking for guests. They can then contact the hosts directly via the built-in messaging service.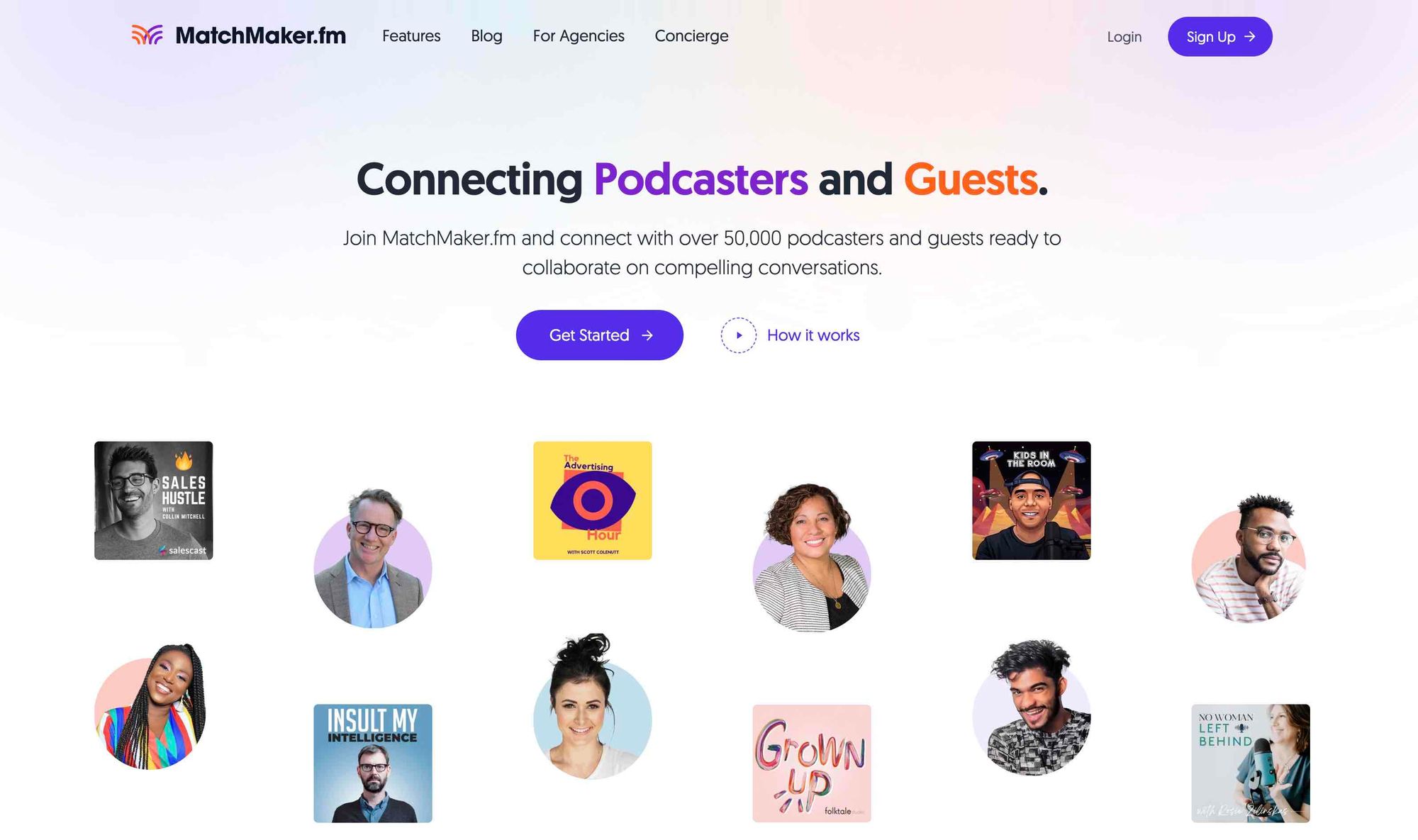 Shameless self-promotion aside, the problem with using a DIY service is that securing bookings can be time consuming. There are a lot of tedious admin tasks involved. A lot of research. And a lot of outreach. Not to mention people will need to know how to craft a solid guest pitch.
For this reason, aspiring podcast guests often struggle to find the time to dedicate to the process. Especially if they're working busy 9-5 jobs. So, they often enlist the help of a podcast guest booking agency.
What Is a Podcast Guest Booking Agency?
It's pretty simple. A podcast guest booking agency works with clients who want to start podcast guesting, but don't have the time to secure the bookings themselves. The agency will take care of the entire process for them - including the research, outreach, admin, and host liaison. Meaning all the client has to do is show up on the recording day.
These agencies aren't free services, though. They're businesses. And every time a podcast talent booker secures a guest slot for their client, they'll receive a fee. Rates for this can vary depending on a number of different factors - including how many bookings are secured each month, the calibre of shows being booked, how experienced the booking agency is, etc. The agency and client will (hopefully) discuss their requirements and expectations before a contract is signed.
The podcast guest booking space is now a multi-million dollar industry. This is where the opportunity lies for people to set up their own agencies.
How to Start a Podcast Guest Booking Agency
There's no one way to start a podcast guest booking agency. The process will depend on if you already have clients onboard, or if you're starting from scratch.
That being said, our newly launched MatchMaker Agency service will make the process easy. It's the all-in-one solution to help you build your own Podcast PR business, and to take the hassle out of getting booked for others.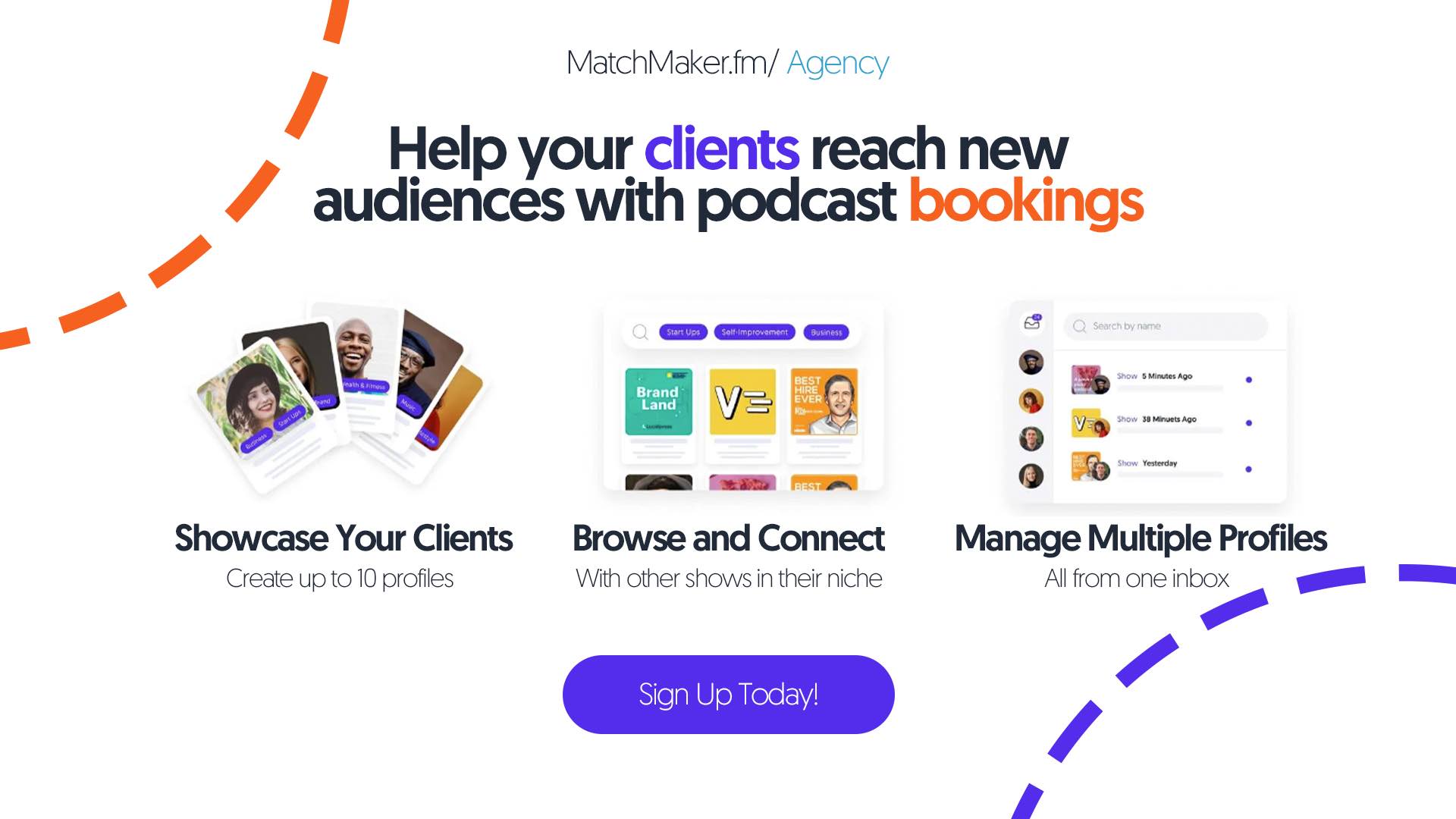 Once you've signed up and activated your Agency account, you'll be able to:
Create up to 10 client profiles & showcase them to the community
Browse, connect, & be found by relevant podcasts
Start as many conversations as you like, without any limits
Add video pitches to your clients' profiles for a personal touch
Manage all client bookings from one, unified inbox
Add up to 5 team members to help you manage your clients' profiles
Post on our community board & seek direct help from other users
Build a network of well-connected individuals
It's a win-win for everyone. Your clients can finally start appearing on podcasts. And you (the agent), can scale your PR business, charging between $200 - $10,000+ for each placement you book.
Plus, we'll even send you a copy of our top-secret agency swipe file. An all-in-one, 9-page pack showing you the exact strategy we used to build our own podcast PR agency, MatchMaker Concierge - filled with useful tools, tips, and various email templates to help you get started. Here's a preview: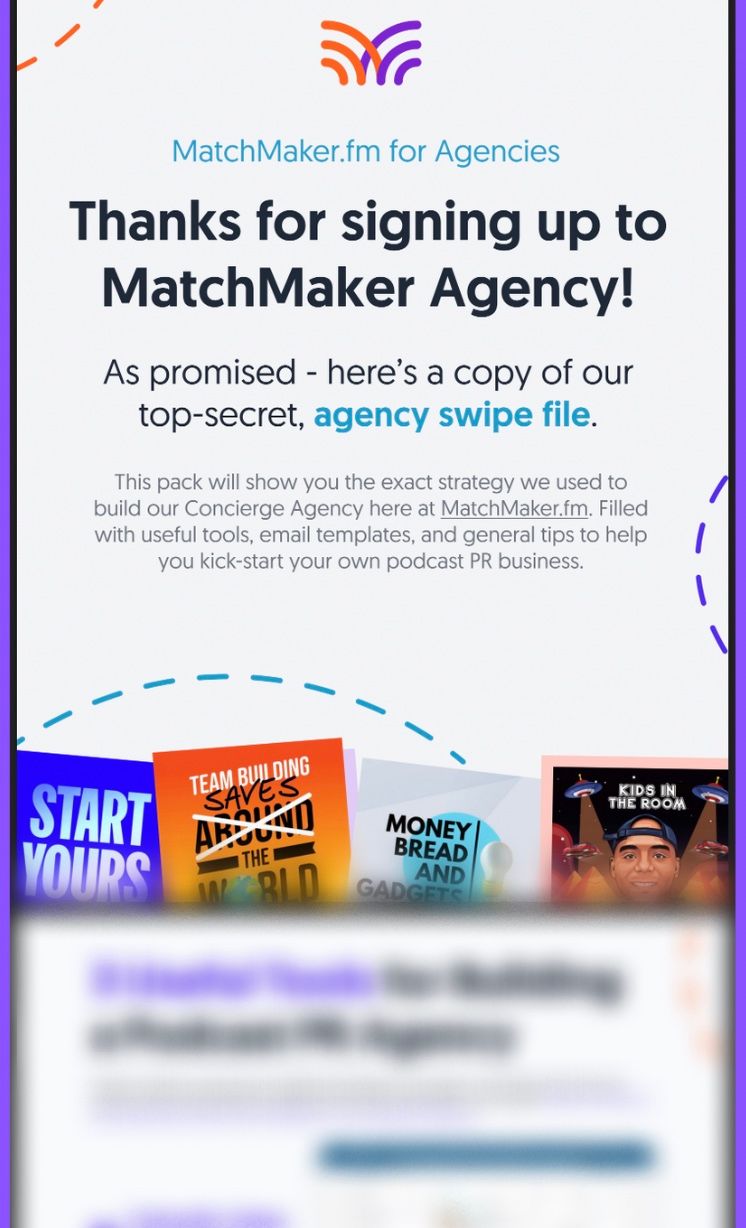 Sound good? You can sign up to MatchMaker Agency today, for just $99 per month.
How to Run a Podcast Guest Booking Agency
Every agency will adopt a different approach. So we'll show you how we operate our own service, MatchMaker Concierge, in 3 easy steps:
Step #1:
After completing an application, the podcast talent booker will arrange a consultation with the client to discuss the kinds of podcasts they want to appear on. They'll be the client's single point of contact throughout the whole process. The booker will refine the client's guest pitch, and answer any questions they may have at any point in the process.
Step #2:
The podcast talent booker will then hand-pick a series of popular shows that align with the client's area of expertise, and speak directly to their target audience. The client can pass on any shows they aren't completely happy with.
Step #3:
Once approved, the podcast talent booker will contact the host(s) and coordinate an interview schedule. The client will start appearing on podcasts within days of their application. And after each interview, the booker will follow up with the host to confirm when the episode will be released.
Find out a bit more about MatchMaker Concierge below:
Ready to Start Building Your Podcast Guest Booking Agency?
We'd like to wish you all the best on your new podcast PR journey!
And remember, the MatchMaker.fm support team is here to help at any stage of the process. Once you've created an Agency account, you can contact us anytime at hello@matchmaker.fm.
The #1 Podcasting Community
With more than 50,000 members, MatchMaker.fm is the largest online community connecting podcasters & guests.
Join MatchMaker today
It's free to join!