Making and taking the right podcast bookings on MatchMaker just got a whole lot easier thanks to our new 'Recommendations' system.
All MatchMaker users now have access to continually updated lists of recommended profiles based on listed interests, podcast categories, and profile information.
This makes the booking process even easier. We'll automatically browse thousands of profiles and pick out those that are perfect for you. All you need to do is check them out and drop them a message if they seem like the right fit.
Whether you're a podcaster looking for guests, or you want to get booked on shows yourself, tailored recommendations will now help you spark conversations with the right people faster.
Optimise Your Search
MatchMaker has grown a lot in the past year, with hundreds of new profiles being created everyday. In total there are now more than 25,000 profiles on the platform. While this level of choice is obviously a good thing, we understand it can be overwhelming. Not everybody has time to browse all the profiles returned by the search filters.
So if you pressed for time, leave the searching to us. After all, matchmaking is what we do (it's literally in the name). Here's everything you need to know to get the most out of your profile recommendations.
Reviewing Your Recommendations
When you log into your MatchMaker account, you'll now see lists of recommended profiles on the main dashboard. How these are presented depends on your existing account information.
Note: All recommended profiles are pre-vetted for quality. The system is designed to surface complete, well-constructed profiles from users who are active and engaged.
If you've only created a guest profile, you'll see different lists of suitable podcasts to appear on based on your interests.

If you've only created a show profile, you'll see different lists of suitable guests that align with your podcast category listings.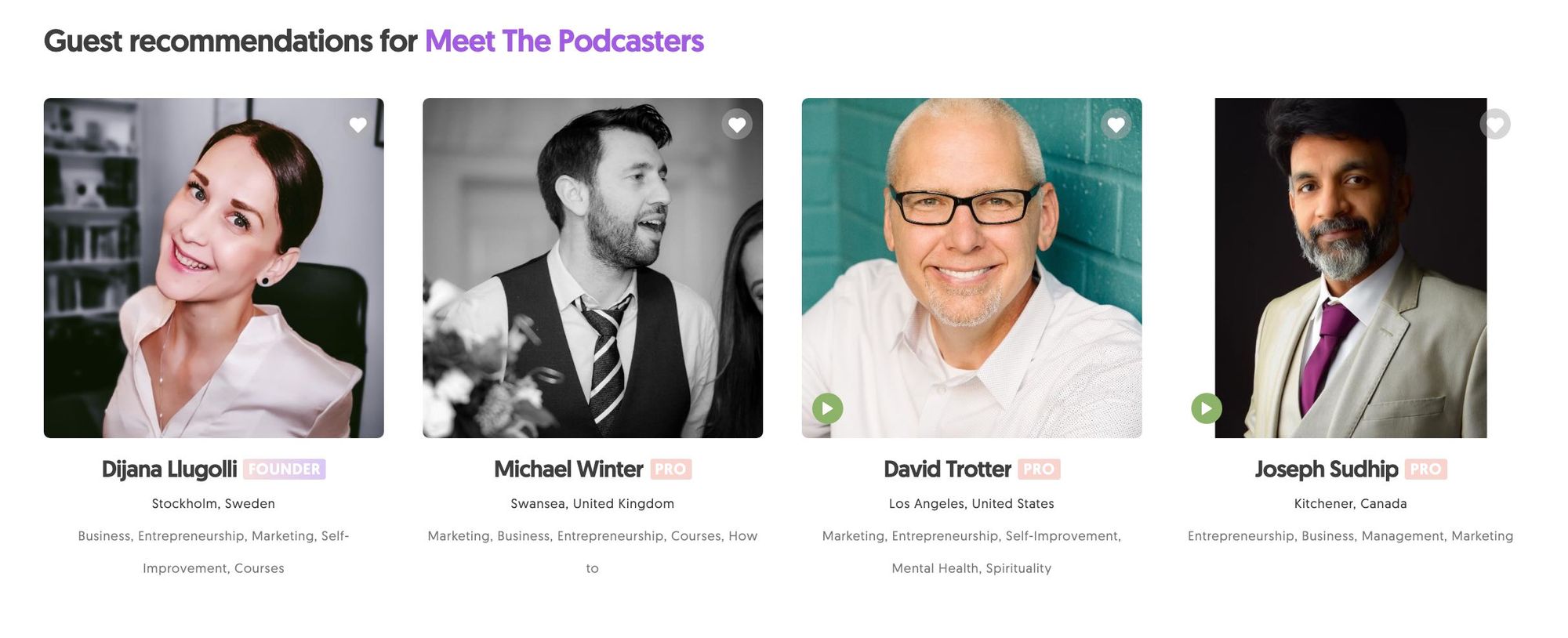 If you've got both a show and guest profile, you'll see 1 list of relevant podcasts and 1 list of suitable guests. Again, these are based on the interest and category listings on your respective profiles.
From the dashboard, all you need to do is review the recommended profiles and message any that seem right for you.
The recommended profiles on your dashboard will refresh every hour!
Get Recommendations Delivered to Your Inbox
You'll also now receive a weekly email every Wednesday containing your latest lists of recommended profiles. It'll look something like this: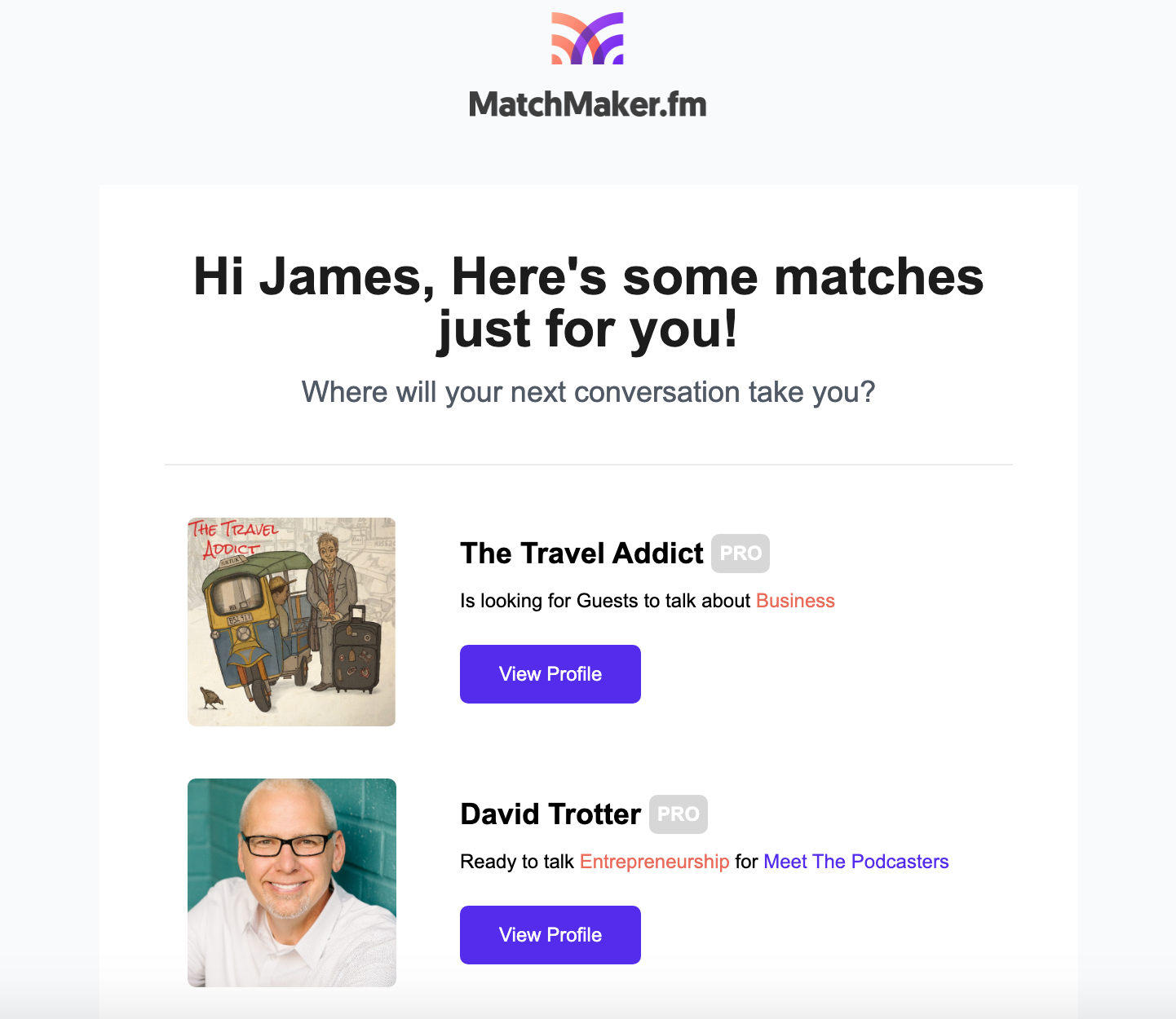 This allows you to stay up to date with the MatchMaker community at a glance. As the platform continues to grow and evolve, so will your lists of recommended profiles.
If you'd like to disable the weekly recommendation email, just head to Settings and switch off the toggle.

How to Optimise Your Profile Recommendations
If your recommendations aren't returning what you're looking for, you should review the information on your profile.
For guest profiles, make sure your listed interests are correct and comprehensive. This helps us recommend podcasts that are right for you. To update or amend these, click "Edit Profile" and scroll down to the Interests section.

For show profiles, make sure your podcast categories are correct. This helps us recommend the right guests. To update or amend these, click "Edit Profile" and scroll down to the podcast categories section.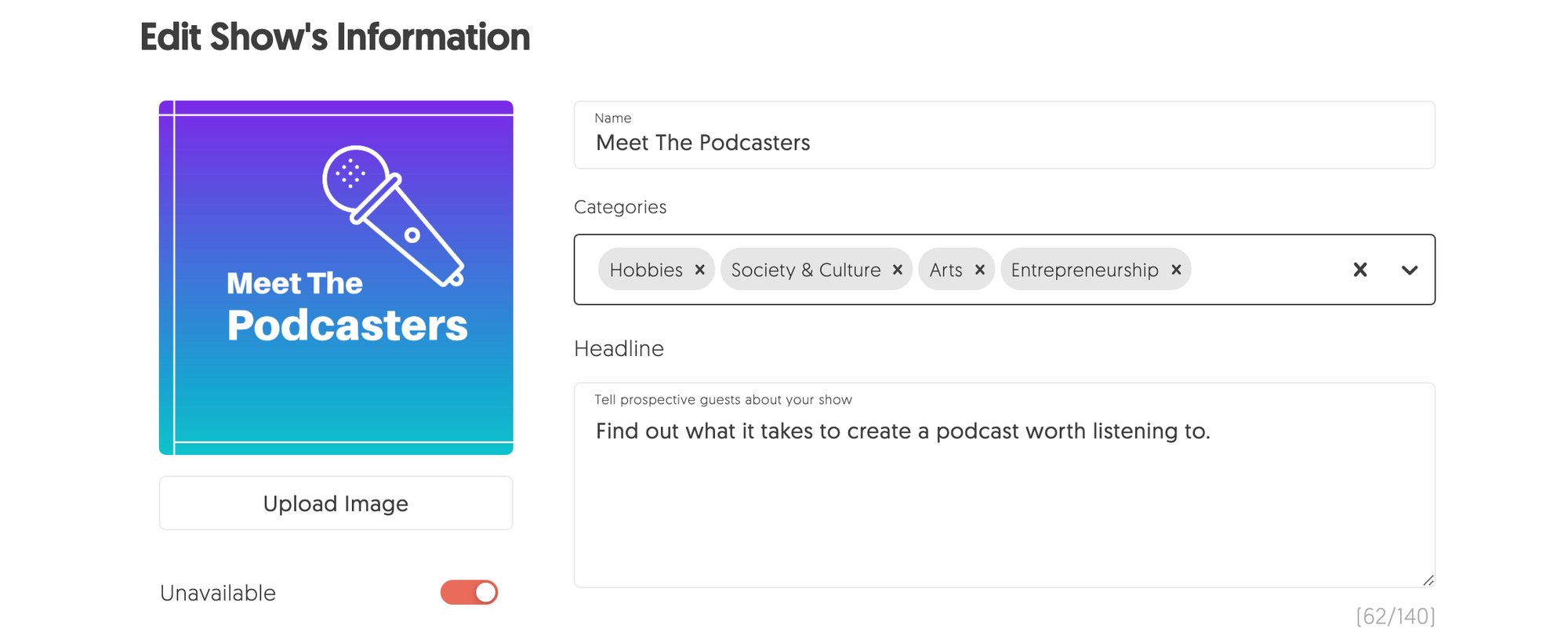 Conclusion
With recommended profiles, you can sit back and let us take care of the searching for you. We'll sift through our database to surface qualified experts and established podcast hosts that'll help you spread your message further. Save yourself the hassle and make your next booking the easy way!