We've said it before and we'll say it again. There are a lot of podcasts already out there. So with that in mind, finding ways to make yours stand out is key to having a successful show.
One way you can do this is to incorporate podcast sound effects into your production. Don't worry too much about this if you're a new podcaster, because getting to grips with everything and finding your general rhythm is much more important in the early stages.
But once you are a bit more confident with the editing process, having a play around with your sound design is definitely something to think about. Think jingles, smooth transitions, and fancy effects.
Book Your Next Podcast Guest the Easy Way
With more than 40,000 members, MatchMaker.fm is the largest online community connecting podcasters & guests.
Join MatchMaker today
It's free to join!
Why Should You Use Podcast Sound Effects?
Podcast sound effects are great for injecting some personality and character into your audio. They're also just a good way of levelling up your production quality. And the more professional your show sounds, the better. Simple.
When to Use Podcast Sound Effects
If your podcast is a documentary or audio-drama, sound effects will play a huge part in setting the scene for listeners. The possibilities are endless with this kind of sound design, and if done well, can massively put you above the rest in terms of quality. So, what story are you telling? Sound effects can be used to place emphasis on certain plot twists or notable moments. They're also immensely effective for elevating your general mise-en-scène. Animal noises, jungle sounds, rockets launching into space. You get the jist. The goal is to create a soundscape that fully immerses the listener in the story being told.
Podcast sound effects are also well suited to interviews and co-hosted shows, but in a more subtle way than the above. Incorporating different elements of sound design into these kinds of shows can help break up huge chunks of dialogue. This makes it easier for the listener to understand when a topic has changed, the speaker has switched, or somebody new is being introduced.
That's not to say you can't use sound effects if you host a solo podcast, though. You can, but just be mindful of where you're adding them in. You might want to think about primarily using them in your intros or outros, to signal the start and end of each episode. Another option is to place them around any ads you might be running, or brands you're promoting. Doing so helps the listener understand what's going on, adding a layer of transparency to your content. It'll also put emphasis on your overall messaging, creating a stronger promotion technique.
When Not to Use Podcast Sound Effects
We touched on it above, but try not to use podcast sound effects just for the sake of it. They have to make sense. Don't be afraid to experiment with your sound design, and take the time to really think about where you're placing various noises. Throwing them in at random places might be distracting for the listener, and could actually take away from what's being said.
Another thing to consider is the context of your show, and the topics you're discussing. Don't look past this. If you're discussing a sensitive subject, or a serious moment is underway, try to refrain from adding in any effects or jingles. Jazzing up your production value might not always be appropriate, or professional. Read the room, as they say.
Where to Find Free Podcast Sound Effects
If you want to test the waters without having to invest any money, there are loads of free sources for podcast sound effects. Bear in mind they probably won't be as high quality as the ones for sale (keep scrolling), and some might be fairly poor. That being said, there are still some great options out there.
We've picked out 3 sources below: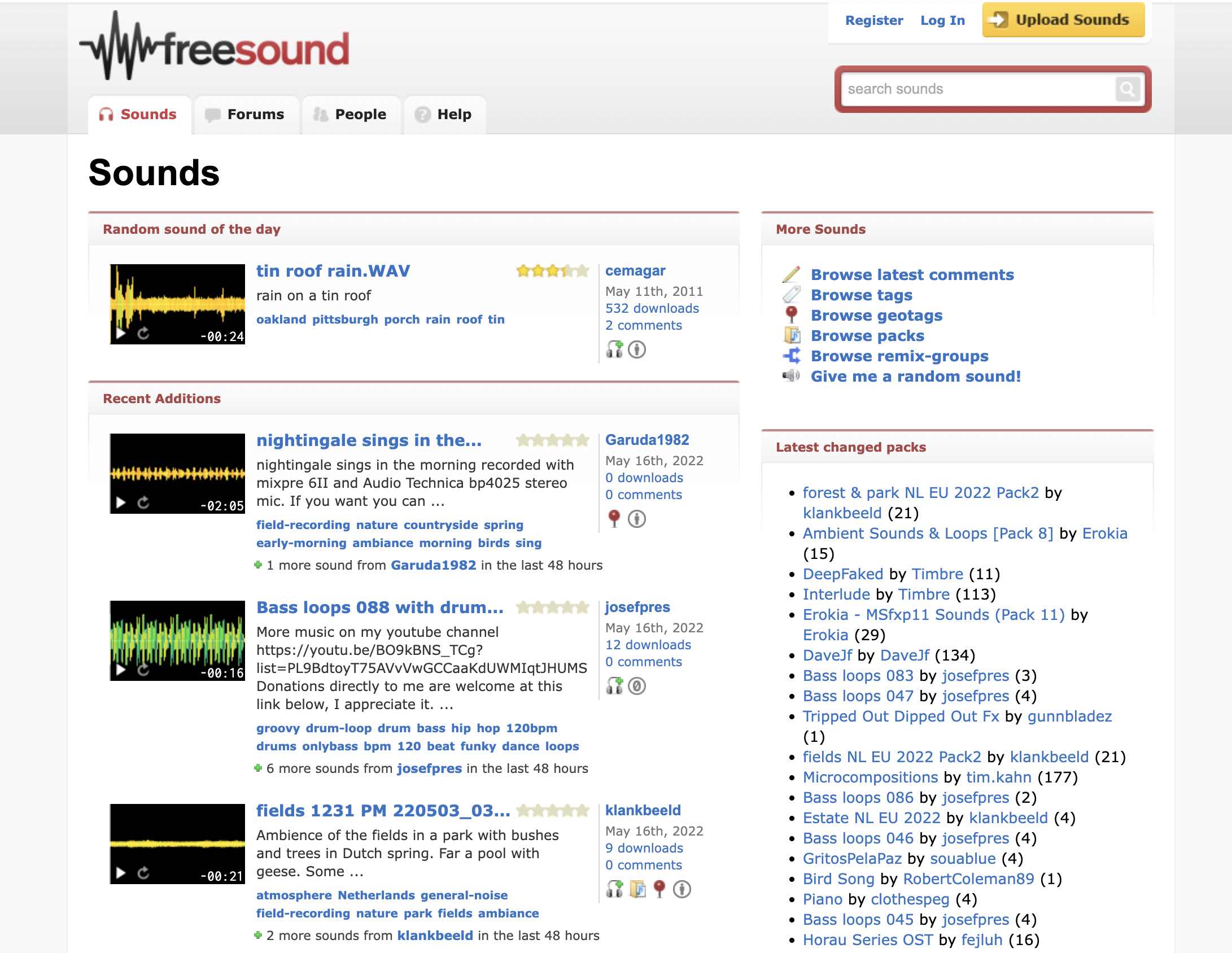 The Freesound Project has thousands of free podcast sound effects to download, and it's actually one of the most popular platforms out there. All you'll need to do is make an account, type your desired sound into the search bar, and choose the right one from the list. Then just click download, and you're good to go.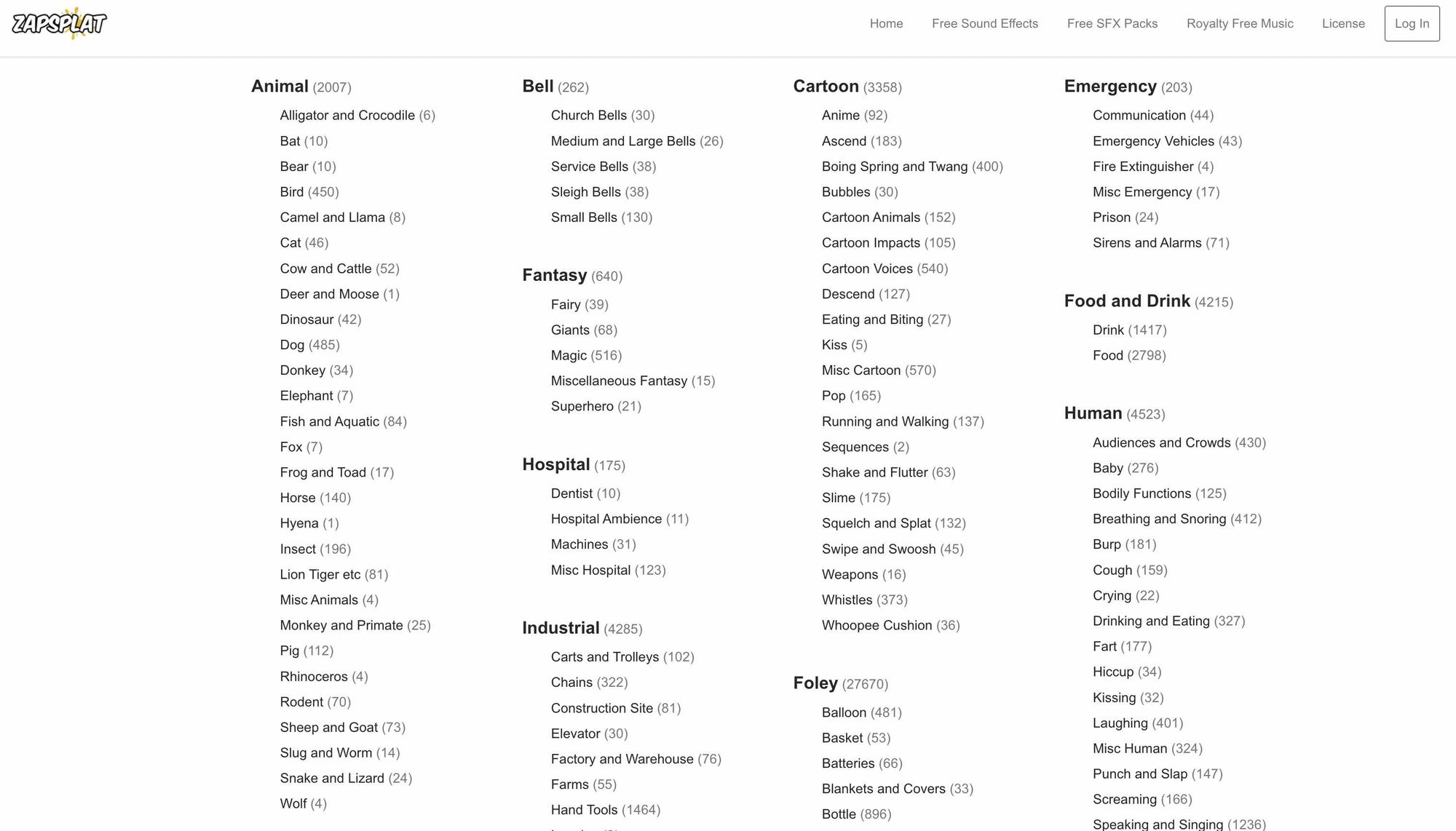 Zapsplat has over 100,000 completely free podcast sound effects up for grabs. Their website is really easy to use as well, with sounds broken down into categories. And like with The Freesound Project, just create an account, search what you're looking for, and download it straight to your computer. Easy.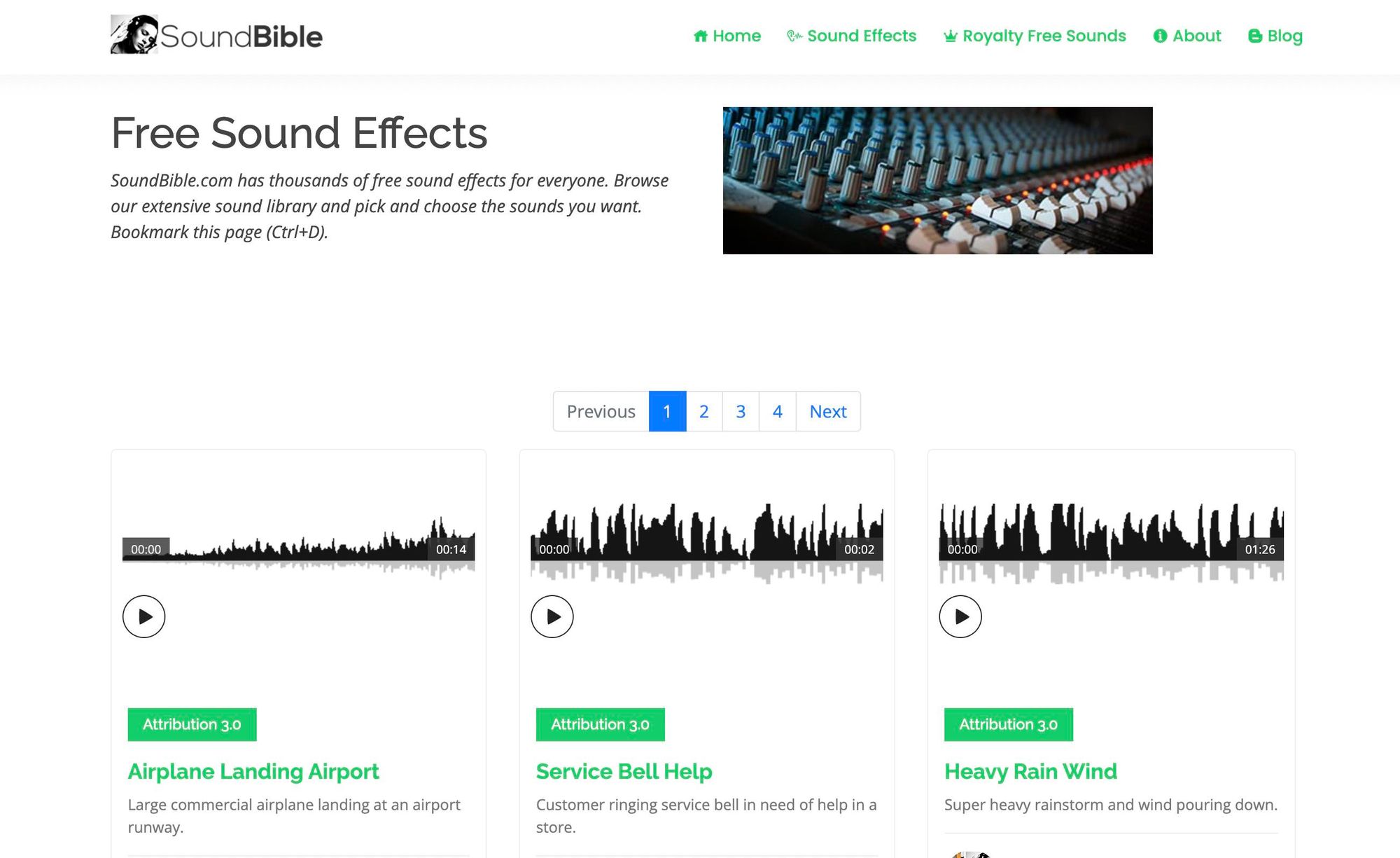 SoundBible is another go-to for free podcast sound effects. All are available for download as either MP3 or WAV files, making it a really flexible source. Again, just find the right sound for your scenario, select the right format, and download it straight away.
Where to Buy Podcast Sound Effects
If you're fairly experienced in the sound design department, or you've just got a bigger production budget to spend, you might want to consider buying your sound effects. Sounds that are available for purchase will be of a better quality, so it's definitely worthwhile if you've got the resource and know-how.
We've picked out 3 great sources below: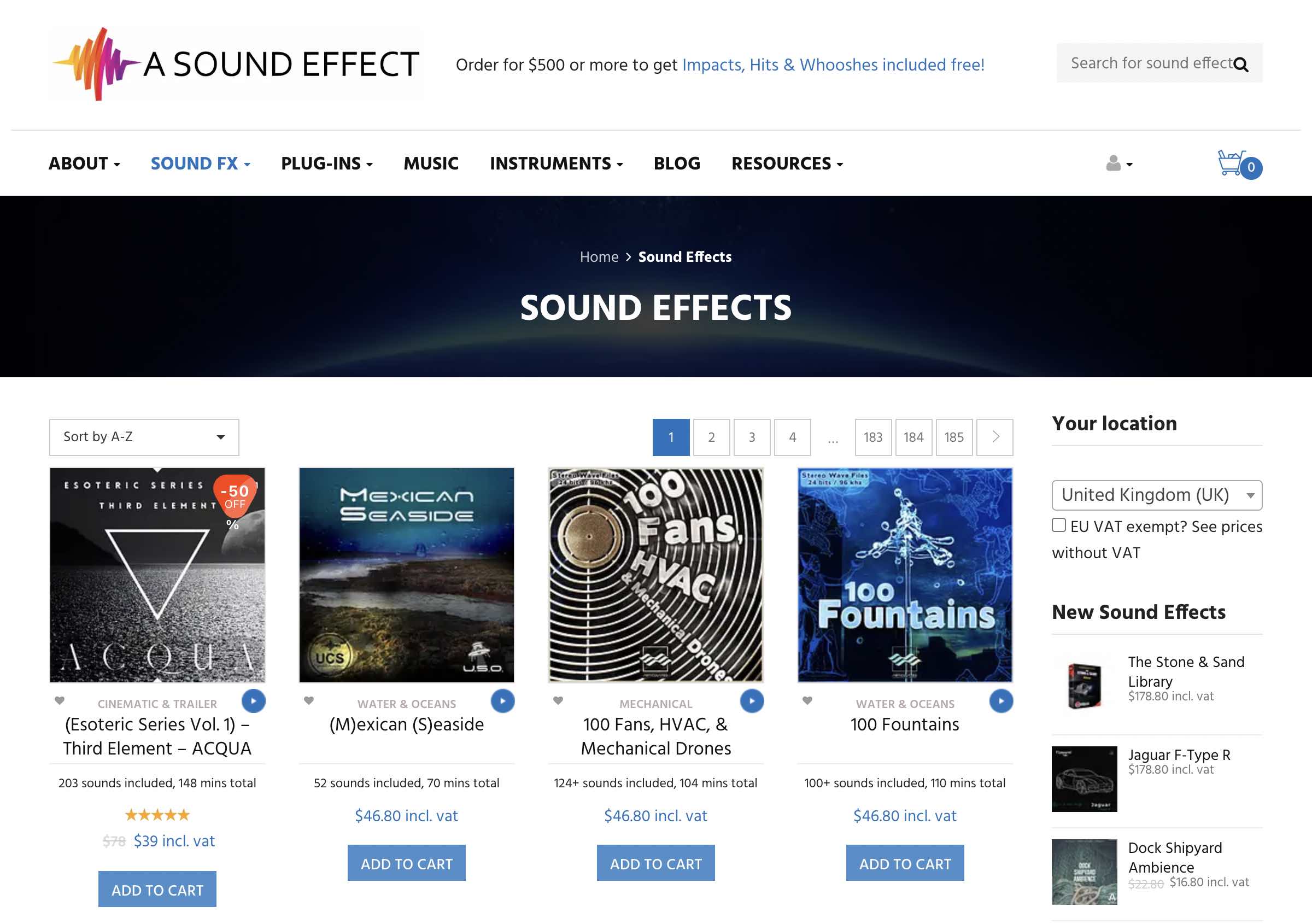 Need a whole library of sounds? A Sound Effect sells sound effect bundles for you to buy outright (great for fiction podcasts and audio dramas). From African wildlife to the many noises of the 2016 Toyota Prius, there's tons to choose from. The price will vary depending on which pack you choose, but once you've found the right one, you'll be able to download it and get started straight away.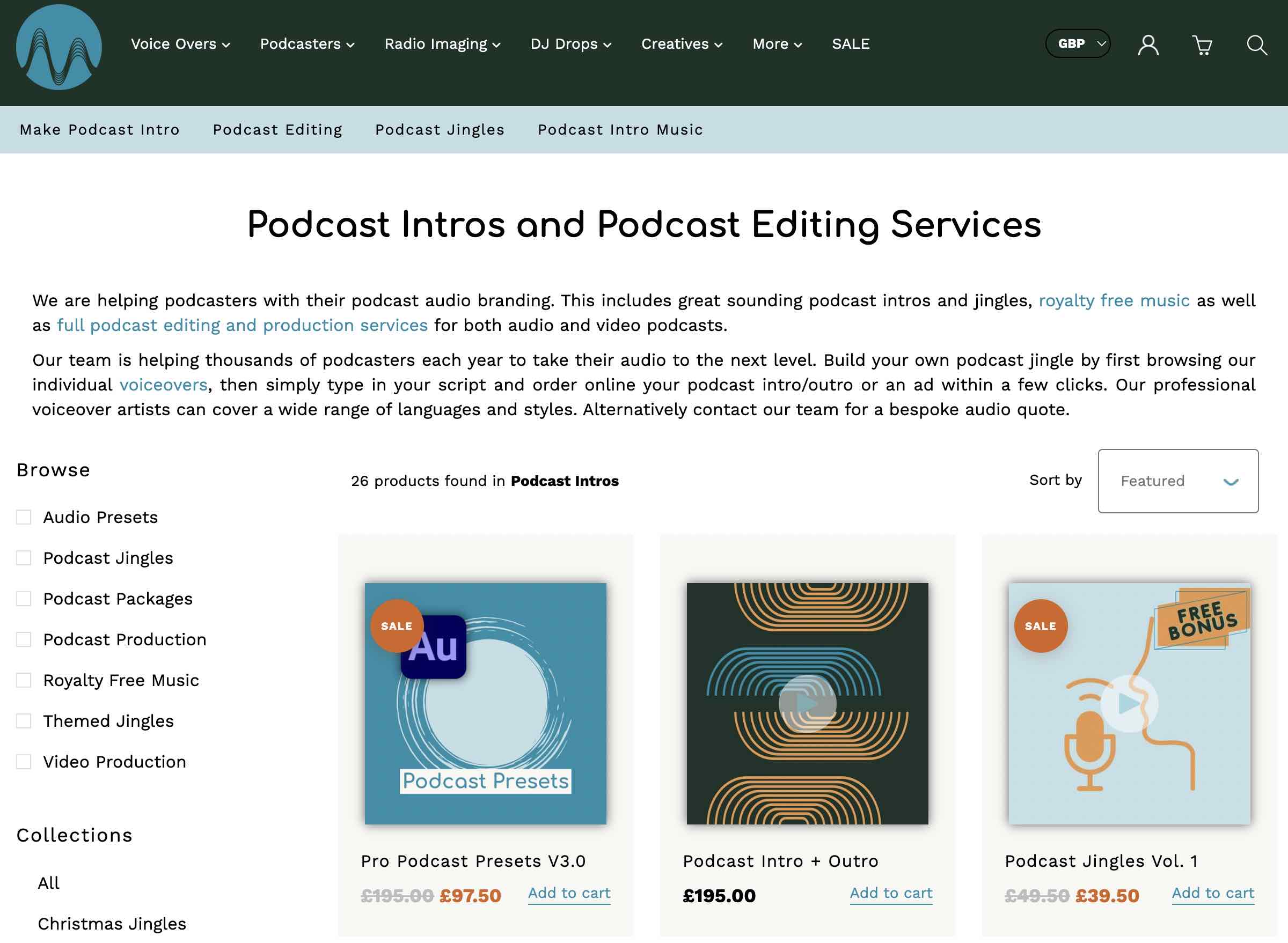 If you want those smooth swooshes, segues, and transitions we talked about at the beginning, Music Radio Creative is a great choice. They produce custom made effects for your show - perfect for voice overs, radio jingles, and podcast intros. And even better for adding a layer of bespoke professionalism to your sound.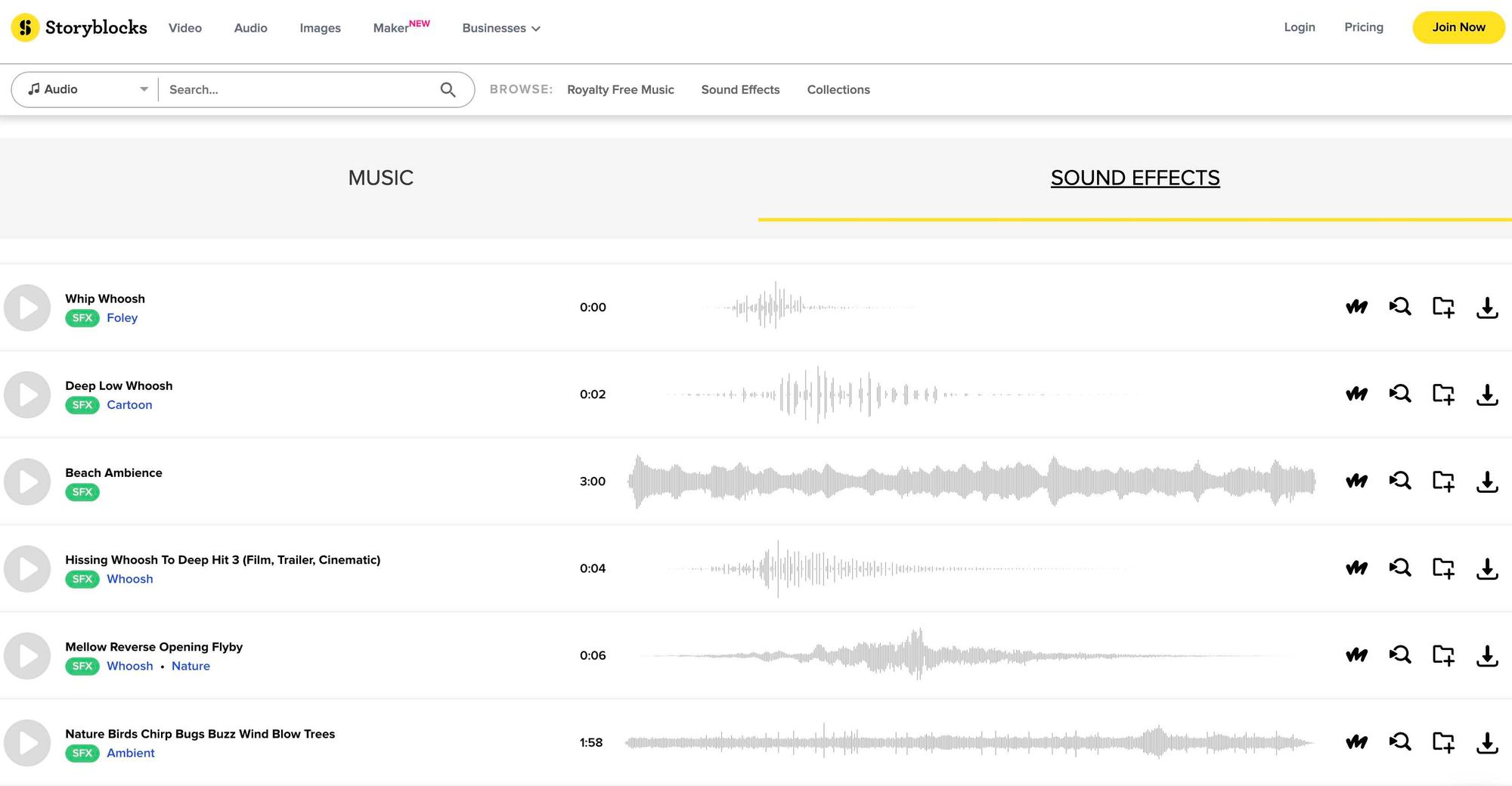 This one's a bit different. Storyblocks is a subscription-based database for sound effects, with different plans available depending on your needs. Just sign up, pay the monthly fee, and enjoy access to loads of varying effects.
Editing Sound Effects Into Your Podcast Audio
Once you've sourced the right sound effects for your podcast, you'll need to be able to edit them in. This is the tricky bit, because sadly, it's not a drag and drop exercise. You'll need to have a good understanding of what podcast editing takes, and an equally good grasp of the various types of software on offer before you can get started.
No need to panic, though. It's a skill you can learn, and utilise over and over. Check out the helpful tutorial below:
💡
Want to leave it to the professionals? Through our production arm,
Cue Podcasts
, we produce shows for brands, artists, & thought leaders. From concept creation and editing to marketing and distribution, we handle everything. And the results speak for themselves. Listen to our recent work on our site
here
.
3 Great Examples of Podcast Sound Effects in Action
Before we part ways, let's listen to some podcast sound effects in situ. It'll give you an idea of what you should be aiming for, and where in your episodes you should consider placing them. We've picked out 3 of our favourite examples to share with you.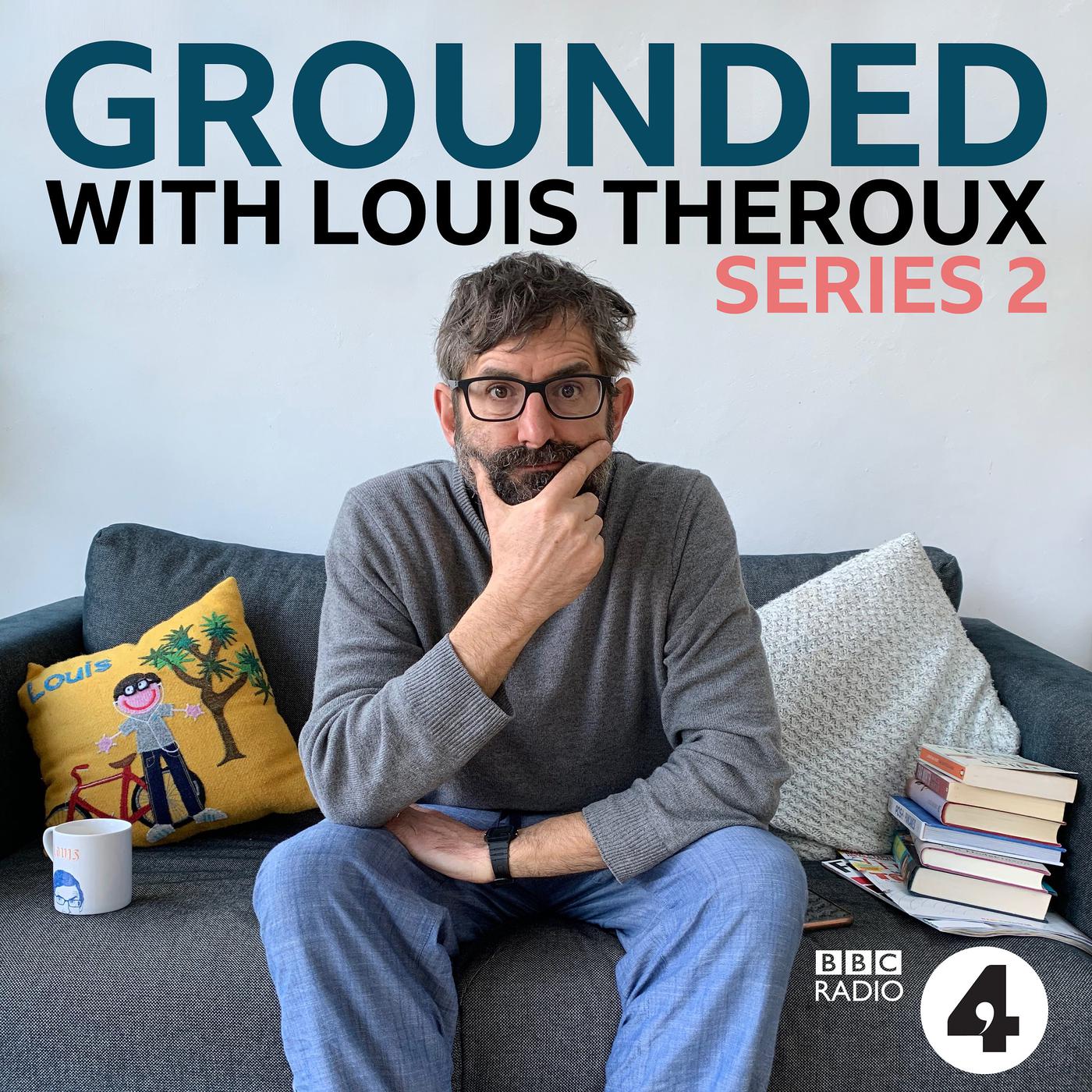 The Grounded with Louis Theroux podcast hears the host, Louis (journalist, filmmaker, broadcaster, and author), chat to a different high-profile guest every episode. Use the widget below to flick through one of his recent episodes, keeping an ear out for any clever sound effects.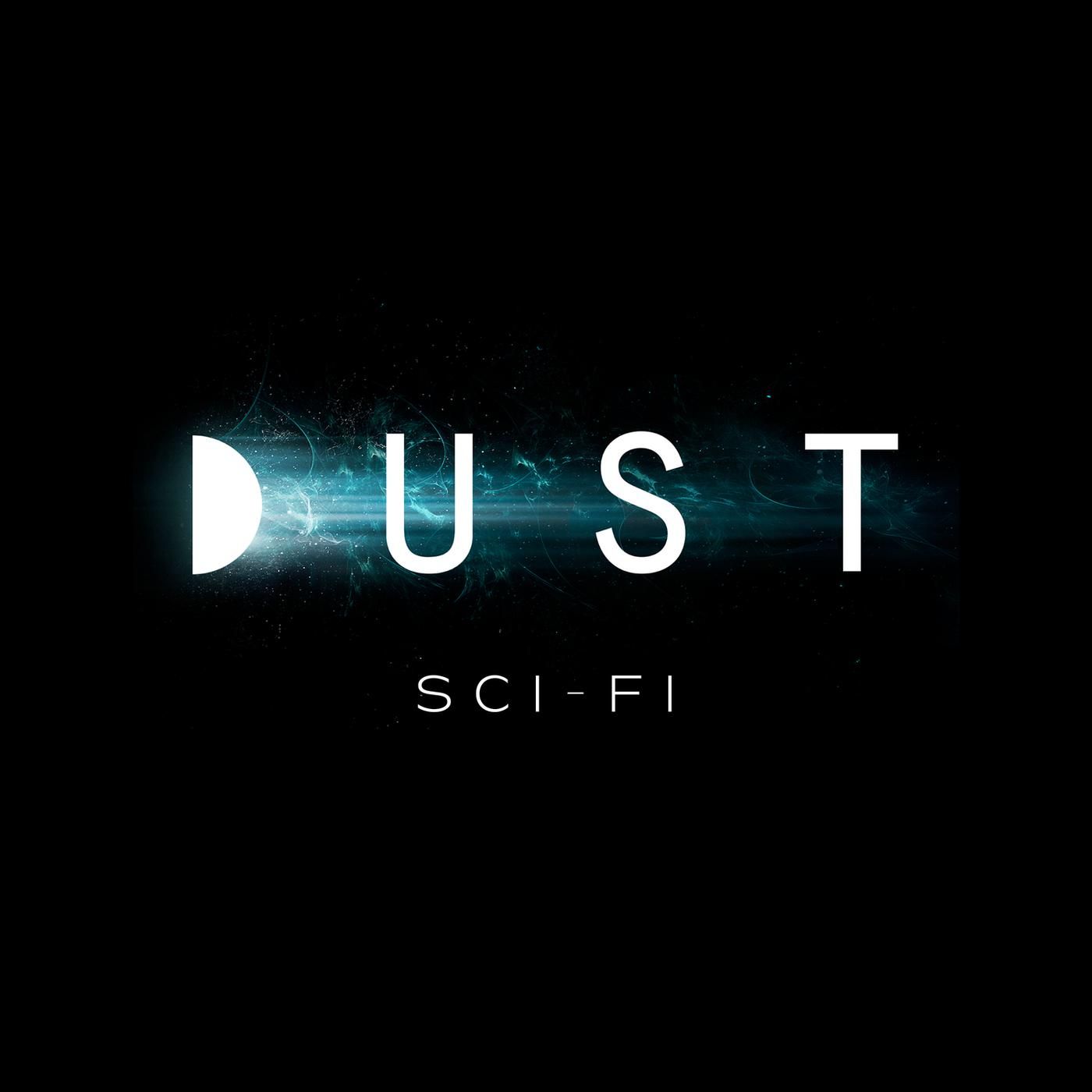 Dust is an immersive, science fiction storytelling podcast. Each episode uses intimate sound design, and heavily relies on creative sound effects (machinery, spaceships, robots, aliens, etc) to help set the scene for listeners and keep them engaged throughout. Have a listen to one of their episodes below.
Impressive, right?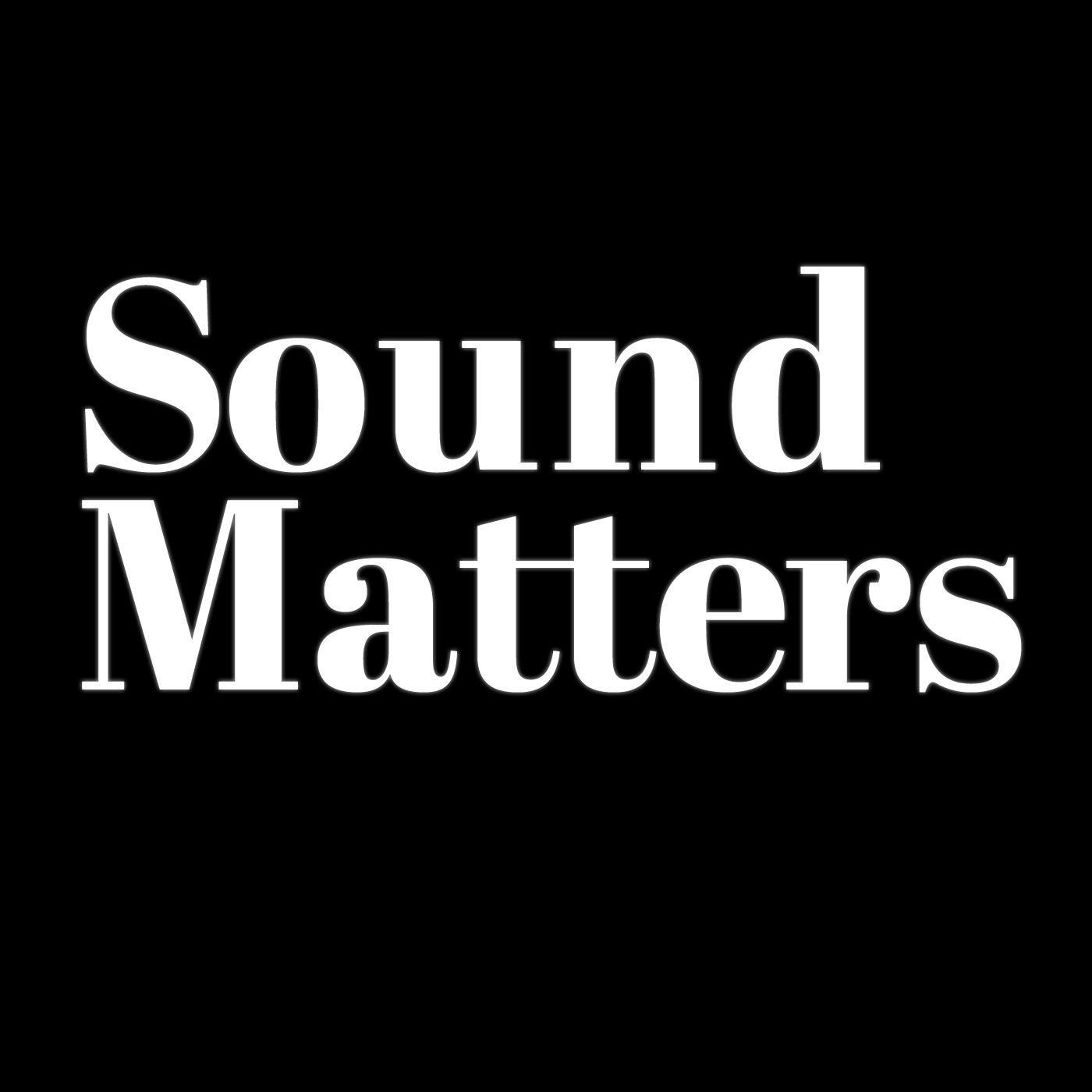 If there's anyone qualified enough to demonstrate what impressive sound design looks like, it's Bang & Olufsen. They not only sell high-end, specialised audio products, but they also have a podcast designed to teach listeners about the sounds of the world around us. So naturally, the sound design on display in each episode is more than impressive. Check out the episode below as an example.
Ready to have a go?
There's no time like the present.
Hopefully, you've now got a good understanding of podcast sound effects, and where to find them. The best next step is to just get stuck in, and experiment with various sound effects for yourself. Remember to think about where you're placing them, and make sure they fit the scene you're setting.
The #1 Podcasting Community
With more than 40,000 members, MatchMaker.fm is the largest online community connecting podcasters & guests.
Join MatchMaker today
It's free to join!