For many around the world, January is a month for recovery. It's an opportunity to start a clean slate, detox and plan for the year ahead. This January - with the help of coaches, doctors and nutritionists from the MatchMaker community - we hosted a MatchMaker Konnect event dedicated to health and wellbeing.
Introduction to the Event
We started with an introduction from our founder, James Mulvany, who revealed a number of exciting new updates to the matchmaker platform and what to expect from us in 2021. Here's a breakdown of the main announcements...
MatchMaker Profiles Are Now Public
Your profiles are now live for the whole world to see! Launching public profiles on matchmaker means that your profile will now show in search results on search engines making your guest or show profile discoverable outside of MatchMaker.fm. It also opens up the opportunity for you to post your profile on social media to broaden your reach when finding guests.
You can find out more about how to make your profile pop by checking out our guide.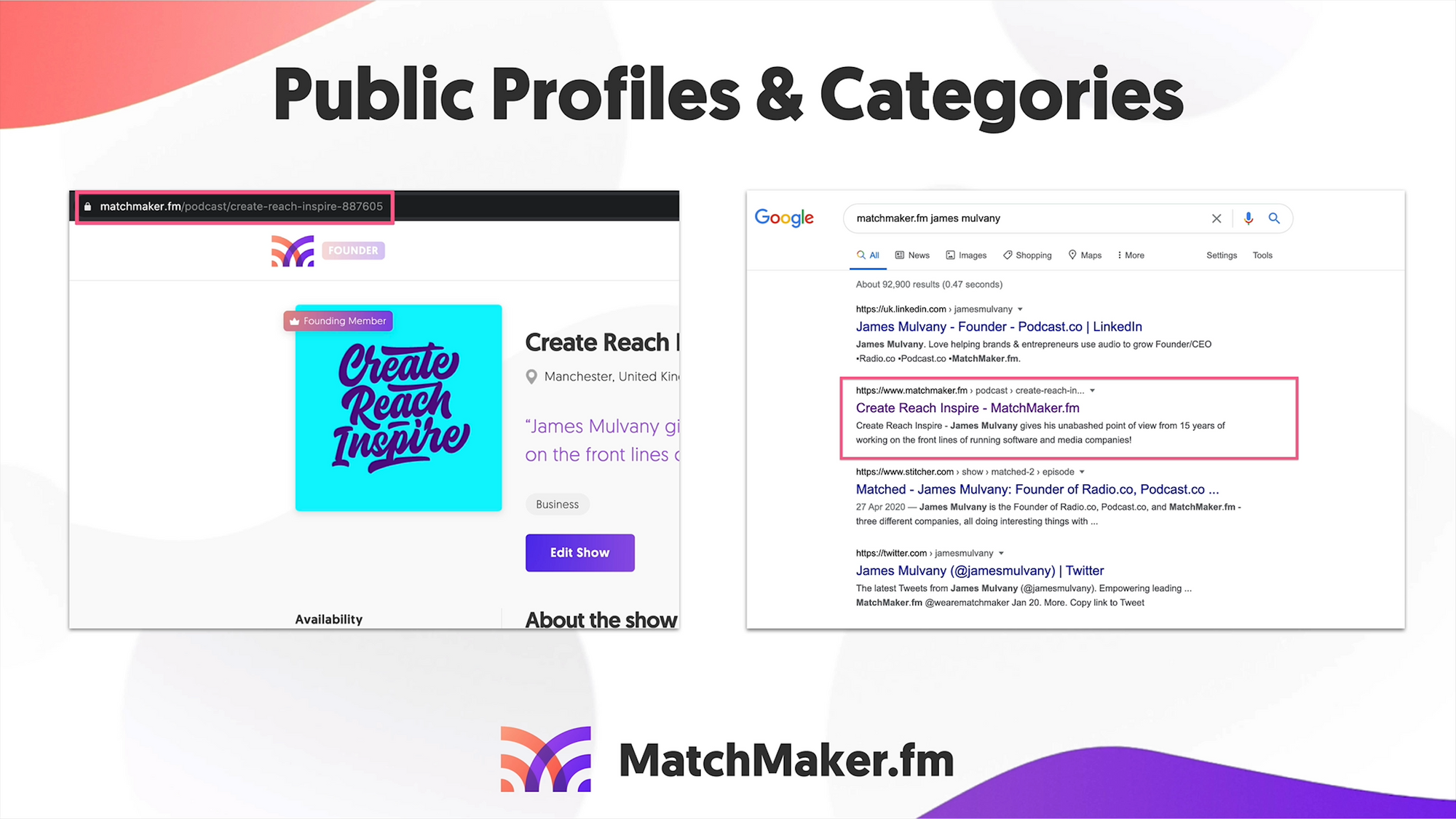 Find More Than Just Guests With 'Promo Swaps' Feature
MatchMaker.fm is much more than a platform to find podcast guests. We're here to start a community of podcasters who help each other reach their goals. This is why we will soon be releasing 'Promo Swaps'.
This feature helps members understand what you are looking for on MatchMaker and how you would like to collaborate with them in future projects. You will be able to choose on your profile between three types of collaboration:
'Content Collaboration' - Not looking to appear on a podcast, but interested in helping them with production, branding or other behind the scenes work? Well, this is the option for you. Display the 'content collaboration' badge on your account to show that you are interested in this type of connection.
'Promo Swaps' - You don't have to be a guest to promote yourself on a podcast - try a promo swap! Record a message for the host to play out at the start of an episode or write them a synopsis to read out on their show. You can also arrange to have an episode of your show appear on their RSS feed to expose their audience to your podcast. Promo swaps are a great way for podcasters to do their bit for the community. It also gives your audience other interesting podcasts to listen to.
'Booking Guests' - If you joined MatchMaker.fm to find guests for your show or appear on podcasts as a guest, this is the option for you. Select the 'book guests' badge to tell users that you are looking for guests for your podcast.
This feature is currently in development, we will announce closer to the time when you should expect to see it on the platform.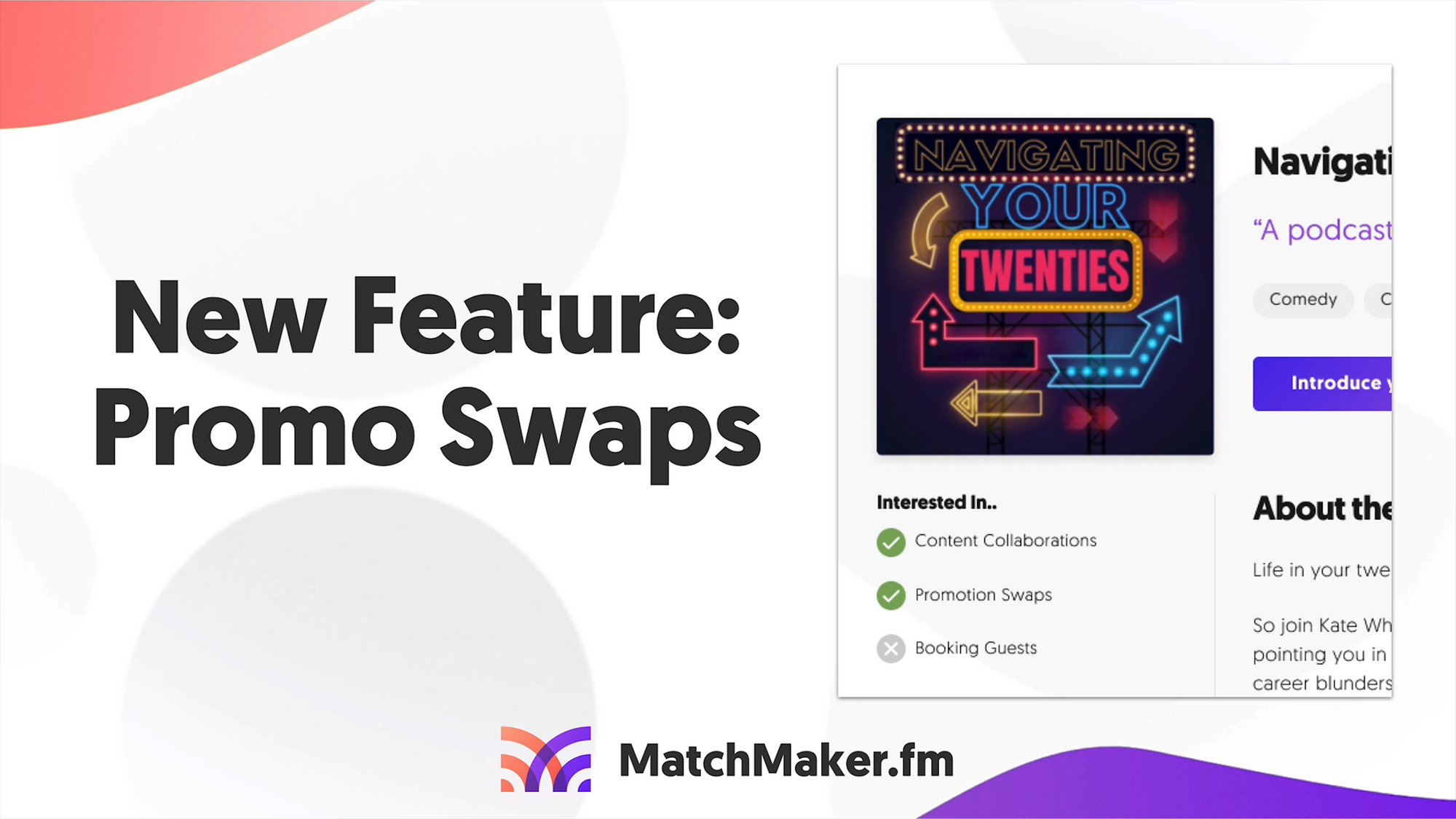 MatchMaker.fm App for iOS and Android

Here at MatchMaker.fm, we're committed to help you find the perfect guests for your podcast and build an incredible community of podcasters whilst doing it. With our new iOS & Android mobile app we aim to make the whole process of responding to your connections much easier. Our app is in the final stages of development so keep an eye on your emails to find out when it will be ready to launch.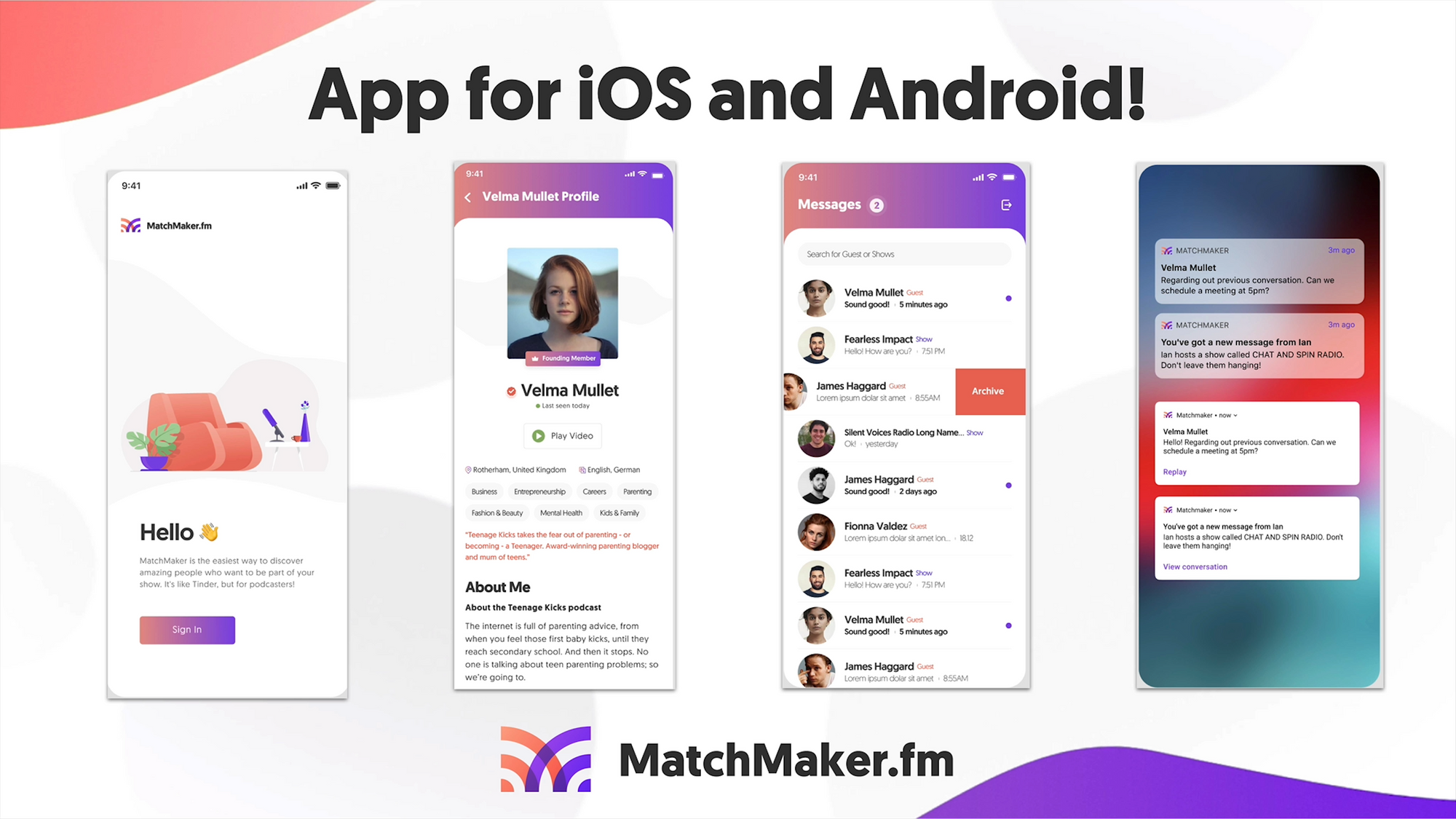 Do You Have Feedback? We're All Ears!

Help us make MatchMaker the best it can be. If you have any ideas of how we can improve MatchMaker.fm or have feedback for us, we want to hear from you. Please drop us a message at hello@matchmaker.fm.
Importance of Boundaries
As we've already mentioned, the new year is a fresh start for many. But it is also a good time to reflect. One thing that is important to reflect on is your relationship with family, friends and co-workers. If you are currently feeling under pressure or uncomfortable by how an individual is treating you, chances are you need to review your boundaries with that person. Responsibility coach and I Am Sound Academy founder, Nat Rich, spoke at the event to highlight the importance of  boundaries in your life.
"One of the biggest things that's ever helped me in my entire life was learning that I had no boundaries. And that was pretty much the reason for everything that was annoying me in my life".  
What Are Boundaries?

In order to set our boundaries, Nat first defined what a boundary actually is and how setting them can help us lead a happier life. Defining boundaries is not as clear cut as you might think as there are many different types of boundaries and situations where they are applicable. Nat first boiled down the term into five main subcategories:
Emotional Boundaries
Physical Boundaries
Sexual & Relationship Boundaries
Spiritual Boundaries
Mental Boundaries
She then went on to explain that this is not a definitive list. Boundaries can be applied to many aspects of a person's life.
"Boundaries are what we need in order to be able to govern ourselves in our lives".
You can find out more about boundaries and how to apply them in your life by checking out Nat's talk here:
If you are you are interested in having Nat as a guest on your podcast, you can drop her a message on her MatchMaker profile.
How to Adopt Healthy Habits

If you're looking to improve your diet in 2021 it's important to approach it with the right mindset. The old saying of 'old habits die hard' might be true, but that doesn't mean setting new, healthier habits can't be simple.
Geeta Sidhu-Robb, Founder of Nosh Detox, discovered the correlation between what we eat and how we feel when she changed her cooking habits to cater for her son's allergies.
"It was the first time ever in my life where I understood the link between what goes in your mouth and how you feel and you think".
How to Reinforce a Healthy Habit
After finding a balanced diet for her children, Geeta discovered that adopting healthy habits does not happen overnight. To make a habit stick, you need to focus on your mindset.
"Aim instead for evolution rather than transformation".
For example, let's say our goal is to read a book a week in 2021. Geeta explains that the this is the wrong way to approach the goal as it lines you up for failure. If you read a book 51 weeks of the year and then forget on the 52nd, you've failed your goal. A better way to approach this is to set a goal to become a natural reader. If a natural reader forgets to read a book one week it isn't a problem, they'll just read a book the following week instead.
"You have to change into the person for whom those habits are a natural thing".
You can hear more about adopting healthy habits by checking out Geeta's talk here:
Do you want Geeta to talk about adopting healthy habits on your podcast? Drop her a message on her MatchMaker profile.
Culinary Medicine and Mindful Eating for Health
Once we understand how to adopt healthy habits, it's important to figure out the healthy habits we should adopt. Chef Dr. Mike is a cardiologist, professional chef and university professor who teaches culinary medicine in the University of Montana. In his interactive talk he guided us through the enjoyment of culinary medicine.
"After the year we've all had, I think we could all use a little bit of the joy that comes with the practice of culinary medicine!"
What is mindful eating?

As part of his culinary medicine course, Chef Dr. Mike teaches a practice called mindful eating. He became familiar with the practice of mindfulness whilst studying martial arts and later adapted it into his culinary medicine studies.

"As I learned decades later after I'd begun this practice, it has many more uses and profound implications beyond simply helping you not get hit in the head with a punch."
To demonstrate exactly what mindful eating really is, Chef Dr. Mike guided us through two journeys to demonstrate how the experience of eating and drinking changes depending on the scenario you find yourself in.
"Hopefully if you participated in the exercise you had two very different experiences consuming exactly the same liquid.
Then the question arises: does the way you chose to drink the liquid - that how we chose to eat or drink - the softer edges that comprise the totality of our food experience; Can this impact our health, wellbeing and even our happiness?
This is not a trivial question, because if the answer is 'yes', it reframes the entire way we have viewed food and health over the last half-century."
You can follow along with Chef Dr. Mike's class in culinary medicine and mindful eating here:
If you want to book Chef Dr. Mike for your podcast, you can drop him a message over on his MatchMaker profile.
What is next for MatchMaker Konnect events?
Through our Konnect events we provide a stage to the incredible users we have on our platform so they can share their knowledge with the wider community. It is important that we make these events as useful as possible for you and open up more opportunities for you to connect with fellow MatchMaker users.
If these events are currently not appealing to you or you have some thoughts on how we can improve them, we need your help!
We have put together a form that will help us understand what you would like to see from future Konnect events. We will use this form to restructure the events into something that you will all find interesting, engaging and useful.
You can submit your feedback here
Please feel free to be as honest and open as possible, we promise we wont take it personally!
Have an incredible 2021, and we look forward to seeing you at the next MatchMaker Konnects!