If you are a podcaster looking to book the perfect guest for your show, look no further! There is a fine art to finding and booking guests and MatchMaker.fm makes it a breeze to find the right fit.
Having the right guest on your podcast can help you reach a new listeners and give your existing audience valuable information and entertainment. But it's easy to get it all wrong and releasing an episode with a dull guest can really damage the growth of your show.
Matchmaker is an invaluable tool for podcasters, with thousands of experienced guests to choose from. In this article, we will show you how to use Matchmakers filters to find the perfect guest for your show.
Why Is Filtering So Important?
Producing a great podcast episode with a guest isn't just about achieving great sound quality - what you are really striving for is great content. And featuring the right guest on your podcast is the key to this. Simply put, even if you're a fantastic interviewer, it's difficult to get good material from a bad guest. Publishing episodes with sub-par guests signals to listeners lack of care going into your show and ultimately, a lack of downloads.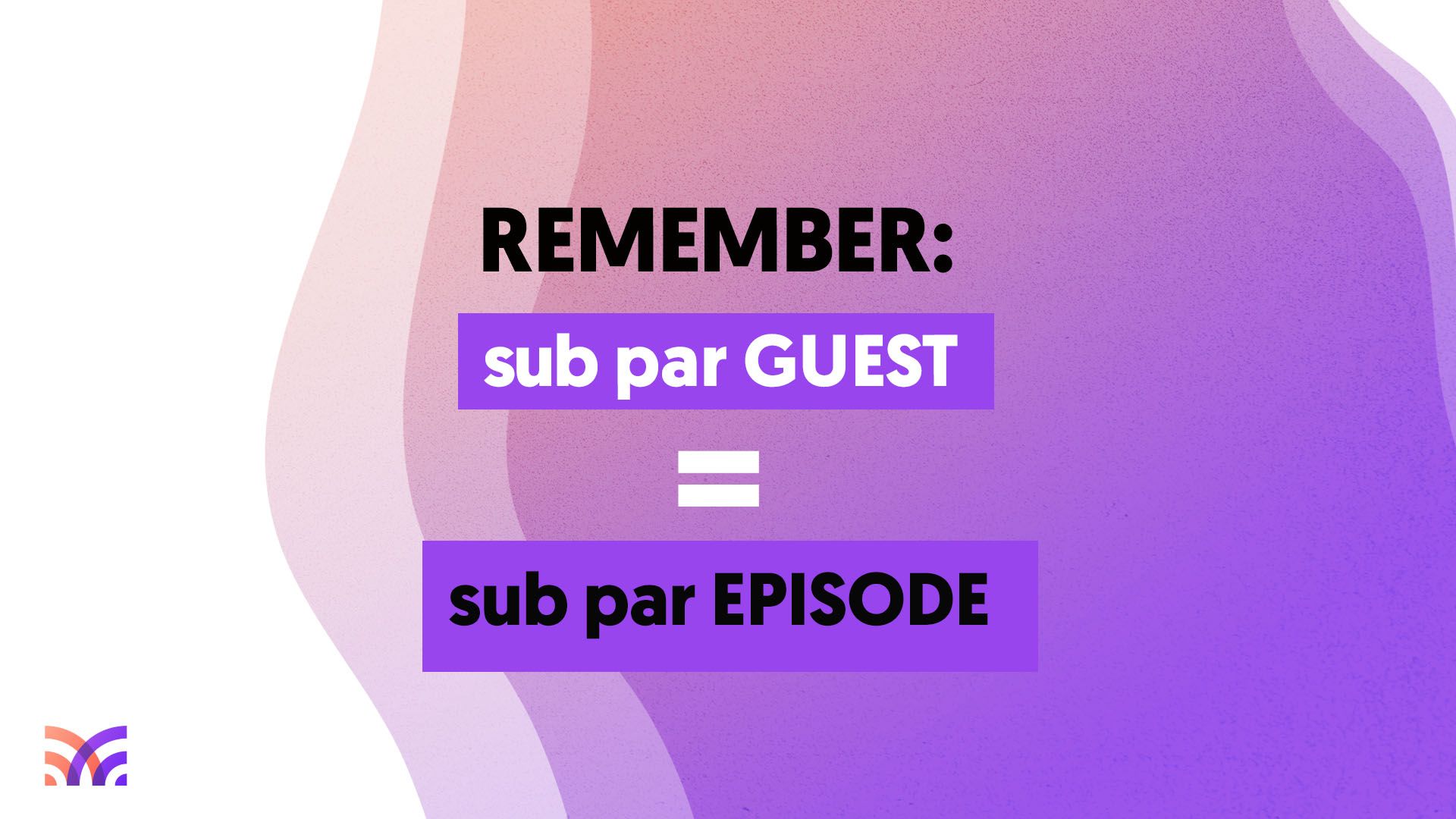 This is why it's important to choose your guests carefully and book someone who will add value to your show. You want someone who you can create great content with, whether that's for entertainment purposes or to be an authority on a certain subject.
So, How Do I Choose?
When you start searching, you will find that some guests are better than others. Being a good guest is a skill and it takes practice and to find the right person, there are some general qualities you can look out for.
When considering a guest, you want to know the following:
Are they experts or authorities on a particular subject? Do they know what they're talking about?
Are they entertaining and enthusiastic or have a passionate delivery style?
Do they have good storytelling skills?
Have they got previous podcasting / media experience?
Have they got an existing following on social media?
Checking a potential guest on socials will give you a glimpse of who they are. You ideally want to look for someone with a developed social media presence and with a genuine, engaged following. Of course, there are some exceptions to this rule, but it's worth keeping in mind.
Having a guest on your show isn't a one way street - it's about them spreading your message and you spreading theirs. Booking someone who doesn't have a strong social media presence means they won't be able to help you promote the episode. So what they lack in followers, they need to make up for in genuine expertise or entertainment value. If they don't, it's not worth booking them.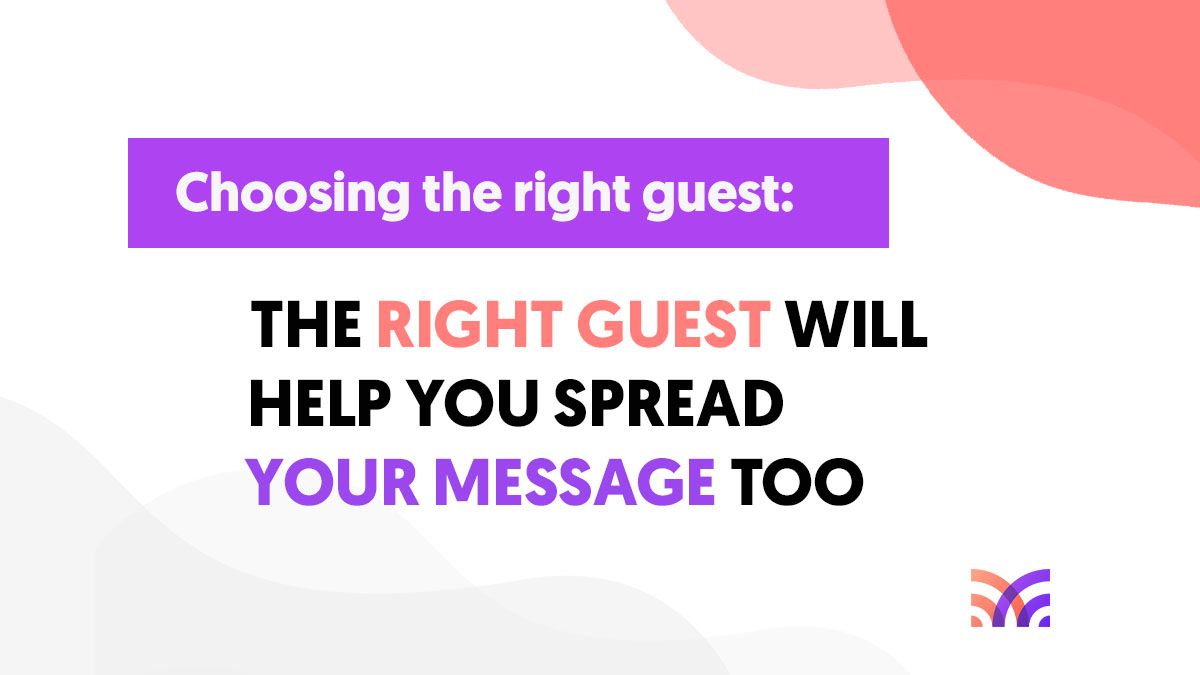 Narrowing down your search further, your ideal guest should be:
Someone who fits the interests of your show's target audience
Has the right experience and credentials
With thousands of potential guests available on Matchmaker, if you are still not quite sure which direction to go in, why not ask your audience? Use your listeners and ask for recommendations on the kinds of guests they want to hear from or topics they want to learn about.
And remember - if it doesn't gel, then don't force it. Don't waste your time booking a guest who won't be a good fit!
Using Guest Filters to Get Specific
Now that you have an idea what you're searching for, let's get filtering!
To do this you need to create a show profile first.  If you haven't got one, head over to MatchMaker.fm and create one in minutes. If you need some guidance, check out our tips on How to Create the Perfect Show Profile.
Category: Matchmaker has almost 20 categories and over 100 sub-categories to choose from. Choose a category that is most in line with your own show, or any categories that you are willing to create an episode out of. For example, if your podcast is about health and beauty, perhaps you are looking for a guest from the Self-Improvement category to take your audience to the next level.
Location: Consider your equipment - do you have the capacity to record in-studio only or can you record guests remotely? With this filter, you can search for local guests or guests from across the globe, depending on your niche and show requirements. This means that if you are doing an episode on Eastern European history, you can narrow your search to the countries that interest you. Alternatively, if you require a local guest, apply your area in this filter and get searching!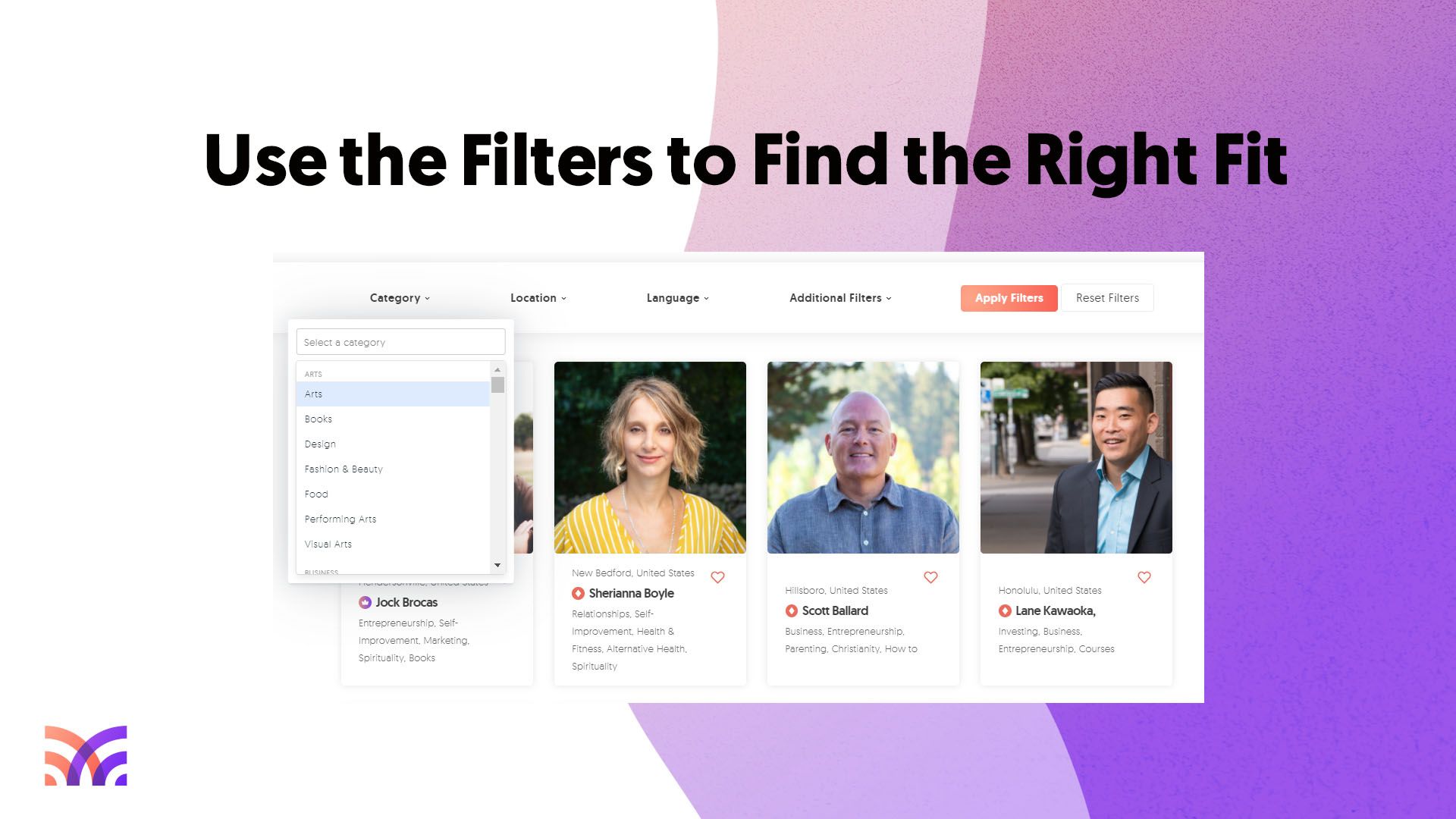 Language: If you are looking for a bi-lingual guest, use this filter to get specific. Matchmaker users come from all over the world and chances are, you will find the exact thing you are looking for!
Additional filters: This filter is used to establish further information about your recording capacity, like whether you have the equipment to remotely interview your guest or whether you need guests to come to your studio in-person.
Hit the 'Apply Filters' button and get searching!
Using the Search Bar
We always recommend sorting through guests using the provided filters first. It gives you a much more comprehensive overview of all the relevant guests on the platform.
However, if there is a particular guest you're looking for, you can put their name in the search bar to return more specific results.  It's a simple of way of speeding up your search when you already know the names of the people you want to book. But remember, not everyone has a profile on MatchMaker (yet!), so you won't always be able to find the person you're looking for.
Alternatively, you can enter specific keywords into the search bar such as "Investing", "Fitness", or "SEO". The results will show you all the guests that include that particular word in their profile headline. This is a great way of finding people who are true experts in one specific field.
Creating a List of Favourites
Now that you're all filtered up, there are probably a ton of potential guests staring back at you, begging you for a click. You want to start narrowing your search by creating a Favourites list.
Clicking on the purple heart will prompt you to save your chosen guest in a Favourites folder and if a single "Favourite" folder is just not enough, you can create multiple more specific lists to keep more granular tabs on all your searches.
Start by using the favourites button to create a list of 20 - 30 guests that seem like a good fit for your show. Once you've got enough potential guests on your list, it's time to begin vetting your list based on quality.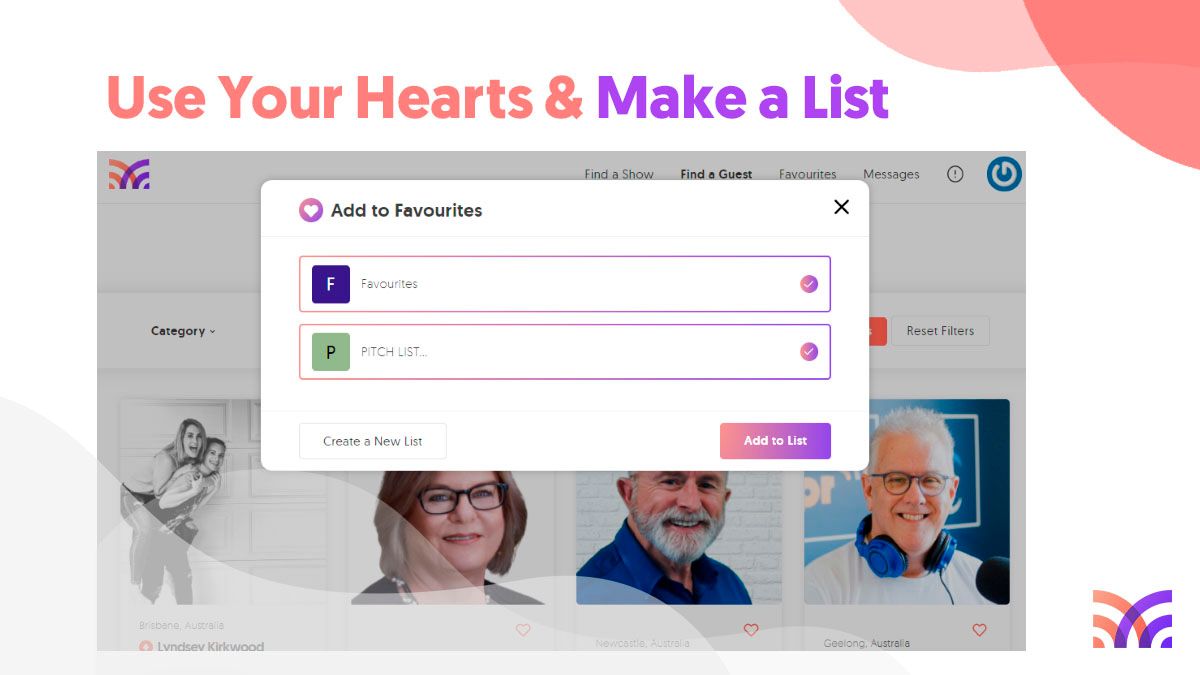 Vetting Potential Guests for Quality
Once you've drafted up your list of potential guests, we advise running through this list of questions before reaching out:
What is their profile like?
Reading through their profile, what are you thinking? What are you feeling? Does their profile look good and have they put in sufficient information about themselves and their interests?
Do they have the right experience?
Can this guest contribute information to your audience that will be of value to them? Do they have qualifications or experience that aligns with your show and the episode you are preparing?
What do their previous interviews sound like?
Do they have experience being a guest? Do they have their own show? Listen to their work, especially if they have guested on other podcasts. Do they have the sound you are looking for? Having a great guest profile and fantastic qualifications is useless if they sound like a wet blanket during interviews.
Do they have an existing following on socials?
If your guest doesn't have an existing following on socials, you won't get much of a return on the effort you're putting in getting them on your show. You are not creating an episode to glorify your guest, you are creating fitting content that can be shared across both your audience and theirs.
Do they usually promote the podcasts they've been on?
And speaking of their social media following, can you see any other guest appearances that they have shared on their socials? If they are not likely to share your show, then it's kind of pointless having them on.
Filter Perfect
You're now ready to find the perfect guest for your show! With so many to choose from on MatchMaker.fm, you shouldn't have any problems finding the right fits.
Are you also looking to get on other podcasts as a guest? Why not check our article on Using Filters to Get on Podcasts, as this is a great way to promote your own podcast.